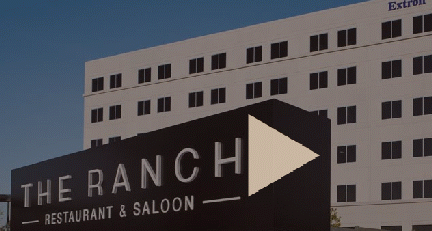 Anaheim--A letter tells all about The Ranch Restaurant and Saloon
.. By The Editor
Howdy,
It is always grand to hear your voice coming from so many thousand miles away. Call whenever you can.
Just wanted to tell you what your pappy has been up to. Heard about a new place in Anaheim with a western theme so had to mosey about and seek it out. Its called The Ranch Saloon and Restaurant located at Ball and Lewis in Anaheim a few blocks from Five freeway.
Anyway I got in the Chevy pick up and rode on down to see it for myself. Turns out it is located in a brand new six story building surrounded by a huge parking lot, sure can take care of a lot of pick ups. I got there at 5:15 and there were already folk standing at the door of the Saloon waiting to get in. I joined them and was soon in conversation with a woman about my age named Maribelle and her daughter Kitt. By the time the doors opened at 5:30 we were already friends and decided to sit together.
The Saloon is huge with a long bar against one wall, a large stage for their live country western bands and dance floor to match. The booths, some like mini theater boxes, are tiered above.
The three of us took a booth and as canned country music began Kitt made a bee line for the floor for some line dancing. Later in the evening a live band took over. The Ranch is the kind of place where folks dust off their western wear and the gals especially look mighty pretty.
After a bit I suggested we try that and Maribelle replied that she thought I would never ask. Anyway we had fun there as well, your old man can still move some.
Back at the booth Maribelle ordered a glass of wine while I had a beer. When Maribelle ordered the wine the comely filly waitress handed her a wine list that looked about the size of the phone book we had in Springville when your Mom and I was kids. In all it had about five hundred brands.
I told Maribelle I would like to see the restaurant if the saloon looked this good and asked her and Kitt to join me for dinner. Kitt said she wanted to dance so Maribelle and I went out of the saloon through an adjoining door to the restaurant.
We were greeted by a smiling nifty looking hostess and led past another long bar to the dining room filled with booths and tables. Time was there would have been no way your Pop wouldn't had peeled off to lean on that bar awhile. But then everything changes.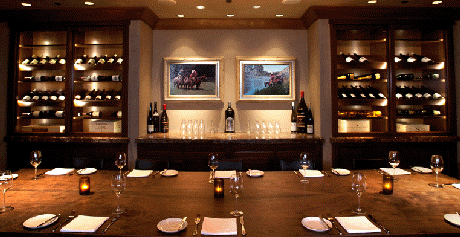 The interior of the restaurant is also a wonder to behold. It shows a modern western look with lots of polished woods and cowboy styled art on the walls. We were seated at our own table with a table top of polished wood, the kind of dining table your Mom dreamed about but never got.
All the waiters and such were right friendly and all you had to do is look like you wanted something and someone was at your side to ask what it was. Maribelle ordered another glass of wine while I stayed with ice tea. One side of the room is all glass with the kitchen beyond so you can watch the cooks and such in action. And boy they sure were busy that night.
Maribelle thought the menu awesome and so did I. There were so many choices that making a decision was hard work. Finally I decided to open with some Chesapeake bay crab sliders while Maribelle chose the Cobb salad. Her salad came with lobster and crab bits as well as some stuffed eggs and she passed one to me. Boy, it was about the best I had since the one's your Grandma made.
While deciding on an entree Mike Jordan came over. Turns out he is foreman of the whole spread, both restaurant and saloon, and he sure did seem to know his business. While he was chatting with us he pointed to another man nearby wearing jeans and a cowboy hat. This turned out to be his boss and owner, Andrew Edwards. Mike brought him over and introduced him to us. He was accompanied by his side kick, Morgan, she pretty as a picture too. I asked Andrew how he had managed to come up with such a good idea as The Ranch. He just said that he had given thought to it for a long time.
Folks in the restaurant were dressed the same as those next door, all casual and relaxed just like the decor and atmosphere of the dining rooms of which there are several including an outdoor heated patio.
Back to the menu Maribelle decided on the short ribs and I went with the beef tenderloin. Mine was big and came rare as ordered and marvelously tender. That sure came from some cow that had never been on a cattle drive. Also some scalloped potatoes which while most tasty were hardly touched by me since I devoted my attention to that great meat with the fancy wine sauce.
And still we were not finished. Soon the dessert menu arrived. Also Mike Jordan came back bringing the Chef Michael Rossi. We told him how impressed we were with the menu and how well the kitchen staff performed.
Maribelle ordered the creme brulee while I went for the Pecan Pie. This arrived with a scoop of Jack Daniel flavored ice cream. A hell of a way to tease the old man. The Pecan Pie was just the way my Mom used to make it. They even have a chef just to do the desserts and pastries.
Then we went back to the Saloon to see how Kitt was doing. Just fine it appeared since she had a man sitting with her at the table.
Maribelle and I hit it off real good from the start and I have seen her some since then giving the Chevy pickup a workout. We generally just go back to The Ranch.
That's about all the news for now. When folks ask about you some have a hard time wondering why you are fighting for people so far away and so different from us. In your Grandpa's war there was a song with lyrics that said, ""Keep your head down Fritzie boy". That is still the best advice I can give you.
Watch as you go,
Dad
Back to Table of Contents..

Last Update:5/5/12
&copy 2012 Joe Hilbers All Rights Reserved.
Graphic Design by Impact Graphics