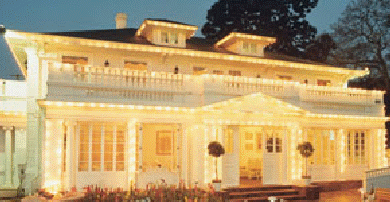 "A bottle of BIN #7 took a long journey to a successful conclusion"
by The Editor's Vineyard
It is amazing sometimes to think of the journey a bottle of wine makes from where it was produced to where it is consumed. While enjoying an excellent lunch recently at the Anaheim White House Proprietor Bruno Serato stopped by to tell us about his new own private barrel label, Bin #7 made for him exclusively in his old home town in Italy. The wine is Valpolicella Superiore, estate bottled by Fattoria Garbole in Tregnago, Verano.
Verano has long been recognized for producing two exceptional red wines Valpolicella and Bardolino. Of these two Valpolicella is considered the sturdier and heartier of the two. Bruno's Bin #7 certainly lived up to this reputation.
We took a bottle with us on a day excursion to Little Rock Dam and Lake in the Antelope Valley. It was a perfect Spring day and we had the lake and surrounding desert scenery all to ourselves with some mountains still showing patches of snow.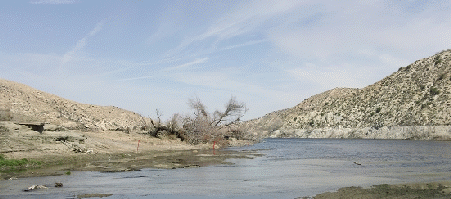 Our repast this day included Santa Maria styled barbecued Tri-tip sandwiches. with sides of potato salad. deli style pepper jack cheese and corn ground tortilla strips. Bin #7 proved the perfect accompaniment with hearty aroma and flavors and a very long finish. This wine showed real muscle and like everything at his restaurant Bruno has himself a fine vintage in Bin #7. Our desert scenery was indeed a long way from Verano.
Bin #7 is available at the five star Anaheim White House, 887 S. Anaheim Blvd., Anaheim, either by the glass or bottle.
On the road again
Exploring often includes abrupt change of plans. So it was on a trip we took to the mountains north of Fillmore. Here we negotiated a one lane track hanging perilously from the side of an a most precipitous mountain. Our destination was the trailhead to Sespe Creek and back country of Los Padres National Forest. Except for the road carved by a most brave bulldozer driver and a few turnouts the country does not offer a single bit of flat ground. Everything as far as the eye can see is either up or down.
So when it was time for lunch we ate it sitting on the ground just off the trail. I had packed a bottle of Green Truck 2008 Sauvignon Blanc, always one of my favorite varietals, with the lunch of smoked turkey sandwiches but this was not the place to leisurely enjoy a glass of wine. We were anxious to try the wine since it was organic and from Lake County appellation famed for the quality of its cabernet sauvignon and sauvignon blanc.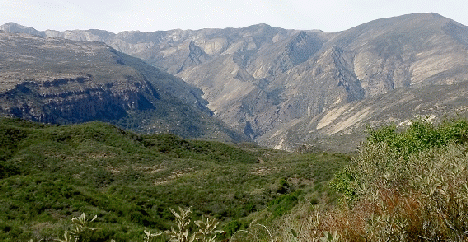 However thinking of that narrow road with drop offs of hundreds of feet to a creek far below we decided that this day our drink would be water. So we brought the bottle home unopened to be enjoyed with a caesar salad and clam linguini dinner that evening and it proved to be indeed a superior vintage. The Green Truck label is now for certified organic wines and our bottle offered fresh aroma and balanced fruit flavors and touch of citrus. Bargain priced at $14.
As for our exploration we took a short hike, captured impressive views with the camera and then descended about 2,500 hundred feet of elevation very, very carefully on that cliff hanging road with exciting views for the passenger on the outside edge with the creek far, far below.
It seems that often interesting places are only neglected because they are too close to home. This was certainly the case with Red Rock Canyon Park which is located in the Santa Monica Mountains off Old Topanga Canyon road. A bird could fly from our residence to this park in no more than 10 minutes. However it does take longer by road but only a short distance in miles.
Once we finally arrived at Red Rock Canyon Park we were amazed on why it had taken us so long to discover it. The Park opens to a trail that soon offers the visitor grand views of spectacular rock formations that tower overhead while alongside the trail the foliage shows laurel, sycamore and oak trees, mountain mahogany and in season wildflowers. The rock formations vary in color from red to chalk white and offer interesting views for the camera.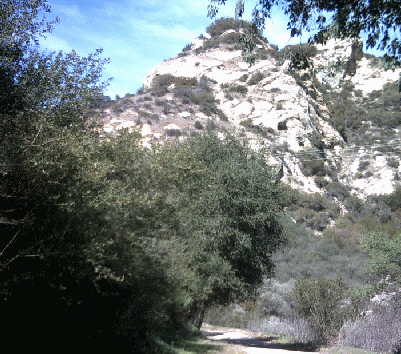 After our hike we returned to the Park which includes picnic tables and so settled in for our usual lunch of deli sandwichs, potato salad and bottle of 2010 Naked Earth Blanc. This is an imported organic wine from the Languedoc-Rousillon region in the south of France. The French appellation is Vin de Pays d'Oc. It is a perfect picnic or tail gate wine with fruit and citrus flavors in both aroma and on the palate. Crisp and dry to the finish. And easy on alcohol at 12.5 per cent as well as price at $12.
Back to Table of Contents..
Last Update:5/1/12
&copy 2012 Joe Hilbers All Rights Reserved.
Graphic Design by Impact Graphics