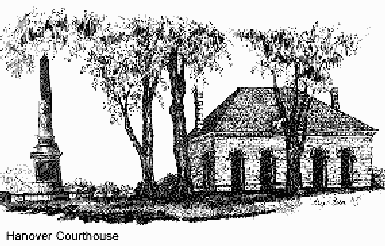 Virginia--Hanover Courthouse played prominent role in historic Civil War events
.. By Joe Hilbers
Hanover Courthouse played prominently when Brigadier General James Ewell Brown Stuart , with twelve hundred troopers, made his memorable and famous ride completely circling the Federal army under General George McClellan.
Our visit to Hanover Courthouse took place as a foray from a visit to Richmond and to our delight had changed barely at all in 200 hundred years thanks to its designation as an Historic District.
Hanover Courthouse was Stuart's first objective on his famous ride, then on to Hanover Junction where he met his first Federals at the vital Virginia railroad. We also got a look at the Chickahominy River which Stuart crossed twice on the ride which made him famous overnight.
We got to see what an early Colonial tavern was truly like and what it meant to a community when we visited Hanover Tavern & Pub. The roadside tavern in Colonial times was the interstate truck stop of its day offering the traveler a place to eat, sleep, mix with other people and catch up with the news of the day. Besides the Pub offering wine and spirits there was usually a Parlor or game room as well.
Our visit to Hanover Tavern was for brunch as well as a tour of the 200 year old landmark that now includes the Barksdale Theater which presents productions each season. It is part of the Hanover Courthouse Historic District. John Shelton, father in law of Patrick Henry ran the original tavern where Patrick Henry lived and studied law, married to Sarah Shelton, the Innkeeper's daughter. Across the road is the Hanover Courthouse, built in 1735, and where Patrick Henry first launched his career as a advocate for Colonial rights against the British crown. And where he gave his famous "Give me Liberty or give me Death" speech. We looked at the Courthouse while working off the effects of the lavish brunch.
Back to Table of Contents..

Last Update:5/1/12
&copy 2012 Joe Hilbers All Rights Reserved.
Graphic Design by Impact Graphics