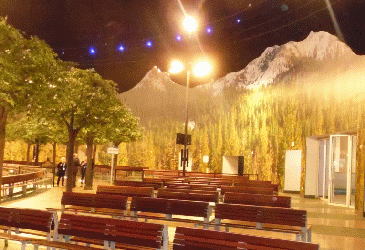 Long Beach--New expanded Cruise Terminal boosts Carnival leadership on west coast
.. By Joe Hilbers
Our attendance at the opening of Long Beach's new Cruise Terminal proved to be a most interesting experience. It now becomes the busiest in North America with Carnival ships docking five days a week. It encompasses the dome that originally was built to house Howard Hughes' Spruce Goose airplane. Since 2003, when Carnival first came to Long Beach, it has been using just a portion of the Dome, but now will be utilizing all of the Dome for its operations.
Carnival also announced large expansions during the grand opening. Next year the new Carnival Panorama will be located on the west coast and an expansion of the port facilities at Ensenada is also planned.
What impressed us was the design of the new terminal. It features California landmarks like a backdrop of the Sierra Nevada mountain range as well as a replica of the Spruce Goose , also a 1980s styled arcade which is available for all to enjoy. It also offers efficient facilities that provide new embarkation procedures for cruise guests.
Also taking place at the opening was the arrival of Carnival Splendor which will be the largest cruise ship based year round in Southern California. It joins Carnival Imagination and Carnival Inspiration which currently offer three and four days cruises to Ensenada and Catalina Island.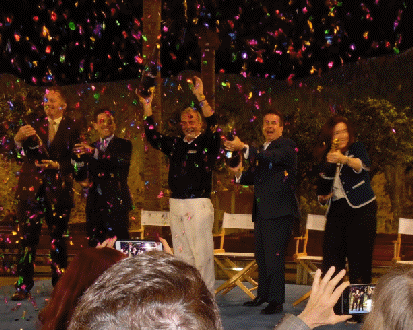 We had the opportunity to board Carnival Splendor and enjoy a wonderful luncheon in their premier Gold Pearl dining room. As dazzling as the dining room was the menu handed to us. Appetizers included Lobster Bisque, slow braised Pork Belly, and Crab & Shitake Risotto. Salad a Kale or Romaine Caesar Salad. Entrees included Seabass with roasted Cauliflower, Filet Mignon or Lasagna. Dessert was warm melting chocolate cake with choice of ice cream or fresh fruits. We chose the Lobster Bisque, followed by the perfectly prepared Filet Mignon and then the chocolate cake.
Our efficient waiter, Elder, also saw to it that our glasses of 2017 Oyster Bay Sauvignon Blanc from New Zealand and Frei Bros. 2015 Merlot from Sonoma's Dry Creek Valley were never empty.
The arrival of Carnival Splendor means that cruises from Long Beach will expand with more seven day cruises to Mexico as well as longer voyages to Alaska and Hawaii. Together the three ships at Long Beach will serve some 600,000 guests annually.
Carnival President Christine Duffy was at the opening and told those assembled, who included travel agents, port officials and media, that the new terminal and additional ships showed Carnival's commitment to West Coast cruising. Then it was the popping of bottles that showered everyone with confetti.
Back to Table of Contents..

Last Update:2/12/18
&copy 2018 Joe Hilbers All Rights Reserved.
Graphic Design by Impact Graphics