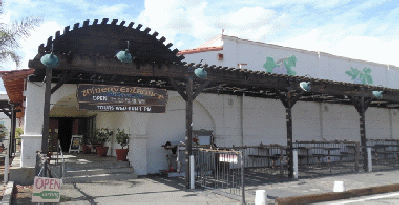 ---
"Rancho Cucamonga--The Joseph Filippi Winery stands fast for 95 years in the Cucamonga Valley" By Joe Hilbers
When we read the book "Cucamonga Valley Wine, The Lost Empire of American Winemaking" and then wrote a review of the book for Vittles it created an interest on our part to explore the Cucamonga Valley and see for ourselves what remained of its vineyards and what wineries still existed there.
The book relates how Cucamonga, Ontario and Guasti were, in the late 19th century and first part of 20th century, the largest grape growing and wine producing area in California. This continued until the 1950s when urban development took over making the land simply too valuable for vineyards and winemaking.
However some of the pioneer family wineries have remained and are still to be found in the region and some vineyards still exist as well. And Cucamonga Valley is still recognized as the oldest American Viticultural Area (AVA) in the U.S.
On our recent trip to Rancho Cucamonga it was our good fortune to contact Kristina Filippi, winemaker for the Joseph Filippi Winery. The winery was founded in 1922 and now occupies a large block of buildings and vineyards located at 12417 Base Line road in Rancho Cucamonga. The Winery includes a tasting room, outdoor patio, banquet hall, museum and gift shop as well as tours of the winery and its operations.
Our first stop was the Tasting Room where we met Candy who has been serving and talking about the Filippi wines for 18 years. Here we tasted an old vine Zinfandel, Cabernet Franc, Petite Sirah and Big Joe Red, a blend. All these wines made from vineyards in the Cucamonga AVA.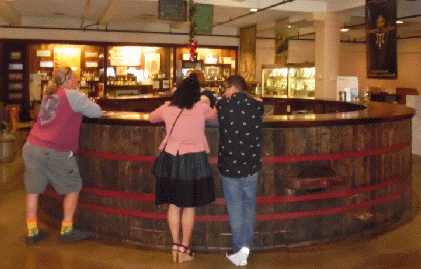 Then Kristina led us on a tour of the winery where we viewed the extensive barrel cellar as well as huge redwood tanks that have been used for many decades adjacent to modern stainless steel tanks, a fixture at all of today's wineries. Kristina has an interesting background that includes graduation from the prestigious Pasadena Culinary Arts School as well as a degree from a local university.
She is part of the family team that includes Joseph Filippi, CEO; Cellar Master Jared Filippi and Consultant Rene Biane. The varietals currently being used include Zinfandel, Grenache, Mourvedre, Alicante Bouschet, Petite Syrah, Merlot, Cabernet Sauvignon, Cabernet Franc, Tannat, and Tempranillo.
The City of Rancho Cucamonga is working closely with local wineries to maintain at least some vineyards in what is now complete urban development. On our visit we noted some vineyards and evidence that others are being removed for more development.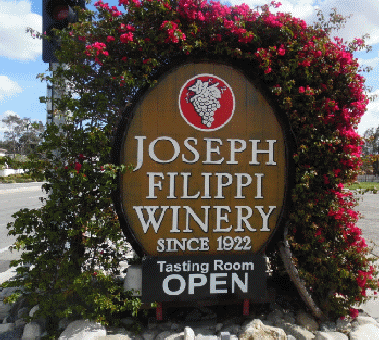 The City has a long history including the first post office in San Bernardino this by signature of President Abraham Lincoln in 1864. Water from the nearby mountains made agriculture possible first with citrus groves and then many vineyards. Besides the Joseph Filippi family others also brought fame to Cucamonga, its vineyards and wines. These include Secondo Guasti, an Italian immigrant who developed what became known as Italian Vineyard Company as well as a town named Guasti. Then there is the Galleano Family, still part of the grape and wine scene.
We plan future trips to Cucamonga to continue our own explorations of this historic wine country and to visit other of the local wineries.
---

Back to Table of Contents..
Last Update:3/1/18
&copy 2018 Joe Hilbers All Rights Reserved.
Graphic Design by Impact Graphics