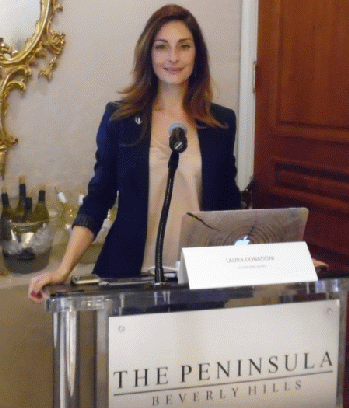 "Beverly Hills--Savor Italy Tasting and Seminar showcased its best foods and wines"
.. By Joe Hilbers
When we were in Italy much of our time was spent in Umbria and we recall how impressed we were with the wines made with the Italian varietal Montepulcino. Recently we had the opportunity to attend a wine event in Beverly Hills entitled Savor Italy which showcased wines and food products imported to the U.S. Part of the program was a wine seminar featuring the wines of Marche, and looking at a map of Italy noted that Marche was the region east of Umbria .
Marche is on the other side of the mountain range that runs between the two areas. The wines of Marche include 21 appellations, five with DOCG classification and 20 with DOC.
We immediately noted the number of native varietals present in the Marche wines with eight whites and reds with Acrima Di Morro, Lacrima and Montepulcino. Featured were wines from the Velenosi Vineyards and Winery. The two red wines we liked best both had Montepulcino as the base for blends that included Cabernet Sauvignon and Merlot in one and Montepulcino and Sangiovese in the other.
The two white wines we tasted included Velenosi Offida Pecorino made with a native varietal named Pecorino. The one we preferred was Velenosi Del Vastelli, again made with a native varietal. Velenosi was founded in 1984 and now produces 20 wines and two and one half million bottles annually. It currently exports its wines to 40 other markets.
Conducting the seminar was Laura Donadoni who while born in Bergamo, Italy now makes her home in Los Angeles founding LACom Wine Agency, focusing on the wine and food industry. The Savor Italy event which took place at the Peninsula Hotel in Beverly Hills was sponsored by the IACCW, Italy-America Chamber of Commerce West in Los Angeles.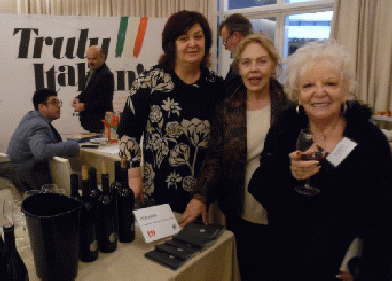 The United States is the leading market for Italian food and wine imports and this was the second year that Savor Italy took place. Some twenty exhibitors were present and included both wineries, and food importing firms, many showing new products available in the U.S. for the first time.
Back to Table of Contents..

Last Update:3/10/18
&copy 2018 Joe Hilbers All Rights Reserved.
Graphic Design by Impact Graphics