Larger than life, and with enthusiasm that is absolutely contagious, Adam Navidi reigns over Oceans & Earth Restaurant, Bar & Catering as Executive Chef/Owner & Farmer. His slogan "Our Chef is our farmer, our farmer is our chef... you can't g et any fresher than that!" tells it all.
At 44 not only has Chef Navidi already gone places, but there's not a shadow of a doubt he will continue to make waves in the culinary industry. You can feel the love and passion in this proverbial tall, dark and handsome multi-talented young man who has created his own dynasty.
Leasing land he calls Future Foods Farm 4 miles away in Brea, to farm fish and grow vegetables for sustainable agriculture, he has gone through hydoponics, aeroponics and aquaponics in just 15 years. Hydoponic is oxygenating the water, chilling the water and using synthetic nutrients to do the work. Here he uses tilapia that grows from goldfish size to several pounds and is utilized in his dinners. "As a farmer I am inspired everyday by Mother Nature and all her beauty". The name 'Oceans & Earth' was created to showcase that relationship.
In addition to his farming Adam's attention to detail is evident in the trendy decor of art, concept and vision in his restaurant, that's celebrating its third year anniversary. Here he offers his menu of delicious specialty gluten free, organic and vegetarian food, many from his farm. Barbie Wheatley his general manager is his right hand and there to help with any questions you might have from the restaurant and bar.
Upon arriving we had the pleasure of dining from one of Adam's 5 course menus.
Our first course was entitled " tasting of tides" and included: lobster clam chowder- Farm Pistou; Pacific cove oyster, farm watercress black pepper mignonette; Future Foods Farms tilapia ceviche; an amazing crab bomb, backyard avocado chimichurri and plump delicious Catalina ranch mussels and Fennel pollen broth that makes your mouth sing.
The 2nd course was Future Foods Farms Tilapia with cedar wood smoked veggies and fried Thai basil, followed with the 3rd course- "colossal Chef's Evolution Burge".
Then there was the 4th course- Kobe akaushi Tri-tip salad with farm greens, homemade Brie and farm herb vinaigrette, a perfect combination.
Our dessert and 5th course was "snowman" cayenne ginger carrot donut. chocolate chip Clafoutis, and house vanilla ice cream.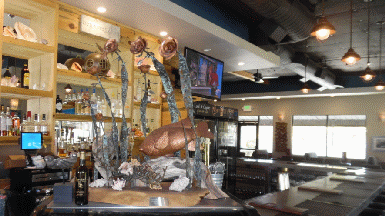 The restaurant also has most attractive bar with a large selection of spirits and Chef Adam's menu of wines by the stem or bottle is outstanding, as is his local craft beer on tap and beer in bottles .
Our dining experience was accompanied to perfection with Cakebread Cellars, Napa Valley, 2012 Chardonnay and Cakebread Cellars, Napa Valley, 2014 Cabernet Sauvignon. In the evenings there is live entertainment.
Off the Menu- Small Plates include a variety of grilled flatbread : Farmers; Oceans & Earth; Hot Mama's chicken; filet & fungus and lobster. Hand sliced chips and fries; signature clam chowder; Chef's handmade " burrata" cheese; and crab bomb. Gracious Living Greens highlight is the Bacon Wedge; and the Nacho Taco Salad. Featured Tacos are the veggie; Chef's signature mushroom "chorizo" and eggs; Future Foods Farms fried tilapia and free range "Jidori" chicken. Signature Burger & Sandwiches are the Oceans & Earth veggie burger; Kobe grass-fed beef; grass fed bbq bison burger. From the sea; the amazing Captain's "fish and chips;" stacked seafood enchiladas; Surf & turf and whole Maine lobster.
From the Land offers veggie "meatball" & zucchini pasta; Gringos huevos rancheros filet tip chili'; Farmhouse fried chicken: Outstanding is the center cut, grass-feed prime dry aged 30-40 day steaks featuring 10 oz prime skirt steak; pan seared 8 oz grass fed 30 day aged filet mignon; and 20 oz USDA prime 40 day dry aged ribeye, all with a variety of sauces that include black truffle bbq, truffle aioli, avocado Jalapeno chimichurri. Finales top it off with "Snowman" donuts, cayenne, ginger, carrot, fig whip cream, powder sugar; fire-pit s'mores or red wine poached apple & berry cobbler.
Brunch served Tuesday-Sunday 9 a.m. to 5 p.m. Tours of the Farm and Lunch are available and there is are Wine pairing dinners each month. Reservations are required for all including dining.
Ocean & Earth Restaurant is located at 20305 Yorba Linda Boulevard in Yorba Linda, California 92886; Phone (714) 970-7027 www.oceansandearthrestaurant.com. Hours: Tuesday, Wednesday and Thursday: 9 a.m. to 9 p.m.--Friday, and Saturday: 9 a.m. to 11 p.m. Sunday: 9 a.m. to 9 p.m. Closed on Monday.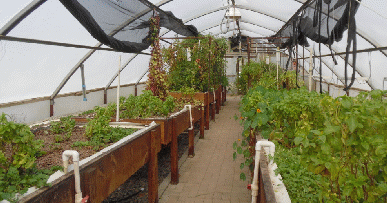 While Ocean & Earth Restaurant has been open only three years it has already aquired awards including Best Organic Food in Orange County as well as Best Outdoor Dining in Orange County.
On our trip to the farm Chef Adam showed us the basic way of how in one integrated system, aquaponics is the marriage of aquaculture (raising fish) and hydroponics (growing plants in the water without soil) and how they come together.
The growing crops were various varieties of organic lettuces,tomatoes,herbs,veggies,peppers,edible flowers. We found all this just amazing!
---

Back to Table of Contents..
Last Update:3/5/18
&copy 2018 Joe Hilbers All Rights Reserved.
Graphic Design by Impact Graphics