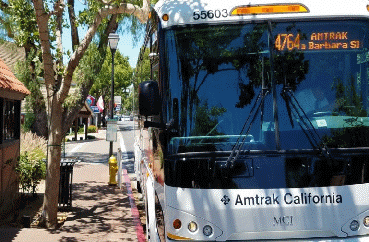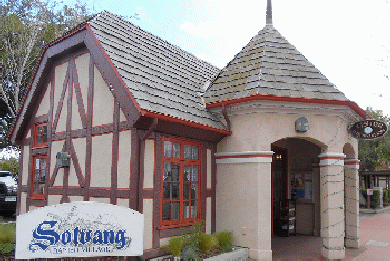 "Solvang--It was all aboard Amtrak for a car free visit to Denmark USA"
by The Editor
The concept of using some other form of transportation rather than driving is becoming a trend in Southern Caifornia. The reason quite obvious after any experience on the 405 or 101. So when the opportunity presented itself to use Amtrak to visit Solvang we were ready to jump aboard.
For a mini vacation Solvang is just about perfect. It is not a long distance from the huge population centers to the south, it is just the right size for exploring the downtown on foot and of course, thanks to its Danish decor and ambiance provides a new and foreign styled experience. It is easy to think you are in Denmark so the 2018 car-free promotion to visit Solvang using Amtrak and then a bus from Santa Barbara sounded like a sure winner.
For us it promised and delivered a car free mini vacation, ideal for anyone living in Southern California since Amtrak's Surfliner has a schedule that covers several trains each day leaving in San Diego with a stop at Santa Barbara. For this Writer living in the west San Fernando Valley it meant catching the Train at the Chatsworth Station with free overnight parking and being in Santa Barbara two hours later.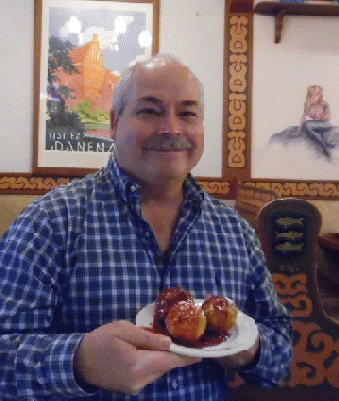 So one Wednesday morning it was "All Aboard" as we met and boarded the Surfliner at Chatsworth Station for a two day visit to Solvang. The route of the train offers different scenes of Moorpark, Camarillo, Oxnard and Ventura. Then the delightful coast watching seaside views on to Santa Barbara.
Waiting for us at the historic Santa Barbara Station was the Amtrak bus which would take us to Solvang in less than one hour. Our bus trip was a delight in itself as after fronting the coast on Highway 101 for awhile we moved inland over a very green world of pasture, meadows and mountains.
Off the bus in downtown Solvang we moved to the Solvang Vistors Bureau, 1639 Copenhagen drive,a two minute walk from the bus station. It is open daily from 9 a.m. to 5 p.m. Here we were handed a fistful of invitations and discount offers available to those using the Amtrak promotion which extends through all of 2018. These included the Solvang Heritage Walking Tour App with free gift of audio ear buds, admission to Wildling Museum of Art & Nature and Elverfhoj Museum of Danish Hisrtory and Art.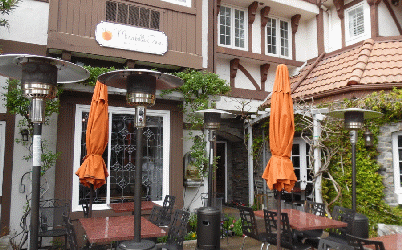 First stop for us was a three block walk to the Mirabelle Inn. This Inn offers a French flair and decor to add to the European ambiance of Danish Solvang. Now operated by Jonathan Rosenson the Inn received in 2015 an extensive renovation to its suites and rooms as well as its restaurant named First & Oak. Our room offered all the aminities including a bottle of wine, 2010 Ciquelicot Sangiovese which is a winery based in nearby Buellton and owned by our Host Jonathan Rosenson. The Ciquelicot name is from a poppy native to France.
It was then time for lunch which was at a Solvang restaurant that has earned a world wide reputation for its version of a very traditional Danish dessert. It is Solvang Restaurant and the dessert 'Arne's Aebleskiver. This is a dough made puff cake served with raspberry jam and a dusting of powered sugar. Legend has it that Vikings made an early version of this on their heated shields.
Owner Jeffrey Paaske is a fourth generation member of a family that arrived to found Solvang in 1911. His father, the late Raymond Paaski, was a B 17 pilot who flew missions over Germany until shot down and made a P.O.W. When he returned after the war he was one of planners of the project that would create Solvang as a replica of an earlier era Danish community. A plan that mushroomed, from beginning in 1947, to the city, as it is known today, with a world wide reputation.
Jeffrey Paaski has owned and operated Solvang Restaurant for 35 years and continues to feature the dessert Aebleskiver every day. The restaurant shows a decor and ambiance that is traditional Danish with wood carvings on booths and open beam ceilings.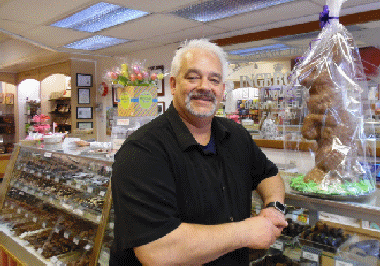 Solvang Restaurant features a large breakfast and luncheon menu and is open from 6 a.m. to 3 p.m., till 5 p.m. on weekends. Address 1672 Copenhagen Drive, Solvang. Telephone 805 688-4645, web,www:solvangrestaurant.com.
Then it was a tour and tasting of Ingeborg's Danish Chocolate Shop located on Copenhagen Drive. In one person's "Lesson of Life" an adage reads ":When it comes to chocolate, surrounder and enjoy". Which is exactly what we did as Owner Kim Jensen led us first through the store crammed with all manner of tempting goodies and then to the back where the making of such tempting chocolates are actually created. The result is that the fame of Ingeborg's chocolates has a world wide reputation and a huge to order on line business. Currently at the time of our visit the orders were piling up for chocolate bunnies for Easter. And so it goes for holidays throughout the year.
Proprietor Jensen kept offering us samples of these delights and somehow we could not refuse any of them, a matter of courtesy of course, o.k. we like chocolate too.
Soon it was time for the Happy Hour at The Landsby Mad & Vin. The Landsby Inn is new to Solvang and features a stunning contemporary Scandinavian decor and ambiance in the bar and restaurant as well as the fifty rooms of the Inn. We were greeted by General Manager Barry Prescott and before settling in the bar and lounge he personally gave us a tour of suites and rooms at the Inn. We found Barry to be most interesting as his personal career in the hospitality industry has been in three countries and among his many skills is the title of Master Sommelier.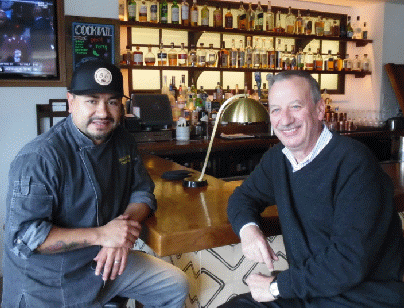 The Happy Hour featured some unique Shrub cocktails and a tempting selection of foods. We indulged with the Duck Fat Fries, Calamari and Spicy Popcorn shrimp. Others on the menu included Ceviche, Chips & Dips, Santa Ynez Beef Sliders and a board of cured meats and cheeses. The unique Shrub cocktails include a selection of specially prepared fruit and spice juices and we tasted some of these, my mango selection was very enticing. We also met Mad & Vin Chef Beto Huiizen, who has 25 years experience in the kitchen and also develops the unique Shrub fruit flavors.
The Landsby Inn, Bar and Restaurant is located at 15576 Mission Drive, Solvang, Telephone 805 588-3121.
Our Amtrak-Solvang adventure was timed so we could take part in the Wednesday Solvang Farmers Market, a weekly year round event that takes place on First Street between Copenhagen and Mission Drive. New to the Market is a farm to table event entitled "Taste of Solvang'" that features dishes prepared by Owner Chef David Cecchini of Cecco Ristorante and Mathew Raab of Fresco Valley Cafe. We had the opportunity to meet and chat with David Cecchini, who, before opening Cecchini in Solvang, had a long successful career as a restaurateur chef in the San Fernando Valley with a restaurant named Gino's.
We had bowls of Pasta e Fagioli, a hearty seasonal stew by Chef Cecchini as well as the Buischetta , made with small diced fresh picked tomatoes heaped over oven warm country bread by Fresco Valley Cafe. Beverage was Citrus Sparkler from Buckhorn Canyon Ranch. in three countries and among his many skills is the title of Master Sommelier.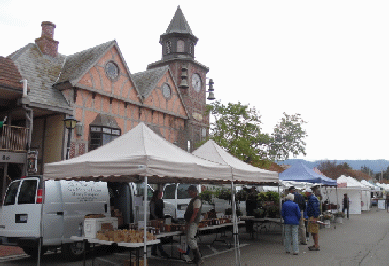 Solvang has 37 restaurants, all individually owned, and representing just about every ethnic cuisine, and some Danish as well. The city just added its 24th tasting room which makes it easy to sample the vinages of many wineries without drives through the Santa Barbara countryside. Sixteen of these are stores representing one winery.
Back to Table of Contents..
Last Update:3/18/18
&copy 2018 Joe Hilbers All Rights Reserved.
Graphic Design by Impact Graphics