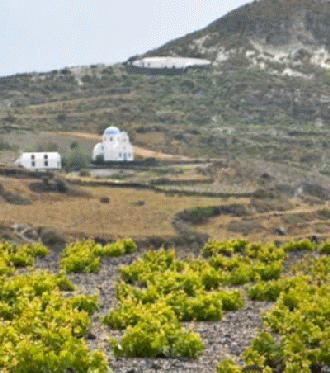 ---
"Old and New World grapes and vintages come together at NuGreek Wines of Sonoma"
By The Editor
That old adage that 'there is always something new to be learned about wine' was explained to this Writer decades ago. And sure enough it was proven, once again, when we attended a Beverly Hllls tasting presented by George K. Zanganas who heads NuGreek Wines of Sonoma.
Member of a family that have been growing grapes in Greece for decades, George has come up with the idea of making wines "blending old world with new world grapes". And after tasting several of the wines we must add that he has done so with great success.
Some wines like 2016 Georgos Dry Rose made from Pinot Noir grapes is all from the families vineyards located at Noas Hpakaveous , what is known as the Temple of Hercules. Originally the family only grew grapes after taking over the property in 1968. Then George Zanganas decided they should be making wines from their own vineyards.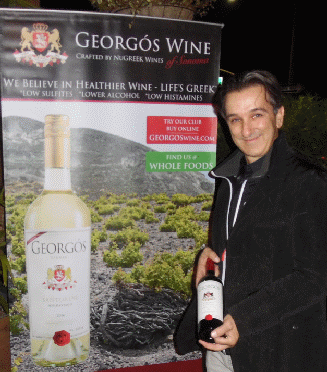 Impressive was a 2014 Cabernet Sauvignon labeled Ithaka 2014 Penelope's Spell which is 85 per cent from Sonoma and 15 per cent from Greek grapes. Its aging in a combination of French, Hungarian and American oak barrels. Georgos'2013 Mykonos Pinot Noir is from Greece while a while wine, 2016 Sophis' Smile Santorini is made from Sauvignon Blanc grapes blended from both Greek and Sonoma vineyards. Another wine with a blend of both Greek and Somona grapes is 2014 Georgos Corfu Super Red Blend.
Zanganas explained about Georgos Super-Premium Greek wine. "We handcraft them in Sonoma with 100% non-gmo grapes and lower sulfites.Because we triple hand-sort our grapes, the histamines are reduced (the culprit of red-wine headache). Our wines are super healthy and is why we call them, 'The Greek Wines of Sonoma".
We thought NuGreek Wines of Sonoma a most original and successful achievement by George Zanganas.
---

Back to Table of Contents..
Last Update:12/10/17
&copy 2017 Joe Hilbers All Rights Reserved.
Graphic Design by Impact Graphics