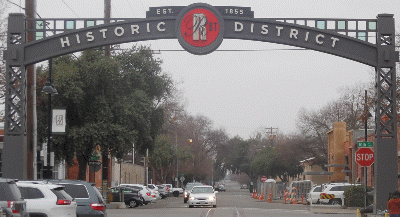 "Sacramento--For visitors there is much to see and enjoy""--"
.
For being the Capitol of a State that has one of the world's largest economies Sacramento may seem unpretentious. It still likes to maintain its original agriculture background proving it once again with its current slogan maintaining itself as the "Farmer to Fork Capital." But in reality California has been a recognized world leader in cinema, entertainment, technology and much more for decades.
On our recent visit to Sacramento we settled in at Hilton Garden Inn which became our home away from home for the next three days as we made like tourists to explore some of our State Capitol. Located in a business center just minutes from Interstates 5 and 80 as well as the city's old town established in 1849, museums and Capitol building . The hotel offered all amenities with its 150 comfortable rooms, an expansive free parking area and with its Garden Grille the perfect place for breakfast or dinner after a busy day. The setting of the Grille and Pavilion Lounge is casual but the service was excellent and either for breakfast or dinner the entrees were made to order for freshness and flavor.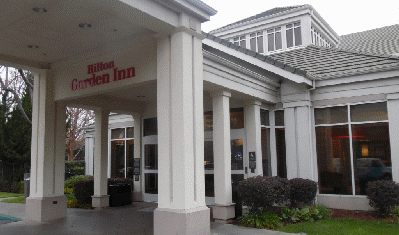 Our accommodation could be called a one room suite with its sofa, comfortable working desk, free HiFi and king size bed, all with a view out to what was truly a garden. There was also a large fitness center, a place we personally never go or use. The Pavilion Bar was more to our liking.
Hilton Garden Inn in Sacramento is located at 2540 Venture Oaks Way, Sacramento, Ca 95833. Telephone 916 568-5400, web www.sacramento.hgi.com.
Famous and picturesque can describe the Crocker Art Museum which was one of the museums we visited on our Sacramento tour. The Crocker name is famous in California and Judge E. B. Crocker was one of the family. He served on the California Supreme Court and was the brother of Charles Crocker, one of the 'Big Four' railroad barons that built the Central Pacific Railroad. Judge Crocker and his wife, Margaret, started collecting art after a trip to Europe and then expanded their collection with art by contemporary Californians. The original site of the museum was once the Crocker home and is most impressive both with its Victorian exterior as well as its stately rooms. New is the Teel Family Pavilion which was completed in 2010 and has tripled the size of the Museum.
With three floors the museum shows European and Asian art as well as California from the Gold Rush to Impressionism. Another floor houses African and art from Oceanic Islands. As usual for us the landscape paintings of early California artists got the most attention and envy when compared to this Writer's poor efforts with oil painting. The collection of l6th and 17th century Dutch and Flemish paintings is most impressive.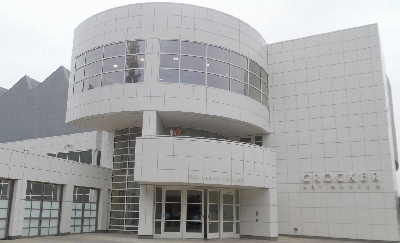 Founded by Edwin and Margaret Crocker in 1885 Crocker Art Museum has continued to expand until it is now the 69th largest art museum in North America.
The Crocker Art Museum is located at 216 O Street, Downtown Sacramento, Telephone 916 808-7000, web www.crockerart.org.
Sacramento's California Museum calls itself "the official home of the California Dream". It was created with the State's Secretary of State in 1998 as a showplace for the California State Archives. And since then has evolved with exhibits displaying its history from the centuries of settlement by native Americans, to the first Europeans and their impact and establishment of Missions, to a listing of contemporary Californians entitled its Hall of Fame, whose contributions in many fields have advanced its reputation around the world. Another exhibit centers on "California's Remarkable Women" and showcases the achievements of some 200 of the State's remarkable women and their accomplishments.
One dramatic one of a kind exhibit is the Constitution Wall which is a six story sculpture featuring words taken from the State's constitution guaranteeing the people's rights. Another exhibit tells of plight of uprooted Japanese Americans during World War ll and finally the redress of their constitutional rights.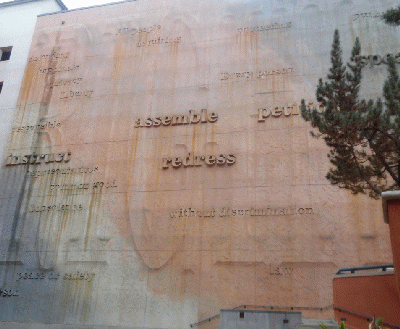 The California Museum is located at Archives Plaza, 1020 O Street, in Sacramento. It is open six days a week with an admission charge, closed Monday. For more information call 916 653-7524, on the web.www.californiamuseum.org
As a lifetime railroad buff I had long wanted to visit the California State Railroad Museum, regarded by many to be the finest of its kind in America. So at last I was there. First impression is just how large it really is thanks to its 100,000 square foot main facility.
Once inside first stop was the Museum Theater and a movie entitled "Evidence of a Dream" which illustrated the huge role the railroad played in developing the country and especially the west and finally linking California with the rest of the nation.
This linking of east and west is also covered in a special exhibition and the role played by thousands of Chinese laborers brought to California especially for the building of the railroad through the Sierra Mountains.
All told the Museum houses over twenty restored locomotives and railroad cars, some from the Golden Age of railroading with Pullman and Dining cars showing the luxury that existed at the time.
One floor is devoted to toy trains which have existed as long as the railroads themselves. Here there is a huge collection of the trains, stations and landscape, all set up and ready for use by children. I recall that my first train was not electric but windup and a few of these were on exhibit as well. And set me to wondering what has happened to my later electric train set and that of my children.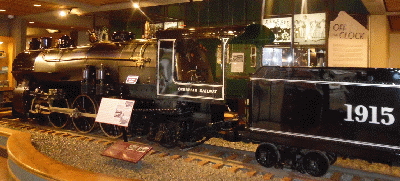 Photography is permitted throughout the museum and there is indeed much to photograph. The locomotives vary in size from some used at mines to the giants that pulled the cars over the Sierra Nevada mountains. Modern diesel electric models are also included. There is much to see here so allow plenty of time.
During the summer months from April to September there is an Old Sacramento Excursion Train ride available. The train takes one on a six mile, 45 minute trip along the levees of the Sacramento River.
The California State Railroad Museum is a part of Old Sacramento State Historic Park and located at the corner of Second and I Streets in Sacramento. Telephone 916 323-9280, web www.californiarailroad.museum.
If you visit the Railroad Museum you will want to visit Old Sacramento as well since it is adjacent to the Museum. Historic Old Sacramento dates back to 1848 when gold was discovered at nearby Sutters Fort. It was also last stop for mail delivered by the Pony Express as well as the terminus for the transcontinental trains that could now cross the entire country. The original area also was the first home of the California Supreme Court Chambers.
The area now includes fifty three historic buildings and offers everything from dining to shopping and entertainment. Tours are available to show how the streets of the community had to be raised to ease the flooding that often took place by the adjacent Sacramento River.
For more information on Old Sacramento call 916 808-7059, web www.oldsacramento.com or for visitor information telephone 916 442-7644, web www.sacramento365.com.
Back to Table of Contents

Last Update:1/31/18
&copy 2018Joe Hilbers All Rights Reserved.
Graphic Design by Impact Graphics