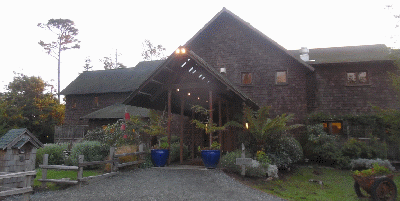 >
---
Mendocino County--It beckons with adventure, recreation and a wine trail By Joe Hilbers
When visiting Mendocino County in the far north of California think big. The trees are bigger and taller, the rugged coast line bordering the Pacific Ocean appears endless and the curves on Highway One that will take you there seemingly without number.
This region has demanded more of the people who settled here. Logging first brought the men and this demanded much in the way of physical strength and courage followed by the seamen who braved the rocky and threatening harborless shore to bring the lumber to market and help build cities like San Francisco and Los Angeles.
This was, of course, the early history. Now the logging is mostly gone and in its place all the making for a tourist and visitor delight. Just inland from the towns of Ft. Bragg and Mendocino is the Anderson Valley which has developed in just a few decades to one of California's best for vineyards and exceptionally excellent wines.
Now adjacent to Highway One is as number of resorts, bed and breakfast establishments, hotels, motels and any number of outdoor activities to attract the visitor.
In planning our most recent trip to this region we were fortunate to learn about Brewery Gulch Inn which offers five star accommodations and amenities while maintaining in architecture, decor and ambiance the life-style of the region and its history.
We arrived on the day after a winter storm that had swept through California from border to border and a wind of gale force ferocity was sweeping the nearby ocean creating a white capped scene of angry waves and spray. On Highway One we spotted the water tower graced with a sign proclaiming Brewery Gulch Inn and once inside the attractive reception area and lodge found a wondrous refuge.
Waiting inside was a smiling innkeeper who had been expecting us. What we saw was a beautiful redwood paneled front desk with adjacent wine bar, then a huge fireplace with blazing logs surrounded by a large lounge. This lounge overlooks a stretch of ocean that is called Smuggler's Cove and on this day under fierce attack by angry ocean surf.
Soon our Innkeeper had our luggage in our own suite which was named the Madrone. Each of the ten rooms at the Inn has the name of a tree. Our room had windows and patio overlooking Smuggler's Cove, its own gas fireplace surrounded by easy chairs. The luxury continued with a king size bed, and a full bath with a two person tub, desk, flat screen TV and complimentary local and domestic long distance telephone service.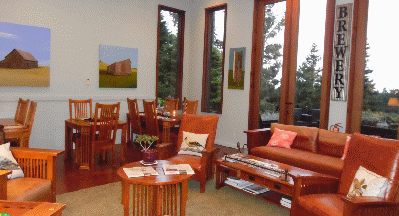 That evening as we were tasting the complimentary wines that are part of the service we met Guy Pacurar, proprietor of Brewery Gulch Inn who has a most interesting history. After a very successful career heading a national student exchange program based in Southern California Guy decided he would like to become an Innkeeper of a resort in a scenic and exotic location. After a search that took a full year and included viewing twenty nine proprietors in five states he found what he was looking for at Brewery Gulch Inn located close to Mendocino on Highway One.
Logging of giant redwoods started in the region in 1851 and the way to transport the logs was down the Big River which is close by to what became the town of Mendocino. Land which is now part of Brewery Gulch Inn was originally a farm. Also nearby is Smuggler's Cove which is said to have housed an illegal brewery during Prohibition which is where the name comes from.
Amenities at the Inn include complimentary gourmet cooked to order breakfast. Following the evening wine hour a light dinner buffet is offered that is changed each night by the in house chef. That first evening we tasted four wines, all from surrounding wine regions. First was Fathers and Daughters 2015 Sauvignon Blanc for adjacent Anderson Valley, then Michael Sullberg 2013 Cabernet Sauvignon, and McNab 2013 Petite Sirah from Hopland. Our buffet dinner included an much admired French Onion soup, Shrimp Risotto and the Chef's inspired Quitch.
Another evening our wines included Old Vine Red OVR from Marietta Cellars, Fathers & Daughters 2014 Pinot Noir and, an Italian white wine Arneis from Enotria. For the buffet Chef Joe Niesyn prepared a peppercorn flank steak with a most tasty mushroom sauce, steamed fresh vegetables, baked sweet potatoes and his own freshly baked chocolate cake.
Brewery Gulch Inn proved to be the perfect base for some explorations of the surrounding areas including the delightful community of Mendocino, originally a lumber company town but now with the traditional look and decor of a New England Victorian town.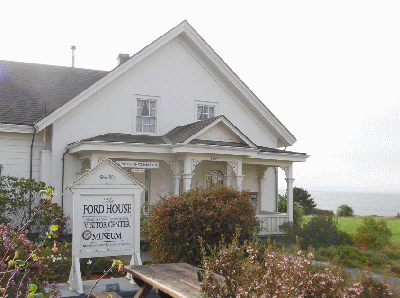 One of our first stops was to visit the home of Jerome and Martha Ford built in 1863. Now the Ford House is a museum as well as the Visitor Center for the Mendocino Headlands State Park. But from the time Jerome brought his twenty three year old bride to Mendocino it served as their home until 1872. When she first arrived Martha was one of only three settler women in Mendocino. After our visit to the Ford Home we continued to an overlook of the ocean from Mendocino Headlands State Park, We had been told that at the time of the year of our visit whales would be moving south and could often be seen from there. And sure enough soon we could see the splashes of white water that could only be whales breaking to the surface and once we actually saw the black streak of a surfacing whale. It was also the time for some photo opts as the morning clouds were yielding to the sun and the air clear for perfect viewing.
We had one more thing to do in the town of Mendocino. The TV series "Murder She Wrote" opens with scenes of what appears to be a New England town and a residence but was actually shot in Mendocino. My traveling partner wanted to write about this so we set about finding the residence named Blair House. Finally we got directions from the Visitors Bureau and did take photos of Blair House which today is a private residence.
On leaving Mendocino we drove a few short miles to Ft. Bragg. After the marvelous feast which is called breakfast at Brewery Gulch Inn we had little appetite for anything more that as few snacks for lunch which we found as expected at the McDonalds in Ft. Bragg.
Some of the afternoon we wanted to spend leisurely in the luxury of the Inn, both in its great room and our own room with its fireplace and views of the waves pounding the rocks and beach of Smugglers Cove and then somewhat impatiently for the beginning of the nightly wine hour and appetizers preceding the buffet dinner. It does not take long to get completely spoiled at Brewery Gulch Inn.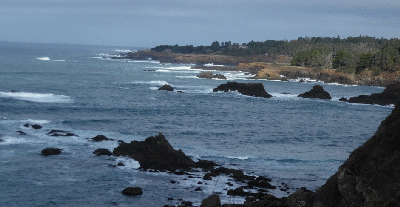 During our stay at Brewery Gulch Inn we enjoyed Fathers & Daughters Cellars wines and learned that our Host Guy Pacurar was one of the owners. How all this came about proved to be a most interesting story which will be related in a separate Vittles story.
The intimate atmosphere and luxury of Brewery Gulch Inn has not gone unnoticed. It has won awards as California Inn of the Year and was chosen as one of the 10 most romantic Inns of the Year, also as a coveted four diamond award from the AAA.
Brewery Gulch Inn is located at 9403 North Highway one at Mendocino, Calilfornia. It first opened in 2001 and a large number of its guests return again and again. It is open year round and its rates do change between low season and high season. For more information call 707 937-4752 or 800 578-44564, web www.brewerygulchinn.com.
---

Back to Table of Contents..
Last Update:1/25/18
&copy 2018 Joe Hilbers All Rights Reserved.
Graphic Design by Impact Graphics