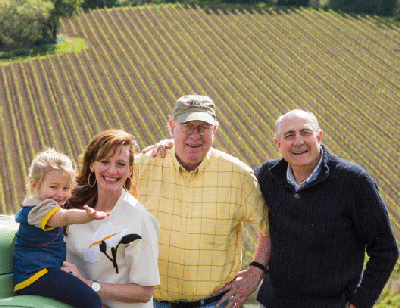 Anderson Valley--Here two families joined to open a winery named Fathers & Daughters Cellars
.. By Joe Hilbers
To get to Brewery Gulch Inn we traveled north on Highway 101 until we reached Cloverdale where there is a junction with Highway 128. This road is also one of California's newest and most scenic wine roads. First after climbing to a summit you reach the Yorkville Highlands Appellation then you descend into a valley filled with vineyards many planted on hillsides with ridges above graced with forest of pine and fur. This is the Anderson Valley Appellation which has achieved fame in recent years for its premium wines.. Varietals like Pinot Noir, Chardonnay, Cabernet Sauvignon and Sauvignon Blanc do very well in a terroir that is the furthest north in California.
Many of these wineries now have tasting rooms so one can take part of a day sampling the wines and enjoying the vineyards and then a scenic drive through State Parks with towering redwood trees, campgrounds and finally a meeting with Highway One a few miles south, of first, Mendocino and then Ft. Bragg.
During our stay at Brewery Gulch Inn we enjoyed Fathers & Daughters Cellars wines and learned that our Host Guy Pacurar was one of the owners. How all this came about proved to be a most interesting story. It begins when two families came together through marriage.
Kurt Schoeneman, after a successful career as a Bay area builder, decided he would like to grow grapes and his daughter, Sarah Schoeneman aided in finding the right place which turned out to be a vineyard in the Anderson Valley, this in 1996. Named the Ferrington Vineyard, under Kurt, it soon gained a reputation for its premium quality grapes which were being sold to wineries in the region.
Then Sarah and Guy Pacurar married and the idea of using Ferrington grapes to make their own wines developed and in 2012 the first vintage was made as a daughter was born to Guy and Sarah named Ella. Also involved was Guy's daughter,Taylor. So the name Fathers & Daughters Cellars was chosen to launch what has become a most successful brand.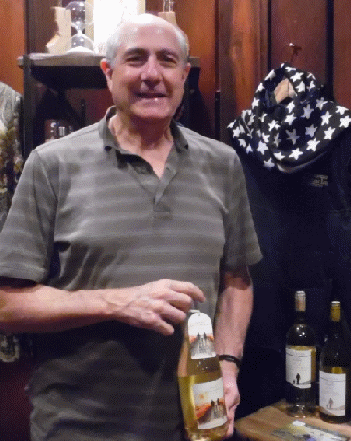 Its first vintages were Pinot Noir, the varietal that has brought Ferrington Vineyards fame but also Sauvignon Blanc from the same vineyard. Acting as winemaker is Phil Baxter who has his own wines under the name Baxter Wines. The Fathers & Daughters wines and label have received accolades at wine events. The first wines released were a 2012 Pinot Noir and then a 2013 Sauvignon Blanc. They were released in 2015 and the Pinot Noir is entitled Ella's Reserve after Guy and Sarah's daughter. This was followed by further releases of Pinot Noir as well as Chardonnay and Gewurztraminer, all from the Ferrington Vineyard. Other bottlings include The Dance, a blend of old vine Sauvignon Blanc, Gewurztraminer and Chardonnay.
Sarah's Rustic Bubbles is a most unusual wine made with Chardonnay grapes in the "petillant-naturel style', it is sparkling when pressed into the bottle, then crown capped and allowed to ferment without disgorgement or dosage as is the process with most sparkling wines. Opening a bottle of Sarah's Rustic Bubbles produces a mild sound as the bubbles take away the remaining yeast. We found the flavor delightful.
In this Writer's discussion of Fathers & Daughters wines with Guy Pacurar at his Brewery Gulch Inn he told us that quality of the wines was most important and were never released until they had properly matured. At present all the grapes are from the Ferrington Vineyard which is included in the Anderson Valley Appellation.
This appellation has become well known for the quality of its grapes and wines in a relatively short period of time. At present Ella's Reserve Pinot Noir is available in the 2013 and 2014 vintages, the Sauvignon Blanc in 2014, 2015 and 2016, the Chardonnay in 2014, 2015 and 2016 and Gewurztraminer in 2015 and 2016 vintages.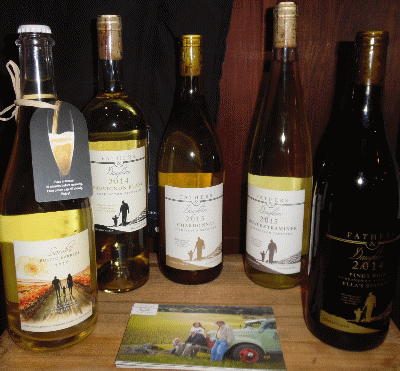 To purchase Fathers & Daughters wines at present visit their website www.FandDCellars.com. Their address P.O. Box 29, Philo, Ca. 95466, Telephone 707 813-1137.
Back to Table of Contents..

Last Update:1/31/18
&copy 2018 Joe Hilbers All Rights Reserved.
Graphic Design by Impact Graphics