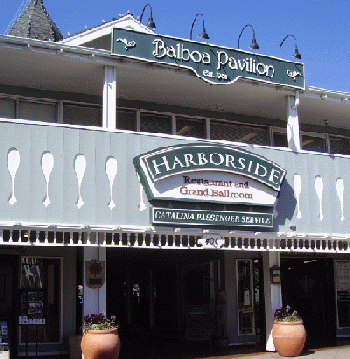 "Newport Beach--Harborside Restaurant does it all at Balboa Pavilion"
By The Editor.
It is always a joy to be at a restaurant where it all comes together, location, decor and ambiance, a friendly efficient staff and an excellent menu with sensible pricing. And so it was when we dined recently at Harborside Restaurant in Newport Beach. The view is, of course, perfect with every table and booth overlooking the bay. As for location the restaurant is in the historic Balboa Pavilion which has been gracing the harbor since 1906.
There are just hints of this history and tradition when you first enter the restaurant. The walls show the paneling of an earlier era as well as the Tiffany lamp in the corner. Also the pattern stamped metal ceiling so common in early 20th century restaurant decor .
Also decorating the walls of the entry are ten plaques from the Southern California Restaurant Writers with Harborside's awards as a superior dining establishment. Doug and Dave Salisbury took over the Pavilion in 2002 and have never looked back. Downstairs the Harborside Restaurant offers a delightful dining experience, upstairs a large ballroom with sweeping views of the harbor from the large windows that dominate the walls. This ballroom and banquet hall can handle up to 500 guests
.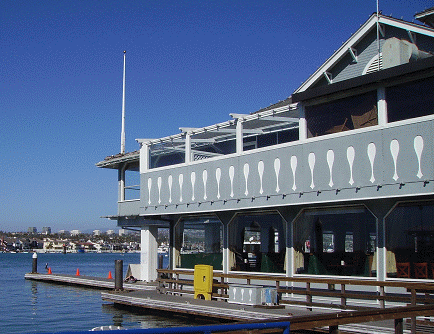 After taking a tour of the pavilion with Manager Sheila Corwin it was time to try the cuisine of Chef Luis Zaragoza. Naturally with its bayside location the menu offers much seafood both among the starters and entrees. We started with the New England Clam Chowder, but it was a tough decision on our part since so many were among our favorites, like the Calamari Tempura or steamed Manila clams, crispy coconut shrimp or lobster bisque.
My entree was Bay scallops with risotto while my dining partner sat before a huge platter of baby back pork ribs which also included the chef's own barbecue sauce, baked beans and french fries. The rack of ribs was so big that my partner actually allowed me to try one rib which with its sauce was delicious. The menu also shows Alaskan Halibut, blackened Mahi Mahi, Parmesan Red Snapper or fish and chips. Steak eaters will be happy with a choice of Filet Mignon, Top Sirloin or New York strip loin. The wine list is solid with many vintages offered by the glass as well.
Besides the dining room there is a bar and lounge, again offering the great views of the bay. The Harborside boasts the 'longest happy hour in town' everyday from 12 noon to 7 p.m. The Happy Hour also includes special pricing for a long list of appetizers such as fried zucchini, grilled artichoke, mac and cheese, Caesar salad and about 18 other items.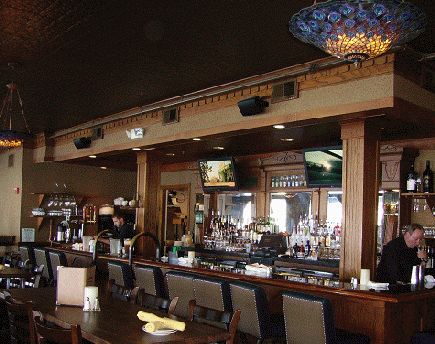 To us Harborside represented real value with moderate pricing, a wonderful casual beachside ambiance and what really captured our attention the attitude of the staff, caring, efficient, friendly and always with a smile. This real value includes a 'First Seating' menu from Monday thru Friday from 5 to 6 p.m. Here a three course dinner of soup or salad, choice of seven entrees and dessert of creme brulee or cheesecake.
Harborside is open for breakfast Saturday and Sunday from 10 a.m. to 3 p.m., Lunch seven days from 11:30 a.m. to 3 p.m. and Dinner Monday-Thursday 5 p.m. to 9 p.m. Friday and Saturday 5 p.m. to 9:30 p.m. and Sunday 4 to 9 p.m. The restaurant is located at 400 Main Street and with the towering Pavilion hard to miss. Telephone 949 673-4633, on the web at www.harborside-pavilion.com.
Also under the ownership of Doug and Dave Salisbury is Newport Landing Restaurant & Oyster Bar. Since it is just a block distant from Harborside, on the Bay Arcade, we did stop in and chat with John Bullard, long time general manger. Impressed with this restaurant with its 27 year history we promised that a review of the Newport Landing would soon appear iin a future Vittles.
Back to Table of Contents

Last Update:7/5/12
&copy 2012 Joe Hilbers All Rights Reserved.
Graphic Design by Impact Graphics