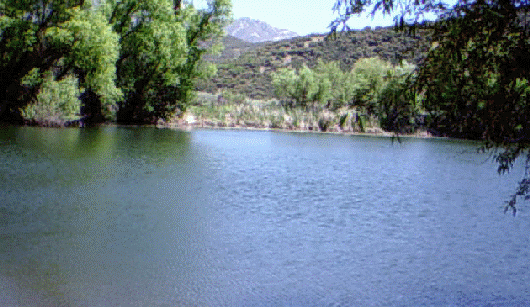 Highway 33 leads to California's Outback
.. By Joe Hilbers
California's Highway 33 will take you to a part of the State that few people ever see or really know actually exists. It starts at Ojai a few miles inland from Ventura and ends 169 miles later at Coalinga. The two lane well maintained highway starts at an elevation of 746 feet following Matilja Creek and then climbs over southern parts of the Santa Ynez mountains to Pine Mountain summit at 5084 feet.
We should add here that services are all but non existent in the first 67 miles of this journey so start with a full tank of gas and a picnic basket helps as well. You pass Wheeler Gorge campground. If taken in late Spring one see whole mountain sides covered with Scotch Broom in dazzling yellow. Past the divide California lilac will be in deep blue bloom and the brighter blue of Narrowleaf Pensteman as wll. All of the country you are passing through is in the Las Padres National Forest.
Over the divide look for blooming white Mariposa lilies and the Malilja poppy. Also the road pointing to the Rose Valley and four miles down this road will take you to an unexpected Rose Lake. The lake does have fish and nearby a campground and in wet years Rose Creek offers a real waterfall which can be reached on a short trail from the Campground. Back on Highway 33 when you reach Ozena, there is a crossroads, Highway 33 continues north while the other road points east to the Lockwood Valley and Frazier Park. On Highway 33 there is still much to see as you pass, for us, a tantalizing sign pointing to the Dick Smith Wilderness Area.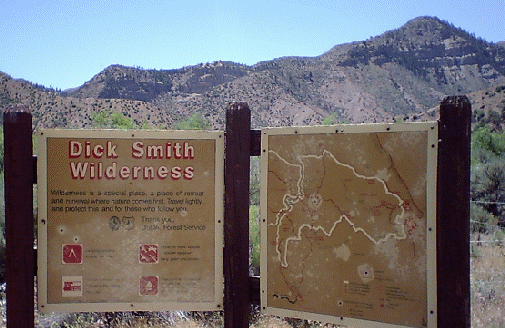 This unimproved road takes you pass a long flood plain and the Cuyama River, generally dry during the summer months, then another crossroads, one leading to Rancho Nuevo campground and trail head and the other to Tinta campground and a second trail head. Both these have trails leading into the Dick Smith Wilderness area or the San Rafael wilderness. The Dick Smith Wilderness was created in 1985 by the U. S. Forest Service to protect the mountain country east of Santa Barbara for recreation. It was named for a Santa Barbara journalist and naturalist who worked to protect the region and publicize its potential for recreation.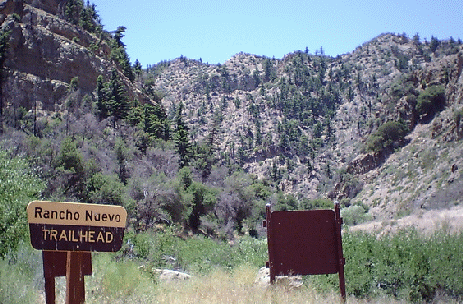 Continuing on Highway 33 you pass though some farm and ranch country all open with wonderful panoramic views in every direction. The next crossroads is where you meet Highway 166 which going west ends in Santa Maria and on the east to Bakersfield. You will also a pass a sign that reads Soda Lake. This leads to the Carrizo Plain National Monument which lies between the Temblor Range on the east and the Caliente range to the west. In the section of highway you have driven this far it will be rare to have seen more than ten or twelve other vehicles.
The Carrizo Plain is well worth a visit of its own since it is a great place to view the San Andreas Fault and in fact view a meeting of two of the earth's greatest tectonic plates, the North American plate and the Pacific plate. In fact here you can hop from one to the other in a few steps.
On Highway 33 you will see on your left Cuyama Peak at 5873 feet as the highway losesl altitude and reaches the small community of Maricopa. From here north you are in oil drilling country. Then Taft, where all services are available, and then one hundred and sixty nine miles after leaving Ojai you will reach Coalinga. From there it is only a few miles to connect with Interstate 5.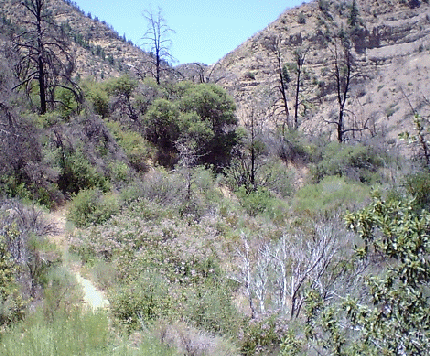 Back to Table of Contents..

Last Update:7/3/12
&copy 2012 Joe Hilbers All Rights Reserved.
Graphic Design by Impact Graphics