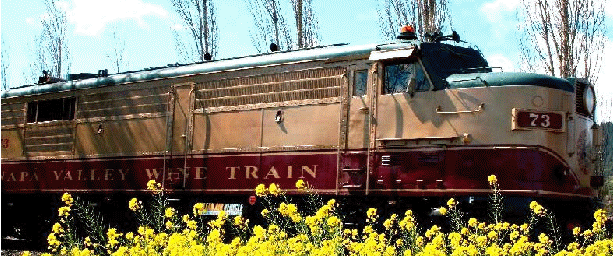 "Napa--The Wine Train is an experience not soon forgotten"
by The Editor
The Napa Valley has been called legendary thanks to world wild recognition due to its reputation for producing world class wines. It also presents an image of a laid back horn of plenty life-style at least for its millions of visitors. And nothing personifies and projects this image better than the Napa Valley Wine Train.
Many times one's first experience of some event or journey remains as the best. But this was certainly not true when this Writer experienced his second Wine Train trip recently. The first was in 1997 during the early beginnings of the Wine Train concept with about three cars and engine. We thought it pleasant unique experience and wrote about it as such.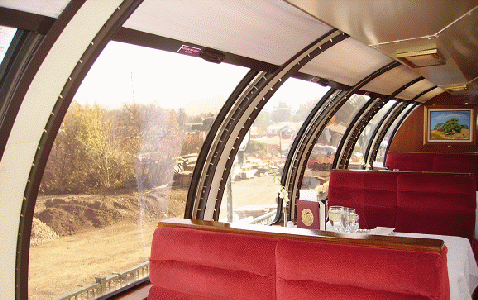 But we were not expecting the vast changes that have occurred since then. Now we entered a charming station house and depot with comfortable seating and station amenities. There was a pre boarding wine tasting and a choice of several different versions of the trip including a winery tour en route. An affable lady conducted a pre boarding talk on what to do and see. And on boarding where once there were a few cars now stretched a full line of sparkling coaches. The changes for this Writer were awesome and as a life long train 'buff' we loved the restored cars displaying their charm of an earlier era when train travel was king.
We, of course, had to walk the entire length of cars to explore them all before settling in our dining car with ambiance promising a leisurely and graceful luncheon. Our Gourmet Express lunch opened with a choice of lettuce salad with candied walnuts and smoked goat cheese or the soup of the day which we chose. It was a cream of buttery squash and its consistency and flavors proved it was well named. Then we selected the grilled and roasted beef tenderloin with a wondrous reduction sauce accompanied by potato saute and roasted artichoke heart.
Other choices included Achiote Pork Tenderloin, Corlander breast of chicken or a Chef's Vegetarian trio. There was also a special of the day selected by one of our dining partners that was salmon surrounded by penne pasta. Kelly Macdonald is executive chef and we admired his handiwork.
Still to come was our choice of creme brulee for dessert and for this we adjourned to another car equipped with comfortable arm chairs which pivoted for either viewing the passing scenery or facing inward for conversations with other passengers. Again with the car's ambiance a reminder of a luxurious past era.
We took this trip in on a sparkling cloudless day with the endless rows of grape vines showing the multi-colors of late fall. Our three hour trip seemed to hurry by and at the end we could only wish it had lasted longer.
Back to Table of Contents..
Last Update:7/10/12
&copy 2012 Joe Hilbers All Rights Reserved.
Graphic Design by Impact Graphics