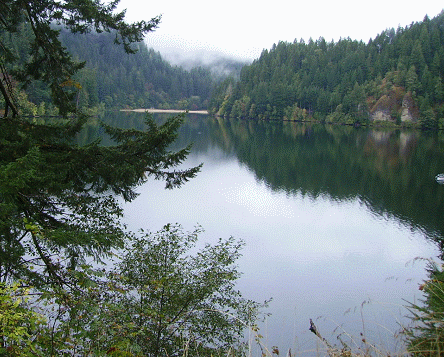 "Loon Lake, Oregon--The viewer had changed much more than the lake in 65 years"
By The Editor.
For this Writer Oregon's Loon Lake was a time of reflection. For the visits were 65 years apart. The first time I visited it I was twenty years old, an ex soldier back from a tough war, who still had no idea of what I wanted to be, how I was to fit into society and most of all how to acquire skills for a vocation that I liked, and be reasonably successful, something still to be discovered.
That first visit occurred because long time neighbors in San Francisco, Robert and Elaine Fullhart, were in the process of becoming part owners of the Loon Lake Resort in Oregon near Reedsport. They were taking the trip to Oregon with sons Robert Jr. and William to discuss details with their proposed partners. Since I had been idling away that summer without purpose they kindly invited me to go with them.
At the Lake Bob Jr., a high school junior, and I spent most of our time fishing the lake. I recall we caught a good many catfish. So many that Bob's father threatened to start making us clean our own catch
The second visit, so many decades later, came about when this Writer was one of a group of journalists on assignment exploring Oregon's Southern Coast and its many attractions. As I drove toward Reedsport on Highway 38 I noticed the turnoff sign for Loon Lake and just had to see it again. Much had changed at the Resort but the lake was still as I remembered it.
After that first trip I went on to college and only heard about the Fullharts from my mother who exchanged Christmas cards with Elaine for many years. When Robert Senior died Elaine moved to Reedsport as Postmistress. The sons, Robert Jr. and William had successful careers in the insurance business and that was all I knew.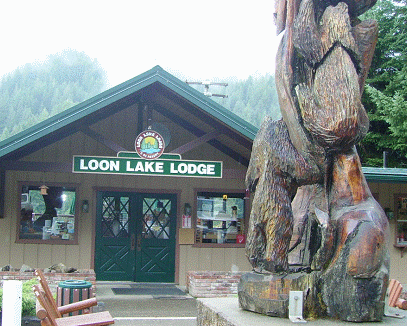 As I looked at Loon Lake, so many decades later, I realized how little I resembled that carefree youth of long ago and wondered where he had gone. But also concluded that I had much to be thankful for and only few regrets. As for Loon Lake it is still beautiful and, besides the Resort with its many facilities, has Forest Service campgrounds and, yes, now the seven mile access road is paved.
A second stop was also required before arriving at Reedsport on Highway 38. This was at the Dean Creek Elk Viewing Area which is managed by the U.S. Bureau of Land Management. This is the perfect place to look at and photograph the elk as well as other wildlife of the region. The drive from Roseburg to Reedsport on Highway 38, much of it through Umpqua National Forest, was in itself a rewarding experience. The numerous fishing access points along this highway were hard to resist.
Back to Table of Contents

Last Update:7/25/12
&copy 2012 Joe Hilbers All Rights Reserved.
Graphic Design by Impact Graphics