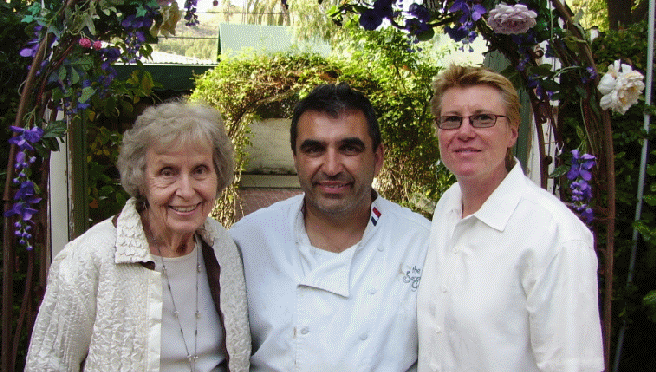 "Moorpark--TheSecret Garden Restaurant cuisine pleased Wino group

by The Editor
We have to thank Vittles' staffer Jeanne Bartlett for leading us to The Secret Garden Restaurant in Moorpark. We had heard of this restaurant with a haute French American cuisine but we don't get to Moorpark very often. So when Jeanne held one of her Wine Investigation for Novices and Oenphiles, (WINO), events there, we finally had the opportunity to experience the talents of Owner Chef Michel Bardavid. And were most impressed.
The wines featured that evening were from Mosby Winery and we had Louise Smith, representing Owner winemaker Bill Mosby to explain the wines produced in Buellton. Mosby is a family winery founded by Bill and Geraldine in 1976 and has 45 acres planted in vines and now with son, Jerry, also involved. Mosby is dedicated to Cal-Italian wines and brandy. P>With a warm crab and smoked salmon salad the wine was 2010 Mosby Pinot Grigio. Next a very special wild mushroom Risotto with Mosby Lucca, a Sangiovese blend. Third course was a bacon wrapped petit filet of beef with the 2007 Mosby Dolcetto. Then a mixed greens with Roquefort cheese and candied walnuts served with 2007 Mosby Sangiovese. These wines are created in an Italian style. Dinner was completed with a chocolate Marquise with vanilla and raspberry sauce. Served with a zinfandel which Mosby calls Primitivo.
Secret Garden has a large indoor dining room but also extensive gardens and we dined al fresco that evening on a shaded patio surrounded by greenery. Looking over the regular menu we noted items like lobster bisque and potato leek soup, appetizers like stuffed Quail, crab cakes and spicy tuna tartar and entrees like venison loin, two way duck and ahi tuna. We concluded this was our kind of restaurant.
Secret Garden Restaurant is located at 255 E. High Street in Moorpark with free off street parking. Open for lunch and dinner six days, closed Mondays. Telephone 805 552-9523, web thesecretgardenrestaurant.com
Back to Table of Contents..
Last Update:5/9/12
&copy 2012 Joe Hilbers All Rights Reserved.
Graphic Design by Impact Graphics