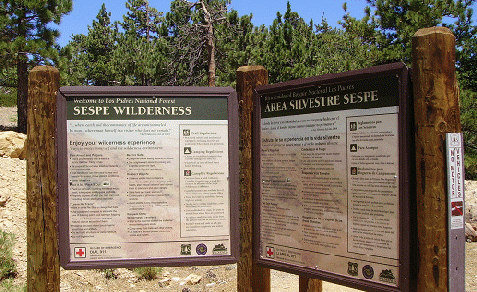 "Las Padres National Forest--Reyes Peak at 7,000 feet offers great views in every direction
.
By The Editor
We were atop Reyes Peak at 7000 feet elevation and that delightful show tune "On a clear day you can see forever" could have been composed here. It was indeed a clear day and our view extended to the Pacific Ocean and three Channel Islands: Anacapa, Santa Cruz and Santa Rosa were framed faintly on the horizon. In another direction other familiar mountains Pinos, Cerro Noroeste, and Frazer Peak. higher still, all over 8,000 feet. Far below us the lonesome country of the Sespe Wilderness.
Once again we had escaped the summer heat of the San Fernando Valley and retreated to the Las Padres National Forest, fortunately only a relatively short drive away. Reyes Peak is one of our favorite day trips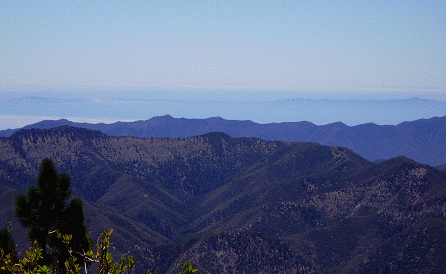 At an elevation of 7000 feet it is forested with Big Cone Douglas fir, Monterey and Jeffrey pine and the vistas it offers alone makes it worth the trip. There is a campground on top with rustic tables and outdoor plumbing. Standing above everything else for many miles it almost always has a refreshing current of air flowing from the ocean. The Reyes ridge also includes the trailhead to the Piedra Blanca trail that leads to Sespe Wilderness and Creek.
But we were not here to hike but to lazy about on our camp chair and take in the delightful pine scented air and rustle through the picnic basket for our lunch goodies. Wisely I had brought my son, Brian along to do the driving and for long conversations, this day, about the early days of arctic exploration and the incredible men that challenged that hostile region.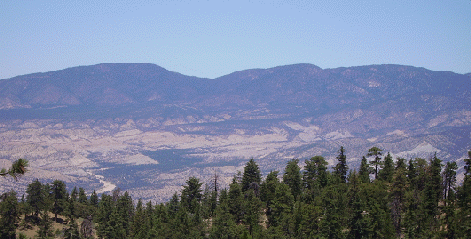 This area is home to the California Condor and we looked, once again in vain , for the sight of one. What we saw instead were two air force B 52 bombers, flying so high that their flight was marked with long vapor trails unusual on a summer day in Southern California. Brian got out his binoculars and identified them as well as an escort F18 fighter. After out deli styled lunch Brian left for some photography of the remarkable scenery.
Reyes Peak is reached from Highway 33, the subject of another Vittles article, and then a one lane, six mile, pot holed mountain road that winds its way ever upward to the campground. On this day we were not alone. We noted, with approval, a large group of teenagers, both boys and girls, with day packs wondering around the area. They were at a group camp and looked like they were going to stay awhile .
For us it was another day trip and upon leaving returned to sea level at Ventura in one and one half hours and then to crowded, as usual, Highway 101.
Back to Table of Contents..
Last Update:7/26/12
&copy 2012 Joe Hilbers All Rights Reserved.
Graphic Design by Impact Graphics