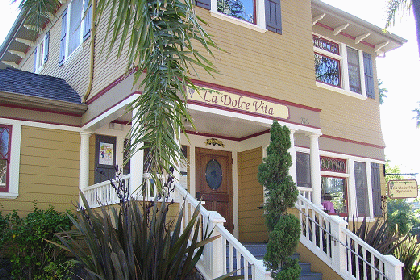 Oxnard--A bit of Italy can be found at La Dolce Vita"
By Jeanne Bartlett
Imagine it, a trip to Italy right in Oxnard's Heritage Square! When walking up to the building and climbing the stairs you might think you have discovered a Victorian home out of the 1800s. But upon entering you instead find yourself in an authentic Mediterranean restaurant called La Dolce Vita, which translates to "the sweet life." In the evening the décor is special at this dining establishment, where candle light, paintings of another era, and soft colors of brown and yellow prevail. By daylight the rooms are illuminated by bright sunshine from the many windows. Even if Oxnard has served up some fog that day the whole atmosphere will still cheer you up.
This establishment is presided over by owner and Executive Chef Michelle Kinney, who has more than 25 years in the business. Kinney has made this restaurant into an oasis by the sea. She provides it all: fine dining, wedding planning, corporate events, cake and baker services, videography, photography, and a D.J. or live musical entertainment. Downstairs is the LDV Lounge, where you can share an interesting vintage from the extensive wine collection or partake of something special the proficient bartender might serve up.
On one of my first visits to the restaurant I arrived at lunch time. Noontime offers a variety of salads, main dishes, soups, pastas and risottos, and sandwiches. Wearing her Executive Chef hat, Kinney has created each dish on the menu and serves it with flawless presentation. Since it was a day on the cool side the Minestrone soup was my choice, a fragrant cup or bowl of traditional fresh vegetables and pasta in a tomato broth. I was not planning to choose a salad in addition to the soup but I selected the Caprese, made with bufala mozzarella, tomatoes, and fresh basil leaves drizzled with basil-infused olive oil and an aged balsamic reduction. I was afraid it would not live up to my memory of the first thing I ordered on my initial trip to Italy, but it was every bit as delicious. Other choices were seared Ahi, salmon, or prawn concoctions. If lunch is your main meal of the day there is tri-tip, chicken Marsala, or a personal favorite, veal picatta. I always think I will try one of the many pastas and risottos but when I see on the menu gnocchi con pollo, an Italian potato dumpling with chicken, squash, leek, and peppers in a roasted garlic cream sauce, I order it every time. I could have had fettuccine Alfredo, linguini a la Bolognese or lasagna, either meat or veggie, which is made in house and topped with fresh marinara sauce. I am not a big sandwich fan but just looking at the menu the Italian grinder, an assortment of Italian meats with provolone cheese, pepperoncinis, lettuce, tomato, and Italian vinaigrette, or a choice of a meatball of Italian sausage topped with provolone cheese and fresh marinara sauce, really sounded appetizing.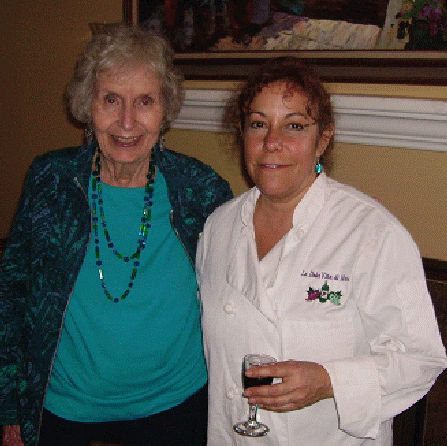 The dinner menu starts with an intriguing number of antipasto and tapas to choose from. My Italian friends tell me that they always order fried calamari and if it is great, the whole menu should be excellent. At La Dolce Vita this standard is true. The calamari is served with lemon chipotle aioli. Also available are steamed mussels, seared scallops, or a full antipasto, perhaps to share, of assorted Italian meats and cheese with marinated vegetables, olives and topped with crumbled gorgonzola drizzled with basil olive oil and balsamic reduction. An appealing salad is made of endive, apple slices, bacon, gorgonzola and candied walnuts, tossed in a honey Dijon vinaigrette. I tried it and it was a really great choice. The house salad is mixed fancy greens tossed with a balsamic dressing, roasted beets, goat cheese and hazelnuts. The dinner menu includes minestrone soup with an added choice of grilled onion chowder with marsala-infused grilled onions in sweet cream. The dinner pasta offerings are similar to lunch with the addition of pasta with meatballs or sausage.
The evening's offerings of a main course (Piatti on the menu) suggest many Italian specialties such as chicken cacciatore, eggplant parmesan, and Italian pot roast with slow-cooked beef, tomatoes, wine, onions, and garlic. Something for the vegetarian would be the Portobello Florentine, a marinated Portobello mushroom stuffed with sautéed spinach, mushrooms, and pancella, topped with gruyere cheese and served with your choice of jasmine rice or capellini drizzled with a marsala cream sauce. For someone looking for just plain good beef there is the tenderloin, a grilled filet mignon served atop spinach and drizzled with a port wine reduction. The fish main courses are Ahi seared and served rare over risotto or jasmine rice with baby bok choy, drizzled with lemon aioli, or roasted salmon served atop jasmine rice with a honey-Dijon glaze and a pomegranate reduction topped with tobiki caviar. For something really simple just order fish of the day.
LDV has provision for the younger set. They can choose from pasta with butter and cheese or marinara sauce, with the option to add meatballs for the bigger eaters. Mac and cheese and fettuccine Alfredo also are offered.
La Dolce Vita is located at 740 So. B Street, Heritage Square, Oxnard. Phone 805.486-6878. Website www.ladolcevitadimare.com .The restaurant is closed all day Monday. Tuesday through Saturday open from 11:00 a.m. to 9:00 p.m., Sunday 10:00 a.m. to 9:00 p.m. The LDV Lounge is open Sunday, Tuesday and Wednesday 4:30 p.m. to 9:00 p.m., and Thursday through Saturday 4:30 p.m. to 2:00 a.m.
Back to Table of Contents..
Last Update:8/15/12
&copy 2012 Joe Hilbers All Rights Reserved.
Graphic Design by Impact Graphics