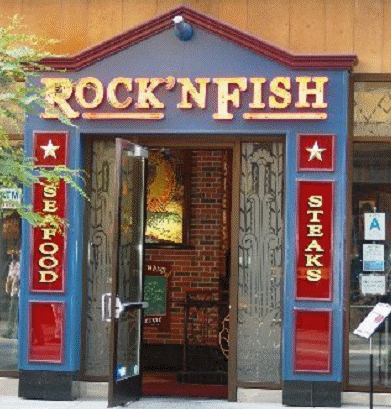 "Los Angeles--Rock 'N Fish now shows at Downtown L.A. Live campus"
.
By: Mel and Ronnie Greenberg
Photos by Mel Greenberg
Rock 'N Fish, South Bay's favorite seafood, steaks & tap house, brings its Manhattan Beach origins smack into the heart of the vibrant energy of the Downtown L.A. Live campus. A classic steakhouse setting hip to the look and feel, ROCK 'N FISH greets you with tall ceilings, marble floors, decadent chandeliers, hanging mosaic glass décor, high back leather booths, and original art and paintings. The bar, a great place to rub elbows, is a popular gathering spot for cocktails with modern and classic twists including the famous Navy Grog rum cocktail. There's also a varied selection of draught beer, signature martinis, stunning wines and rock'n spirits.
Rock 'N Fish L.A. Live is overseen by owner Michael Zislis and Executive Chef Hondo Houston. Chef Houston features an array of his own savory dishes as well as carrying on the Manhattan Beach Hibachi tradition. He uses only the highest quality meat and fish brought in daily and grilled over 100% red oak .The wide ranging menu as diverse as the locals and tourists who dine here makes it not just a meal but an experience. .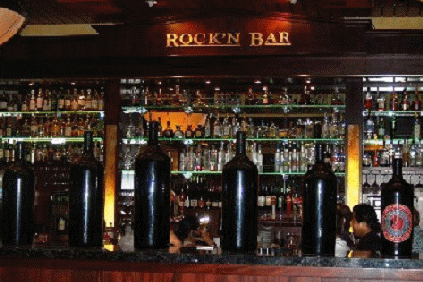 Start your dinner with one of the refreshing Ice Cold Seafood Starters such as the more popular Maui style poke martini that combines fresh diced Ahi tuna, shrimp, avocado, and cucumber tossed in sesame vinaigrette, and served in a chilled martini glass; fresh and meaty Dungeness crab cocktail, presented with a perfect spicy mustard aioli and the signature cocktail sauce on the side, or the freshly shucked oyster on the half shell that's delivered daily and served with lemon, horseradish, Tabasco, and the house cocktail sauce on a bed of shaved ice.
Mouthwatering appetizer specialties include the famous oak grilled artichoke with roasted garlic aioli; deliciously crispy calamari served with the signature cocktail sauce; Rock 'N steamers-fresh Manila clams steamed in a delicious wine broth with andouille sausage, fire-roasted corn, red pepper, onion, and garlic, and a side of garlic cheese toast; Rock 'N jumbo lump Louisiana crab cakes served with spicy remoulade and tarter sauce; and Teriyaki beef tenderloin skewers served over a bed of sticky rice with "Hibachi" teriyaki sauce. All are beautifully presented and can easily replace a main course for light eaters.
In the mood for a freshly prepared crisp salad, get to choose from some of the favorites, the classic blue cheese wedge, Rock 'N cashew chicken; Seattle-style shrimp and avocado Louie; or the oak grilled tuna Nicoise. Some of the popular sandwiches offered are the signature oak grilled Santa Maria tri tip on a grilled French roll with roasted garlic aioli and caramelized red peppers and sweet onions served with bbq sauce or salsa; Rock 'N grilled vegetable panini, half-pound certified Angus beef "DZ" burger and oak grilled blackened salmon
Huge portions of delicious oak grilled seafood highlights are the fresh Atlantic salmon, mahi mahi, grilled halibut, seared Ahi tuna and white Australian seabass. The "Big Easy" shrimp and sausage gumbo, a spicy Creole classic with sauteed shrimp and andouille sausage served over sticky rice is a crowd pleaser. The scents and flavors of the signature New Orleans BBQ shrimp shine through Hot,Hot,Hot, but also sweet as the shrimps are sauteed with bell peppers, onions, tomatoes, mushrooms and lemon, served over sticky rice; and who can resist the succulent one and one quarter pounds of King crab legs.
Steak lovers will be drawn to the mouthwatering oak grilled steaks: the signature Kapalua rib-eye, hand cut, then marinated for 72 hours in pineapple-soy marinade, served with house made teriyaki sauce; or a choice of 30 hour aged prime top sirloin steak, filet mignon or New York steak.
American Regional Menu stars are Teriyaki chicken with sticky rice and oak grilled veggies, prime rib beef bones, Memphis style oak grilled bbq pork ribs and sticky rice.
Under the Rock 'N Fish house specialties are Hondo's "Tomahawk" Chop, Executive Chef Hondo Houston's Dream steak, a 24 ounce certified Angus beef oak grilled bone-in ribeye, served with the "loaded baked potato," sautéed spinach, and horseradish cream; and the oak grilled ¼ pound Maine lobster tail with drawn butter.
There's also choices from the Manhattan Beach Surf 'n Turf menu starring top sirloin and 1 ¼ lbs. of king crab leg;, top sirloin and oak grilled lobster tail; filet mignon and 1 ¼ lb of king crab legs; and filet mignon and oak grilled lobster tail
Sweet seekers will love the irresistible dessert menu featuring Barq's rootbeer float; sticky toffee pudding; J.M. Rosen New York style cheesecake; and the incredible House Specialty Kona Pie, made with chocolate, vanilla, and coffee ice cream layered with Butterfinger, toffee, and Oreo crumbs, topped with sliced almonds and whipped cream.
Rock 'N Fish L.A. Live is located at 800 W. Olympic Blvd. A-160 in Los Angeles (213) 748-4020 or www.rocknfishLALIVE.com. It is within walking distance of the Staples Center, Nokia Theatre Club Nokia, The Grammy Museum
In Manhattan Beach the Rock 'N Fish location is 120 Manhattan Beach Blvd. (310) 379-9900 or www.rocknfishMB.com; in Laguna Beach you'll find Rock 'N Fish at 422 South Coast Highway, (949) 497-3113 or www.rocknfishLB.com
Back to Table of Contents

Last Update:8/21/12
&copy 2012 Joe Hilbers All Rights Reserved.
Graphic Design by Impact Graphics