"Los Angeles--Cleopatra stars at new California Science Center Exhibition"
Bt Joe Hilbers
Once again the most famous woman in history is visiting Los Angeles. She is, of course, Cleopatra and from now until December she will be at California Science Center. Entitled "Cleopatra, The Search for the Last Queen of Egypt" the exhibition includes some one hundred and fifty artifacts illuminating the life of Cleopatra VII. She remains one the most remarkable woman in history and over two thousand years still a source of endless fascination.
It was this Writer's good fortune to attend the official opening of this exhibition and on hand for the occasion from Egypt was Zahi Hawass, associated for a lifetime with that country's antiquities as well as Franck Goddio, director of the European Institute of Underwater Archaeology. Recognized as a pioneer in marine archaeology Goddio is responsible for many of the artifacts on display found in the Bay at Alexandria. Among his finds is a statue of the son of Cleopatra and Julius Caesar, Colossus which is part of the exhibit. Also present was Kathryn Keane of the National Geographic Society, one of the organizers of the exhibition.
Welcoming the press and visitors was Jeffrey Rudolph, president and CEO of the California Science Center. He pointed out that the Center was honored to host the first west coast showing of this remarkable exhibition of Cleopatra who battled Rome to protect her country while captivating two of the most powerful of the Romans, Julius Caesar and Mark Anthony.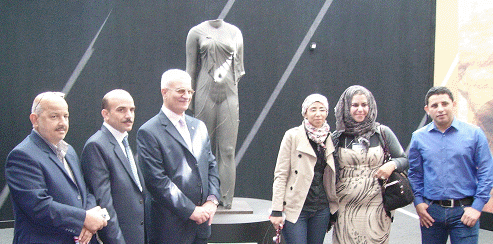 Besides showcasing the underwater artifacts discovered by Franck Goddio the final exhibit offers a look at the many famous actresses who have portrayed Cleopatra on stage and screen in the last one hundred years from Sarah Bernhart to Elizabeth Taylor. One more example of the continuing fascination Cleopatra has acquired over two thousand years.
In conjuction with the exhibition the Science Center IMax Theater will be featuring Mysteries of Egypt. Combo tickets for both the IMax film and the Cleopatra exhibition are available.
The California Science Center is located at 700 Exposition Park Drive and open daily from 10 a.m. to 5 p.m. Tickets can be purchased on-line at www.californiasciencecenter.org.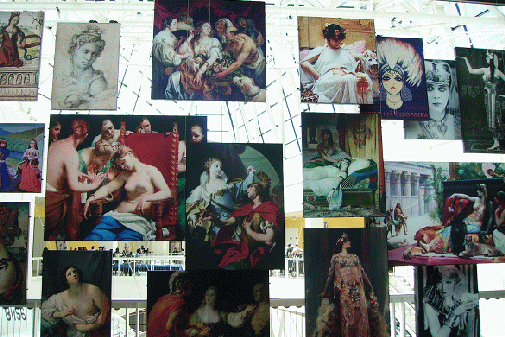 Back to Table of Contents..
Last Update:5/1/2512
&copy 2012 Joe Hilbers All Rights Reserved.
Graphic Design by Impact Graphics