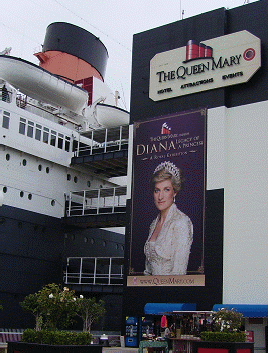 Long Beach--Queen Mary opens 'Diana, Legacy of a Princess' Exhibition
.. By The Editor
With Queen Elizabeth's 60th anniversary and the upcoming London Summer Olympics in the news the opening, in Long Beach, of the Queen Mary's exhibition 'Diana, Legacy of a Princess" could not be better timed or more appropriate.
We attended the Media preview of the exhibition and met with those who planned and assembled the collection. This included Chris WiImoth, director of marketing for the Queen Mary as well as Cara Varnell, costume and textile conservator. Memorabilia pertaining to Princess Diana and the Royal Family, and historic artifacts make the exhibition the most extensive ever to be seen in the U.S. The exhibition is in association with breast cancer charity, Pink Ribbons Crusade.
In all over two thousand items are in the exhibition including a doll collection and historical documents. A "Family Tree" shows the Royal Family, both present and past, so visitors can connect the person with what they are seeing.
We explored the exhibition in detail which includes gowns worn by the Princess at public and private events, her personally written notes and answers to invitations. There are historic details of her personal history both before and after her marriage to Prince Charles and how the romance developed. The exhibition also includes apparel worn by Kate Middleton, Duchess of Cambridge and the late Wallis Simpsonl, Duchess of Windsor.
The Exhibition is located on the Sun Deck of the ship, previously not open to visitors, which has been extensively renovated for the event. It includes over 13,000 square feet and upon entry one sees replicas of the Ship's legendary decor including exquisite wood paneling. On entering one passes through the brass art-deco doors that once graced the Queen Mary's first class dining room.
One exhibit takes you through the history of the Royal Family including copies of newspapers with bold headlines telling of historic events that involved family members. Another an impressive collection of memorabilia from the lives of Family members through many decades.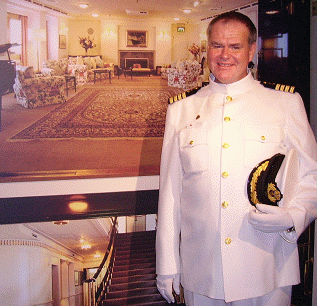 A portion of ticket proceeds will go to breast cancer support organizations and the City of Hope since breast cancer research was of special interest to Princess Diana. Visitors should allow at least one and one half hours to view the exhibition in its entirety. Women will especially enjoy the extensive exhibits devoted to the Princess's wardrobe which included hundreds of gowns and closets of shoes. Self guided and escorted tours will also be available. Exhibition hours are 10 a.m. to 8 p.m. daily. For pricing visit http://diana.queenmary.com.
The Princess Diana collection is expected to remain at the Queen Mary in Long Beach for a year.
Back to Table of Contents..

Last Update:6/21/12
&copy 2012 Joe Hilbers All Rights Reserved.
Graphic Design by Impact Graphics