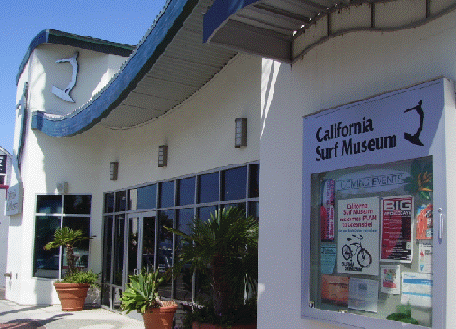 "Oceanside--The Surf Museum tells the story of California's identity with the sport.
For this Writer a visit to the California Surf Museum in Oceanside was a must. After all we have lived with the surfing mystique for decades thanks to our sons and indeed have something of a surf museum in our own garage.
The California Surf Museum is dedicated to telling the surfing story since its beginnings to the present. Exhibits have been divided into decades of the sport's development showing how the culture and the boards have changed both in length, material and design. One exhibit shows how skateboarding has been linked to surfing and its design changes as well.
An exhibit tells the inspiring story of Betheny Hamilton, one of the top women in surfing when a 2003 shark attack took off her right arm at the shoulder. She then made a remarkable recovery to win the 2009 National Championships.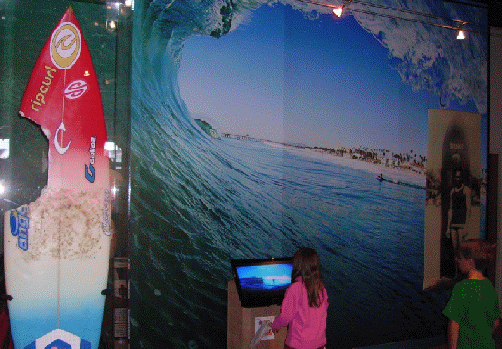 There is a long row of surf boards entitled "A brief history of surf boards from wood to foam and fiiberglass" showing the transition that has taken place in boards and their design. Another exhibit is entitled " Transitional thinking, a short story 1966-1972. This depicts the vast change that took place when boards became shorter and lighter making the sport more attractive for a whole new generation.
There are also posters and photos from each period. One photo brought a knowing smile from this Writer. It was entitled "Making boards in mother's garage" and could have been entitled the Writer's garage since there my two sons, learning to make boards by trial and error, took over my garage for a decade. Then Brian moved on to professionally shaping boards under the brand name "Fineline" and continues to the present, and yes, I did get him out of the family garage.
The Museum also offers a Commemorative Wall as a place to honor the passing of surfers who made profound changes in the sport while increasing its popularity. The museum is a great place to take the family and while we were there part of the pleasure, for us, was watching the fascination of the children. We also talked at some length with Store manager Todd Quinn about special events that are part of the Museum's concept.
The California Surf Museum is located at 312 Pier View Way in downtown Oceanside, Telephone 760 721-6876. It is open daily from 10 a.m. to 4 p.m., on Thursday till 8 p.m.., Closed on holidays and free for children under age 12. For more details www.surfmuseum.org.
The Museum is only a few short blocks from the Oceanside Pier and that was our next destination. We walked the Pier which offered great views of real "Surfer Girls" and "California Girls" of Beach Boy fame as well as wave riders "hanging ten" with artful finesse.
Back to Table of Contents..
Last Update:6/22/12
&copy 2012 Joe Hilbers All Rights Reserved.
Graphic Design by Impact Graphics