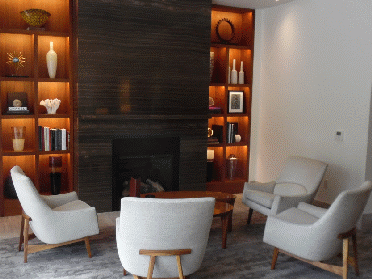 "Palo Alto--Personal service and inclusive luxury are for real at The Clement Hotel"
By The Editor
A British styled hotel with all the furnishings and ambiance of a upscale London Club in Palo Alto?. Yes that was our discovery when we rang the bell that requires entrance to The Clement Hotel. Here we were met by Personal Concierge Sarrah Franklin who registered us, had our baggage removed from the car before an attendant took it away. Then escorted us to our suite, one of 23 at The Clement. Also greeting us was Sebastian Stacey, general manager. Here at 711 El Camino Real in the heart of downtown Palo Alto we were in a Hotel which offers personal service and luxury to a level not often found.
The price of your suite covers all other services such as the wines and spirits found in your suite, the dining room open from 5:30 a.m. to 10 p.m. daily, and any of the wines and spirits offered at the bar. There is also a cold box available to guests 24/7 stocked with fresh fruits, desserts, ice cream and cold drinks. There is no tipping, no charge for valet parking or any of the personal services available on request.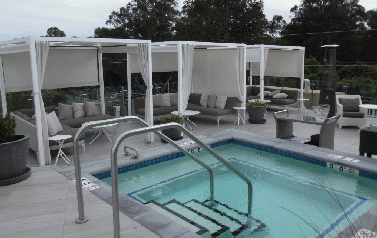 Our suite included a living room complete with bar, huge TV, sofa, a business like desk, and picture windows, the bedroom with king size bed and bath with tub, walk in shower, twin basins and, oh yes, a TV screen. Our suite decorated with a mix of heritage and modern furnishings and stained wood walls. There was much more to see. On the roof a large swimming pool, adjoining sauna, and private cabanas.
On the first floor there is a sitting room with fireplace for relaxing or making plans for the day.
With location on El Camino Real the Clement is within walking distance of the Town & Country Village, Stanford Shopping Center, as well as downtown Palo Alto. The Stanford Campus begins across the street from the hotel.
For this Writer such attention was a very rewarding experience. New to us was the over night shoe shine service where before bedtime you request pickup of your shoes to be returned bright and polished in the morning. This brought to mind British hotels with this service that has extended over centuries. And how one missing boot of a pair left for service at a hotel gave Sherlock Holmes his first clue in "The Hound of the Baskervilles".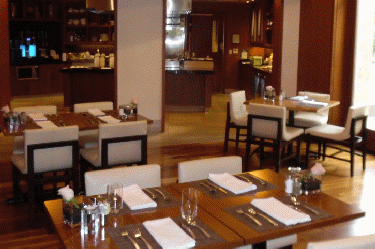 The open kitchen and dining room included an outdoor patio and showed a Continental menu available at any hour as well as a complete list of traditional breakfast items every morning. For our dinner one evening we shared an appetizer of calamari and then an entree of scallops with sides of asparagus and spinach. My dessert was French vanilla ice cream. For breakfast we had bagel and smoked Norwegian salmon as well as french toast. Service was friendly and most efficient and we soon were acquainted with both chefs and wait staff.
The Clement has been created for service to what is basically a business oriented clientele, as well as alumni visiting nearby Stanford University. Reservations are required especially during the work week when the hotel is almost always full.
The Clement hotel is located at 711 El Camino Real, Palo Alto, Ca. 94301, Telephone 650 322-7111, web www.theclementpaloalto.com.
Last Update: 5/12/18
&copy 2018 Joe Hilbers All Rights Reserved.
Graphic Design by Impact Graphics