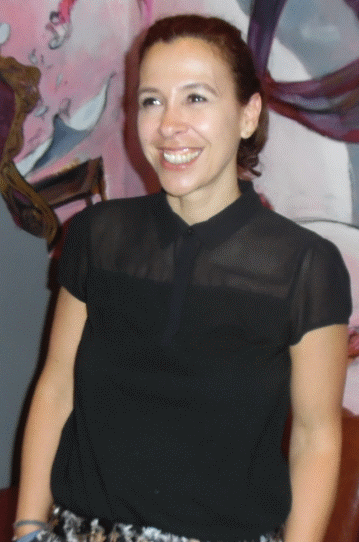 "Los Angeles--Artesa wines show old world style with Napa grapes"
by Joe Hilbers
Like so many people of Spain that looked to and moved to the New World over the past four hundred years one of that country's oldest winemaking family did likewise. It was in 1991 that Javier Pages, 17th generation, CEO of Codornu Ravemos, decided to make wines in California. For location Los Carneros area of the Napa Valley was chosen. Los Carneros is located adjacent to the upper most reaches of San Francisco Bay and so enjoys a more robust coastal climate than the rest of the famed Napa wine country.
The name chosen was Artesa Estate Vineyard and the plan, now so successfully completed, was to use the Carneros terroir for estate grown vineyards and artisan wines. In all Artesa has thirty three individual blocks of vineyards carefully chosen to match the grape varietal. These varietals include Pinot Noir with 85 acres, Chardonnay with 47 acres, Albarino, a native Spanish white grape varietal, 4 acres, Tempranillo, a Spanish red varietal, 8 acres and Cabernet Sauvignon six acres. The emphasis has always been on the Pinot Noir and Chardonnay, two wines that early on brought fame to the Carneros region. In all Artesa farms one hundred and fifty acres of the rocky, rolling hill terrain of Los Carneros.
All this and much more was learned when we attended the recent seminar and tasting of Artesa wines which took place in Los Angeles at the Good Measure Cafe in Alpine Village. Present to showcase Artesa wines and how they are produced was Ana Diego-Draper, winemaker. She explained that the old world method of tailoring small lots of wine and blending them is used exclusively with all their wines.
The forty some wine and food writers attending the event had before them three glasses of the components that were in the 2016 Artesa Estate Vineyard Chardonnay.
Included in first component were grapes from three blocks and two clones with puncheon fermentation. The second component was from the Martini clone of block 15 with stainless steel fermentation. In tasting each we could see what each added to the finished product.
Also three glasses of components that made up the 2016 Artesa Estate Vineyard Pinot Noir.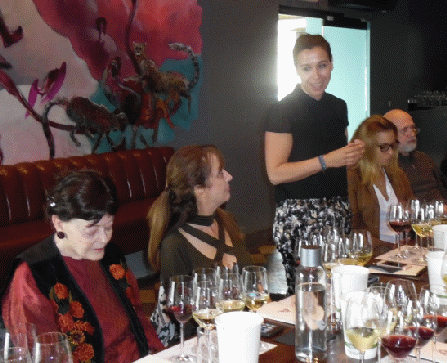 For the Pinot Noir the first component was from block 24 with puncheon fermentation while component two was from block 14 with open top fermentation and again in tasting each it was possible to see what each added to the finished vintage.
We learned more of Ana's blending talents when we tasted Artesa Galatee, a red wine blend of Tempranillo and Cabernet Sauvignon, from both Napa and Sonoma vineyards. And with interest Artesa 2017 made with the Spanish Albarinio grape.
Following the tasting an interesting and rewarding buffet luncheon was served accompanied with some very exceptional wines.
Good Measure is located at 3224 Glendale Blvd., Los Angeles 90039.
Back to Table of Contents..
Last Update:5/28/18
&copy 2018 Joe Hilbers All Rights Reserved.
Graphic Design by Impact Graphics