The room came with king size bed, a comfortable desk just right for a laptop and a bathroom we would have liked to take home with us.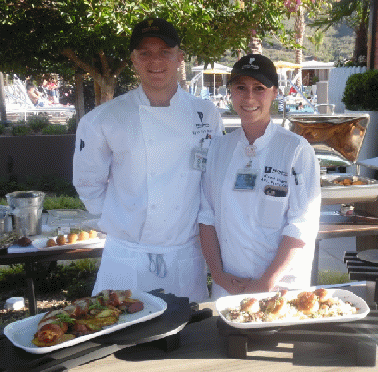 One evening we were treated to a buffet al fresco at what is called The Cove which is adjacent to a huge pool surrounded by several smaller ones. Here too cabanas for use by families and private groups. Our buffet was a showplace for the hotel chefs that cater private parties and weddings at the Resort. This included a choice of salads with lobster or prawn toppers, then a selection of entrees like browned scallops pulled pork and sliced beef filet in a bacon wrap. The desserts were especially designed for wedding receptions with ornate chocolate covered cheese cake and cookies with Mr. or Mrs. inscribed on them. Wines were available from nearby Callaway Cellers located on Temecula's famed wine road.
Over the weekend we visited several of the Resort's many restaurants and places for lighter fare including the Food Court at the Casino. Here the choice includes American, Asian, Italian, and Coffee and Bakery among others.
One morning we had breakfast at Blends Coffee and Pastry and ordered bacon and egg sandwiches on a Bagel as well as a tasty blueberry muffin.
For lunch one day we were at The Cove adjacent to the Pool with a menu with offerings like popcorn shrimp, lettuce wraps, hamburges, hot dogs and pizza, all in a shaded patio ambiance. The walls here were living plants adding a refreshing touch of greenery to the scene.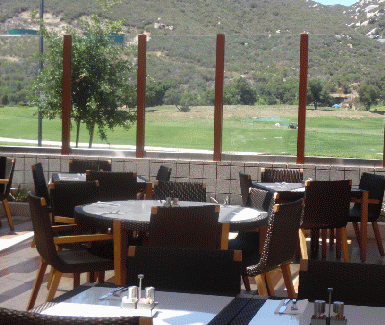 One of the things we immediately noticed on arrival was how Pechanga is now a family oriented Resort. Parents with small children were everywhere and the Pool and outdoor areas were especially popular for all ages..
Among the many new looks and services Pechanga now has a Spa in a separate two story building. Here all the amenities and services of a modern Spa are offered. My partner went for a massage while I chose a haircut to shed some of my curly locks. Both of us left smelling and looking very well, thank you. The Spa also includes an upstairs lounge equipped with refreshments and a perfect view of the adjacent golf course.
A tour of the wedding facilities showed a scenic outdoor setting as well as private dressing rooms for both bride and groom. I inquired if golf reservations were available for the groom but this did not seem to be appreciated by the ladies present.
Wedding receptions are available at the skyroom atop the new North Tower which offers breathtaking 360 degree views of Temecula and its surrounding vineyards as well as the rugged mountains that shape what is known as the Rainbow Gap. This Gap allows breezes from he Pacific Ocean to funnel into the Temecula Valley most afternoons, perfect for the vineyards and the quality grapes they produce.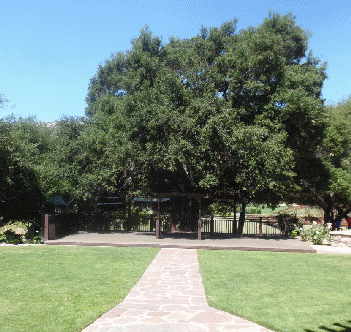 The 18 hole Journey Golf Course has a clubhouse which almost defines description. Walls and columns are constructed with natural rock and the club house offers extensive facilities for the golfer. In addition there is an outstanding restaurant and here we enjoyed a leisurely breakfast. My time as a golfer covered decades but was now over but as I looked over Journey at Perchanga I must admit to some pangs for the game that can be loved and hated at the same time.
Besides its five hundred new rooms the North Tower also has a number of meetings rooms and during our visit a craft beer showing was taking place in one of immense halls.
Dining opportunities of everywhere at Pechanga and one of our dinners was at the Atrium of the North Tower at a new restaurant called Lobby Bar & Grill. At the bar there was a combo group for live entertainment. Adjacent the dining room which was spacious with contemporary ambiance. After our lunch at The Cove we were not exactly starving but there were many tempting offerings on the menu. We decided to share our selections so opened with a Caesar salad.
Then selected the short ribs which proved ample even after being divided by our most helpful waiter. He then passed us a most desirable dessert list but we explained that we were to be treated to a special selection of some new desserts which will be added at Pechanga.
So nearby on one of its elevated levels of the Atrium we were confronted by an awesome selection of the new desserts that will be available including such delights as a chocolate chip cookie ice cream sandwich. Also chocolate coated cookies on a stick and bars of chocolate with mixed nuts to name a few.
One aspect of Pechanga we especially noted. This was the helpful attitude and courtesy of the staff which was immediately apparent. This was always present and available. We also liked the security offered which while always present was never an inconvenience.
Most interesting of security was the presence of Bobby, Bobby is a robot about four feet tall and as round as a wine barrel and moves on wheels. As it patrols along the main causeways it offers an array of flashing lights and when closing on any person politely changes its direction. This is especially attractive to young people. We watched one of these encounters between Bobby and a small girl that lasted for some time. It ended as a standoff just as it had begun. Printed on his side is notice that he was created and built in the Silicone Valley.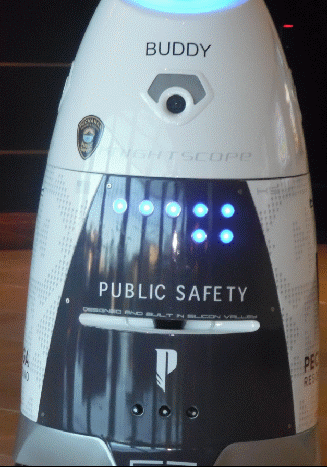 Parking is never a problem with both valet and self parking available.
.
.
Back to Table of Contents..
Last Update:6/17/18
&copy 2018 Joe Hilbers All Rights Reserved.
Graphic Design by Impact Graphics