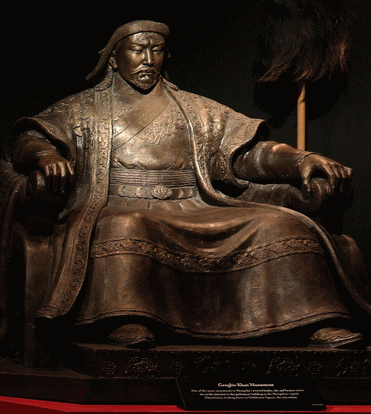 ---
A Simi Valley--Genghis Khan Legacy is on display at Ronald Reagan Presidential Library
by Joe Hilbers
The Ronald Reagan Presidential Library and Museum is one of Southern California's premiere attractions
The incredible legacy of Genghis Khan and his Empire has been on display at the Ronald Reagan Library and some 200 objects and artifacts show the extent of his empire as well as the accomplishments and inventions created during that time.
His conquests extended from the shores of the Pacific Ocean at Korea to the Mediterranean at Lebanon. It is the largest in history, some three times greater than that of the Roman Empire. The full empire lasted from 1150 to 1350 but much of it continued for another two hundred years.
We found one exhibit of particular interest since it showed some of the inventions credited to the Mongolian empire. They include passports, pants, the pony express for fastest communications, parcel post, paper money, skis, violins, chopped meat, our hamburger, cannons, and a form of democracy.
Other exhibits show how they lived, an open Ger, the tent of the Mongolians that still exists today, as well as the weapons including the bow, which proved to be the most powerful in history with a range and accuracy of over 300 yards.
Other war materials include a mock up of a siege catapult that the Mongolians used when attacking walled cities, as well as their body armor, swords, arrows and spears.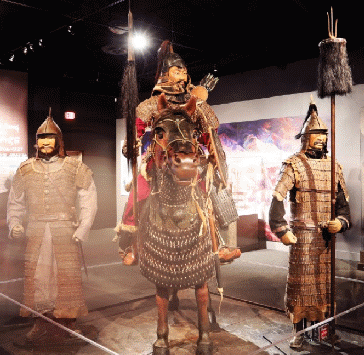 Besides accounts of Genghis Khan's life and background there are also histories of his sons, generals and wife.
Of interest is the fact that modern borders of some countries, first made under Genghis rule, still exist to this day. Also that the famed Silk Route, that first connected the East with Western countries, was developed during his reign.
This exhibition is extensive so allow plenty of time to view it. It is separate from the regular exhibitions that relates the life of Ronald Reagan and his Presidency as well as Air Force One. Both exhibitions are available for the price of admission.
Location alone is always a special treat as it has been built on top of a mountain with commanding views in every direction including the Pacific Ocean. On this visit we made it a full day's outing with time out for lunch at Reagan's Country Cafe.
Landscaping and gardens that surround the Library are worth the time for a stroll and the views they offer. The landscaping includes a replica of the White House Rose Garden. Also to be seen a part of the Berlin Wall brought to the U.S.
The Library is well staffed and the docents we met were most courteous and helpful and with so much to see and do we needed them for advice and guidance.
The Reagan Library follows the tradition of established Presidential libraries first started by Franklin D. Roosevelt and has continued with every president since then. California has a second Presidential Library for Richard Nixon located in Loma Linda
In all there are now twelve Presidential libraries in various states.
The Ronald Reagan Presidential Library and Museum is located at 40 Presidential Drive, Simi Valley, Ca. Phone 1 805 577-4000. It is open daily from 10 a.m. to 5 p.m. web www.reaganlibrary.gov. There is an admission fee for visits to the galleries.
Open daily is the Reagan Country Cafe from 9:30 a.m. to 4:30 p.m. .
.
Back to Table of Contents..
Last Update:6/23/18
&copy 2018 Joe Hilbers All Rights Reserved.
Graphic Design by Impact Graphics