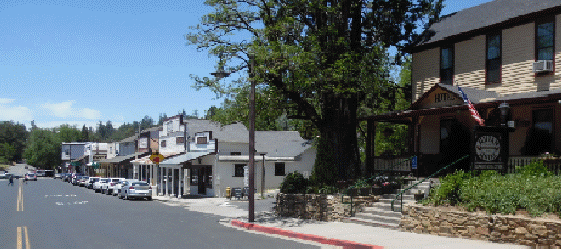 ---
Julian--San Diego's outback offers mountain forest, scenery and a look back to an earlier era by Joe Hilbers
The fascination with America's Old West is world wide, much of it due to Hollywood Cinema. However there are still towns that have maintained appearances of earlier eras and one of these is Julian located in San Diego's scenic back country. And in Julian there is the oldest continuous operated hotel in California. And here is a story.
Julian exists because an ex slave from Mississippi discovered gold in the surrounding hills and promptly started a gold rush to the region. Another ex slave, this time from Missouri, decided the new town needed a hotel and opened one. His name was Albert Robertson and the hotel was named Robertson Hotel which opened in 1897. The Hotel quickly achieved fame especially the food served by his wife, Margaret. After Albert's death she sold the Hotel in 1912. Since then it has passed through several owners but always remained in operation. This makes it the oldest hotel in continuous operation in Southern California and as the result was placed on the National Register of Historic Places by the U.S. Department of Interior in 1978.
Today it is named the Julian Gold Rush Hotel.. Owners and operators are two generations of the Ballinger Family, the Father and Mother, Steve and Gig Banninger and daughters, Lisa Rapue and Radne Hurtado. Under their management it is rated as one of the best Bed & Breakfast hotels in the nation.
While offering 16 rooms and cottages, that all have private baths and air conditioning , the rooms show the furniture and decorations of early eras. A stay here is a look back to another time while enjoying the present. This was certainly our impression after our recent two nights and days spent at the Hotel. Not only the guest rooms but the parlor and dining room of the main building are exquisitely furnished with all the trappings of an earlier century.
Some of the cottages have adjacent secluded patios and our room looked out to Julian's main street and on a classic old western veranda there were chairs so we could sit and watch the activity of the town.
Just across the street from Julian Hotel is Romano's Restaurant which has been open since 1982. The sign that proclaimed Italian and Sicilian cuisine immediately caught my eye since Sicilian heritage in part of my background.
This meant that Romano would be our dinner destination for two straight nights. The first night while sipping our cocktails we noticed the huge amount of activity that centered on take out pizza. Here folks were lined up in ordering.
A look at the menu and we decided to split a order of spaghetti and meatballs. When it arrived we each had on our plate the largest meatball I had ever seen with spaghetti in a classic Sicilian sauce heaped about. It was delicious and we were thankful that we had decided to split one order since neither of us could leave a completely cleared plate. With this repast my dining partner was drinking a 2015 Borgo Reale Montepulciano and truly appreciating this Italian red wine.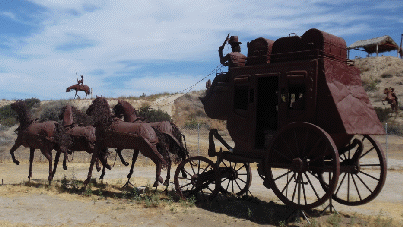 The next evening we were back at Romano's and this time decided we must try their pizza as well. My partner wanted the cheese pizza while I wanted the sausage and pepperoni. The waiter said this was no problem since one half would be cheese the other mine. My partner was so taken with the Italian wine that she again ordered the Borgo Montepulciano.
Tourists, sightseers and vacationers all like visiting Julian for its look and feel of the past while offering all the modern conveniences. There are still tours to gold mines and for decades the town achieved fame for the quality of its apples and there are still many apple orchards to visit. Also there are local wineries and vineyards. Julian is at 4,000 feet elevation and the surrounding mountains are covered in California oak and pine.
One day we explored parts of the town as well as the surrounding countryside. The Volcan Valley Apple Farm was one of our first stops and it was a perfect setting for photos that illustrate the beauty of the region. It is an interesting story on how apples, for some years, was practically a Julian trademark. Nearby is Menghini Winery which was the first in Julian starting in 1982. Today it has an excellent tasting room on its property. The winery produces 4,000 cases of premium varietal wines annually from its six acre vineyard.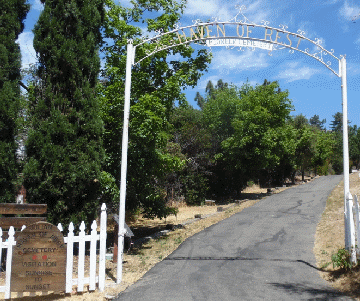 On the outskirts of town is the Haven of Rest Pioneer Cemetery. Here rest both the town's pioneers as well as the relatives of current residents. In town we visited the Julian Pioneer Park which includes the Julian Museum as well as the Julian Town Hall and the building that was the first school built in 1888.
Leaving Julian the highway climbs and at one point there is a view pullout. Here one looks down thousands of feet to desert lands, some of it part of the Anza Borrego State Park
One of the best ways to see this mix of country is to drive Highway 79. It crosses country which has a beauty all its own, from mountains covered in chaparral to valleys with live oak and often large meadows.
Here you pass small settlements like Aguanga, ranches, a few wineries, vineyards, an olive tree grove and a company producing the oil. Recreational opportunities range from glider flights at Warner Springs to winery visits as well as picnics and camping. The three wineries you pass include Tule Creek, Shadow Mountain and Hawk Watch. Also the Cleveland National Forest Oak Grove campground.
Here is a bit of history with as plaque explaining that it is the site of Camp Wright, a guard station from 1861-1866, during the Civil War, manned by the First California Volunteers.
The region includes a good deal of history dating to when it was home to many tribes of native Americans and you will pass through some of their reservations.
From Oak Grove the road climbs gently to a 3282 foot Sunshine summit. Pass the summit the view expands dramatically picturing large pastures with a backdrop of rugged ridges and distant mountains.
Then you reach a junction with County highway S22. This leads to the community of Ranchita at an elevation of 4600 feet. Here too is El Tesoro Winery.
After returning to Highway 79 we passed Warner Spring and the airport with the gliders. We had our picnic at Inaja Memorial Park. This park in Cleveland National Forest is in memory of eleven fire fighters who lost their lives in a forest fire that occurred November 1956. The park has picnic tables with overhead shade, a rest room and self guided nature trail.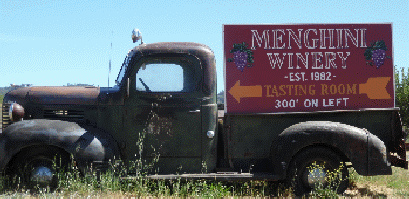 At Julian Hotel the breakfast served each morning was delicious and could have been from a much earlier menu. Also there is an afternoon tea and this was a must for us both days served in such a picturesque setting. Here this Writer met Janice Jack, Hotel Innkeeper and discovered that both of us were Brigham Young University alumni. This allowed for much conversation.
Julian Gold Rush Hotel Bed & Breakfast is located at 2032 Main Street, Julian, Ca. 92036, Telephone 760 765-0201, e mail:julianhotel@gmail.com, web www.julianhotel.com. Reservations 800 734-5854.
.
.
Back to Table of Contents..
Last Update:6/18/18
&copy 2018 Joe Hilbers All Rights Reserved.
Graphic Design by Impact Graphics