"Beverly Hills--Ocean Prime continues to please with its five stars"
by The Editor
The night we were at Ocean Prime it truly showed why it rates five stars.
This restaurant, bar and lounge seemingly has something for everyone. There is the bar and lounge facing Wilshire Blvd for cocktails and light snacks, then the restaurant itself with another more elegant bar and lounge, often with evening live entertainment.
The dining rooms offer a view of an open kitchen teeming with activity with booths and tables. There is also an executive room for private parties or larger parties.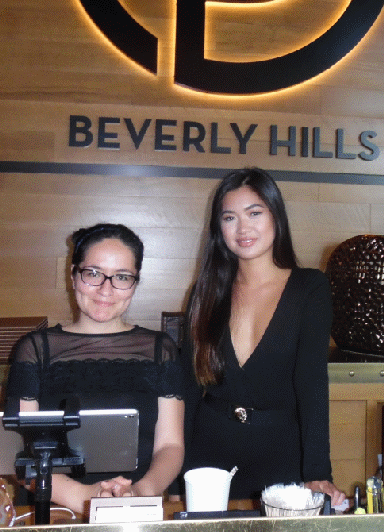 After being seated by one of the welcoming hostesses we were handed a very pleasing menu with much variety and well arranged with appetizers, soups and salads, a large group of seafoods and then an elaborate prime steak selection. But first we wanted to try from the bar the featured Negroni cocktail which was the monthly special at Ocean Prime. Negroni is a story in itself, a cocktail featured world wide with proceeds going to charities around the globe. Ours, served in a tall stemmed glass, was made with Campari, gin and vermouth with a garnish of orange.
With this accomplished we moved on with a shared appetizer of Calamari from a selection that included crab cakes, steak tartare or truffle caviar. Then the entrees where we chose the twin Maine lobster tails with asparagus while my dining partner chose the lamb chops, which were huge, in a bed of English peas and mushrooms. To go with the lamb my partner chose a glass of Argentine Malbec from the huge wine line.
Our side orders included a lobster stuffed baked potato and foie gras rossini. There were many things on the menu that we would have liked but must wait for another time. These included the Chilean sea bass, which is a specialty of Executive Chef Geoff Bamberger, as well as the lobster bisque and French onion soups.
My dessert was chocolate cake with vanilla ice cream and a generous side of chocolate syrup.
Our waitress was Sarah and she was outstanding in anticipating our wants and in making suggestions on the menu. And when it was time to leave she alerted the parking attendant so our car was waiting for us as we left what had been a most satisfying dining experience.
Ocean Prime is located at 9595 Wilshire Blvd. Beverly Hills and is open seven days a week serving lunch Monday through Friday and dinner only on Saturday and Sunday from 5 p.m. Telephone 310 859-4818, web www.ocean-prime.com.
Back to Table of Contents..
Last Update:6/29/18
&copy 2018 Joe Hilbers All Rights Reserved.
Graphic Design by Impact Graphics