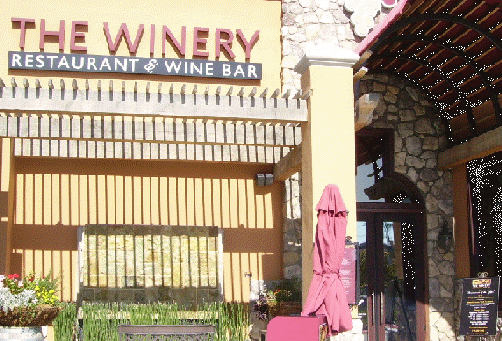 "Tustin--The Winery Restaurant rates five stars for both cuisine and wine"
by Ronnie Greenberg
An exemplary addition to Tustin's culinary landscape, The Winery Restaurant & Wine Bar is a gem known for vibrant flavors, fine wine, and elegant welcoming hospitality.
Three men, all with long culinary backgrounds, have made this happen. There is JC Clow, general manager who you will find as often as not acting as host. Then there is William Lewis, Sommelier and host, who is responsible for the wine cellar with over 600 wines from 13 different countries and five continents. Heading the culinary staff is Executive Chef Yvon Goetz who was named Chef of the Year by the Southern California Restaurant Writers in 2004, when he was with the Ritz Carlton in Dana Point. Along with his talented team each meal is meticulously prepared with unrivaled passion.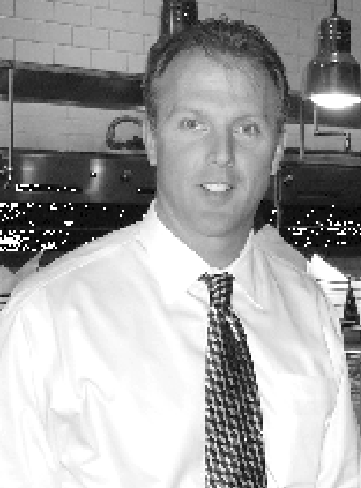 Setting the tone for a first rate dining experience the design and decor has the California casual ambiance with both indoor and patio dining that can seat 220 people when combined. The dining room has tables dressed with fine linen and topped with sparkling stemware, and candle lit in the evening for a supper club vibe.
The handsome expansive bar offers comfortable barstools to sit and sip a specialty cocktail or martini. Outside the patio seats up to 45 people and is often used for special events like winemaker dinners, which are held five or six times a year, as well as private parties.
Chef Yvon delivers a cutting edge California regional menu with daily specials that relies for much of its produce and seasonal herbs from local Farmers Markets. All the food, well prepared and presented is from an exhibition kitchen, and if you would like to watch the culinary staff in action there are several tables available to do just that.
There is a listing of Sommeliers Proposals, suggested wines with entrees on each day's menu. Currently there are over thirty wines available by the glass and William explained that these change with the season, with additional light wines added for summer. Adding to the pleasure of your dining experience is the wait staff all who are friendly, helpful and skillful.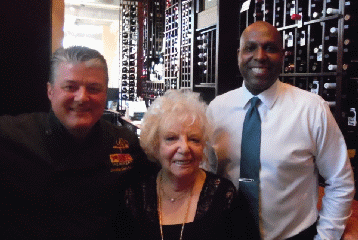 The menu is set up for many options! Beginnings present seared rare ahi tuna with mango, cucumber tower, avocado cigar & orange-cilantro vinaigrette; crispy Kurobuta pork belly lolly pops with cannellini bean ragout & Wasabi yuzu & toasted sesame seeds; jumbo lump crab & scallops cake with pee wee potatoes ,celery, gigante beans, cured lemon vinaigrette & topped with roasted piquillo pepper aioli; and The Winery charcuterie & artisanal cheese board.
The Winery Seafood Tower is a showstopper! It includes a combination of 10 oz lobster tail, 8 oz. king crab legs & jumbo shrimp, 6 oz fresh oysters & 6 ahi tuna spoons. You can also add 1 oz Tsar Nicoluai reserve caviar for an additional fee.
Fresh Greens highlights The Winery House Salad with organic baby greens, candied walnuts, Roquefort cheese, red grapes, red onions, tomatoes, apples & Dijon mustard vinaigrette; and the shaved brussel sprouts spinach salad with applewood smoked bacon, almonds, hard boiled eggs, Manchego cheese & pomegranate mustard vinaigrette.
Ocean centerpiece is Furikake seared yellow fin ahi tuna with baby bok choy, carrot-ginger coulis & Cabernet essence drizzle; as well as the king salmon "A la Plancha" with a trio of organic quinoa, grilled asparagus & vine ripe tomato-basil sauce vierge.
Land gives the center stage to a slow braised Angus beef shortrib with Prosciutto wrapped asparagus, carrot infused pearl couscous & Zinfandel reduction; and Maple Leaf Farms Duck "Deux Facons" a citrus marinated sliced breast, duck confit, Rosemary gnocchi, wilted pea trendrils & dry bing cherry reductions.
For a highly anticipated dining experience the spotlight is on "Take a Walk on the Wild Side!" where Chef Yvon Goetz features a nightly special of fresh wild game or fowl. This includes organic New Zealand venison, elk, all-natural buffalo ,Louisiana alligator ,rabbit, pheasant, quail, squab or partridge.(the pairing of food and wine is given special attention here).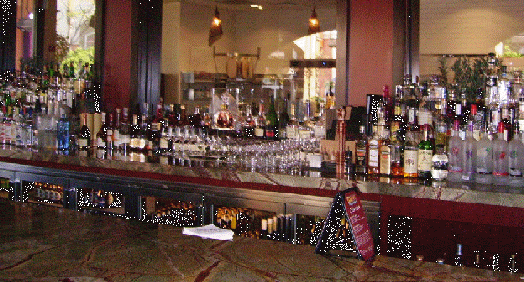 From the Grill the Wow factor is on the 8 oz. Brandt Family Reserve, filet mignon; 16 oz. New York Steak; the 12oz Cajun flatiron steak, and 18 oz bone-in-rib eye steak all grilled to perfection. To accompany your succulent steak you can add lump crabmeat Oscar style, spiny lobster tail; or grilled wild white shrimp. Mouthwatering sides are the truffle pomme frites; and roasted butternut squash and potato Dauphinois.
Add a sweet savory ending of mango chocolate chip creme brulee with a chocolate fleur de sel cookie, for pure perfection.
Highlights include The Wine Cellar which is temperature controlled. Wines are offered in seven different wine glasses depending on the varietal being served. On request the wine you order will be decanted at the table by either William, the Sommelier or the waiter.
At the Winery the customer always comes first. Valet parking is free during lunch and at any time when you leave the restaurant you car will be waiting for you at the door.
Hours are Lunch Monday through Friday 11:30 to 2:30 p.m. Dinner: Sunday through 5 to 10 p.m.: Friday and Saturday 5 to 10:30 p.m. Happy Hour: Early- Monday to Friday 3:30 to 6:30 p.m. Late night: Monday to Saturday 9 p.m. to close. Sunday 4:30 to close.
The Winery Restaurant & Wine Bar is located at 2674 Park Avenue in The District at Jamboree Road and Barranca Parkway in Tustin. For reservations phone (714) 258-7600 or www.thewinerytustin.com
Other locations for the Winery Restaurant are in Newport Beach at 3131 W. Coast Highway (949) 999-6622; La Jolla at 4301 LaJolla Village Drive, Suite 2045 in San Diego (858) 230-7404.
Back to Table of Contents..
Last Update:4/19/18
&copy 2018 Joe Hilbers All Rights Reserved.
Graphic Design by Impact Graphics