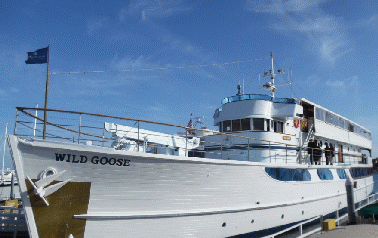 Newport Beach--When aboard Wild Goose you learn about John Wayne and his career
.. By The Editor
We just like cruising so this time it was aboard Hornblower's Wild Goose whose home port is Newport Beach. This ship achieved lasting fame thanks to its long time owner Actor John Wayne. He once termed the ship 'his proudest possession". Originally a US. Navy Minesweeper from World War ll, one of 481 that was built at that time. Today Wild Goose is one of the remaining four.
Our two hour cruise through Newport Beach's Marina and Balboa shoreline was a relaxing delight on a perfect Spring evening with clear skies and a light breeze.
Once settles aboard first move was to step up to the bar for a glass of Argentine Malbac to go with a spread of munchies for self service.
Then we took a tour of the spacious ship with entree on the Main deck into the Grand Salon which includes The Duke's round Poker table with chairs that have seated many famous people. There is also the Fireplace room where John Wayne and his family watched movies and the furnishings are from the Actor's own.
During the cruise former Captain Bert Minshall was aboard and presented some stories and events that took place with John Wayne and his family aboard Wild Goose while on cruises to British Columbia and Baja California.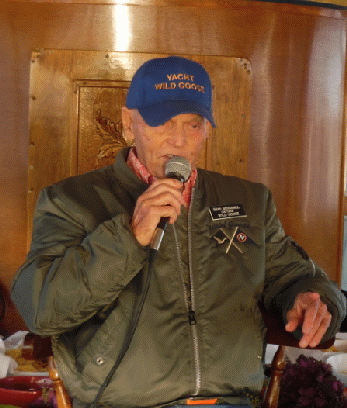 Top deck can be open or enclosed depending upon the weather and including the tables and chairs for lounging or dining aboard. Besides the large layout of chips, veggies and other tasties we were waiter served appetizers like stuffed small red potatoes, spring rolls, mini pizzas and much more and of course more trips to the bar.
Despite many trips to Newport Beach and Balboa it was our first real tour of the whole bay, marina and seemingly endless beautiful homes lining the shores, many with a yacht moored in their front yard.
At least for a few moments it made us regret our choosing being a newspaperman for a career and taking the lifetime vow of poverty.
Our two hour cruise was just the right length and included watching the sun sinking into the Pacific Ocean.
The Wild Goose, besides these evening cruises, offers many special events. For more information telephone 888-hornblower or on the web at www.hornblower.com. Newport Beach address is 2431 West Coast Highway.
Back to Table of Contents..

Last Update:5/1/18
&copy 2018 Joe Hilbers All Rights Reserved.
Graphic Design by Impact Graphics