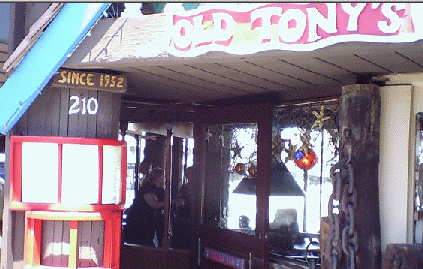 "Redondo Beach--King Harbor is home for restaurants of many types and styles"

by Joe Hilbers
If eating by the sea is your thing then think Redondo Beach. King Harbor is loaded with eating places of every type and offering just about every known ethnic variety.
Some of these restaurant are "legends in their own time" like Tony's At The Pier where we had lunch one day. Established in 1952 it has a picture gallery with literally hundred of photos of famous people who have eaten there. We offered them our photo but they were unresponsive. The back bar also has a historical display of its own in a large collection of decanters, bottles noting special events, brands and labels seldom seen today.
The view is of Redondo Beach Pier and a short stretch of sandy beach where the surf reaches the shore with welcoming sound effects. We sampled seafood like crab cakes, cocktail shrimp, calamari in several styles, and fried fish. We also had an anniversary Mai Tai served in a souvenir glass which we were able to take with us.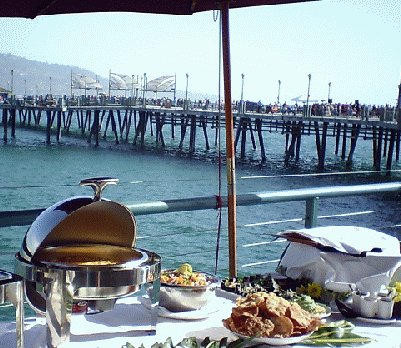 That evening we were at Kincaid's's which flanks the western end of the Pier. We already knew of this restaurant's fame since it is an award winner each year by the Southern California Restaurant Writers. Here, served al fresco on the patio, was a sumptuous buffet offering seafood in many artful guises. Restrain was required in attacking the ahi tuna, prawns and sushi rolls. We had the pleasure of chatting with Executive Chef Bert Agor who while youthful has impressive credentials. He is a third generation chef, originally from Hawaii.
Kincaid's styles itself as serving American cuisine with an impressive menu of both meat and seafood. They have a daily Happy Hour which is a true value. We could not resist it and savored our bowl of steamed Manila clams served in a wondrous broth.
At the Crown Plaza the dining room is called Splash Bistro and there we took part in the lavish breakfast buffet served each morning. Besides the dishes at the buffet one orders, direct from the chefs, specialty omelets, waffles and in our case French toast.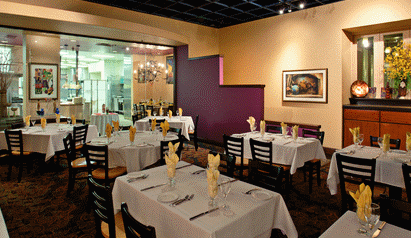 Splash is open for breakfast, lunch and dinner seven days, showing a Mediterranean styled menu produced by Executive Chef Gary Howard. On Thursday and Friday nights from 5 to 7 p.m. Splash features a beer and bbq rib event for a most modest price. We were particularly impressed with the professionalism of the service staff at Splash, most of them with many years at Crowne Plaza.
In our stay at Redondo Beach only once did we move away from the shoreline. That was for a luncheon served at H T Grill located at Riviera Village. This we for our official welcome to Redondo Beach and hosted by the Chamber of Commerce and Visitors Bureau. Our lunch menu included a mixed greens salad with feta cheese, then a choice of either pecan crusted Orange roughy with rice broccoli, and lemon beurre blanc or Fusilli a la Checca made with tomato, garlic, basil and olive oil. Dessert was a chocolate molten cake with liquid center and Frangelico whipped cream.
We met briefly with Craig Prendergraph, general manager of H T Grill and noted the spacious bar lounge and outdoor patio. It is located at 1701 S. Catalina Avenue in the Riviera Village of Redondo Beach.
Riviera Village is a collection of interesting specialty shops and dining places. Down the street from H T Grill is Tapas y Vino serving Spanish Tapas. We met Owner chef Andrew Di Girsis and promised to return and try his Tapas, something we always enjoy.
Riviera Village is also home to the Farmers Market which has become a regular Friday event since 2010. Avenue l where it intersects with Catalina is the location with Avenue l used for the display of fresh produce, and many specialty foods. It also includes a weekly 'Shop with the Chef' where one follows the chef as he purchases the ingredients for a special recipe that day. We tagged along with Chef Steve Mathrea on his round of purchases and also tasted many samples of goodies.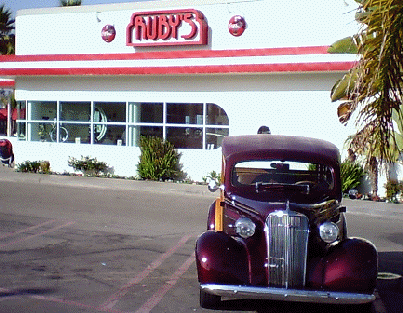 Ruby's Diner has been a part of Southland's beach scene for what seem forever but actually they are celebrating a 30th anniversary this year.
We like Ruby's for its predictability. You know that the service will be good with a well trained staff, the food quality never varies , and the prices modest . At Redondo Beach it is adjacent to the Seaside Lagoon Water Park. We were there early for breakfast and the Park was empty but we knew how quickly that would change in a few hours. For us when you are at Ruby's you know you are at the beach.
As usual there were some interesting restaurants that we wanted to visit but time was against us. One was Captain Kidd's which also includes a fish market. Here you can buy you particular favorite seafood and then Captain Kidd's will cook it to your order and then dine there. We thought this a great concept especially for seafood.
Another Redondo Beach restaurant that is on our 'muct go' list is Bluewater Grill. This is a true seafood restaurant nestled next to the private boat harbor. There is also a Bluewater Grill in Newport Beach . The Redondo Bluewater celebrated its tenth anniversary this year.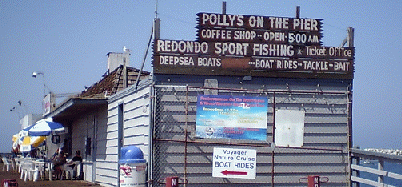 For breakfast or lunch Polly's On the Pier is practically a tradition in Redondo Beach. Located on the Fishermen's Pier it offers much in value and it would be hard to find a locaton closer to the water.
One of the things we liked best about the above mentioned restaurants is their close proximity to each other. The H T Grill in Riviera Village is the sole exception. They are all in easy walking distance of each other. All located in and about King Harbor.
So we have a good many reasons to return to Redondo Beach.
Back to Table of Contents..
Last Update:9/1/12
&copy 2012 Joe Hilbers All Rights Reserved.
Graphic Design by Impact Graphics