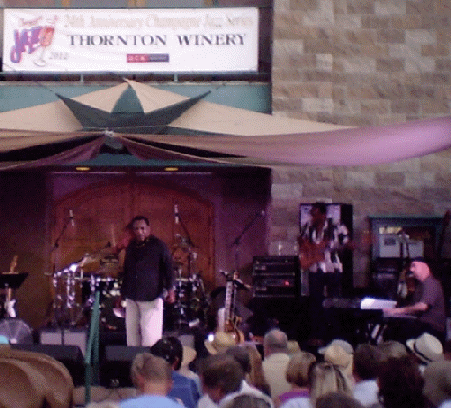 ---
"Temecula--Thornton Winery's Jazz concert was perfect for a celebration' By The Editor
What better way for a wine writer to celebrate a birthday than by attending a Champagne Jazz concert at Thornton Winery. After all they have been staging these concerts for 24 years now, always to packed houses on the huge patio fronting the winery. Headliner this day was George Benson with a truly talented group of sidemen. We can't remember a stand up comedian who provided us with more laughs than Alvon Bodden whose collection of one liners covered everything from the summer olympics to gay marriage.
Just as the concert series provides outstanding performers you can depend on Award winning Executive Chef Steve Pickell to come up with an innovative menu and this evening was no exception. Opening was 'Summer Corn Trio"--chilled sweet white corn bisque with a red pepper coulis, butter poached lobster and a white corn and chanterelle mushroom flan. Our wine here was Thornton 2005 Brut Rose.
"Wild Duo" was the name for our entree of Alaskan Halibut and King Salmon with petite summer Legumes. Two vintages were served with this ; Thornton 2010 Chardonnay and Thornton 2010 Barbera. We spotted Thornton Winemaker David Vergari in the audience and had to tell him personally how impressed we were with the Barbera which offered a remarkable aroma with a hint of vanilla and then pleased the palate with gentle flavors and a satisfying long finish. We thought this bottling of the varietal truly exceptional. Dessert was entitled "Sweet Dreams" and was a mixed berry tian with Belgian chocolate and vanilla bean ice cream.
The wine here Thornton 2010 Estate Petite Sirah. We might add that Petite Sirah was one of the first varietals planted when Temecula Valley began its rise to Southern California's wine country.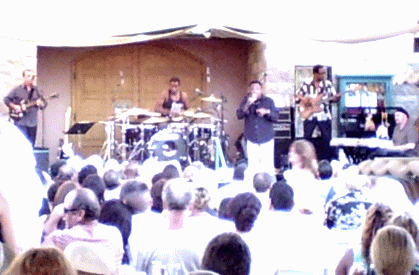 We also had the opportunity to chat with Hosts John and Sally Thornton as well as Steve Thornton who alerted the audience to Thornton's Milk Chocolate Wine.
Most of the Thornton Jazz concerts are sellouts and that was true with six hundred George Benson fans in attendance this day. Soon the Benson music had folks dancing in one corner of the patio and others hopping around in their seats as well. Benson and his group, including a fantastic drummer, were most generous with their encores. We sipped our Barbera contentedly and congratulated ourselves on our choice for celebration even though the number of birthdays was now becoming, well, rather alarming.
The 24th Thornton Jazz series will continue through September and finish on Saturday October 13th. For more information telephone 951 699-3021, on line at wwwthorntonwine.com.

Back to Table of Contents..
Last Update:9/1/12
&copy 2012 Joe Hilbers All Rights Reserved.
Graphic Design by Impact Graphics