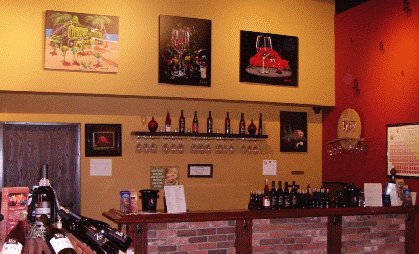 "Ventura--Four Brix Winery celebrates first anniversary at new location"
In a single decade Gary and Karen Stewart have moved from home garage amateur winemakers to owners of Four Brix Winery with a tasting room and winery located in Ventura, joining the other six wineries of Ventura County. Other members of the Four Brix team include Tracy and Jim Noonsan and Lora and Steve Simonsgaard.
The first three 'for real' vintages of Four Brix were made in the Paso Robles area but one year ago the winery was moved to Ventura, now neatly established, with tasting room included at 2290 Eastman Avenue and a stopover on the Ventura Wine Road.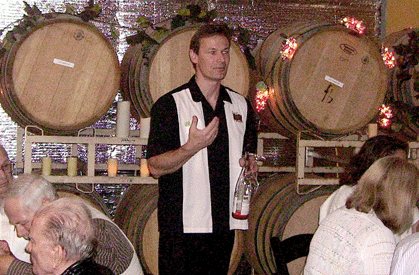 Part of the first anniversary celebration of the new winery was a recent dinner held there by the Wine Investigation for Novices and Oenphiles, Wino. Ventura Chef Steven Stroh catered the dinner that neatly fitted the 2009 wines of Four Brix. With the single exception of an very drinkable Viognier, all the Four Brix wines were blends. Gary sources most of his grapes from the Central Coast, much from the Paso Robles appellation. However he told us that recently one of his wines was a blend of vintages from three different California appellations.
Chef Stroh opened the Wino dinner with a heirloom tomato and buffalo Mozzarella salad paired with Temptress, a blend of Tempranillo, Mourvedre and Grenache. Next was the Italian dressed duo salad with Ahi, avocado crostini and shrimp lemon basil crostini. Here the wine was Smitten, the Viognier. Following was a sundried tomato and rum butter fettuccini paired with Scosso, a blend of Sangiovese, Cabernet Sauvignon and Merlot.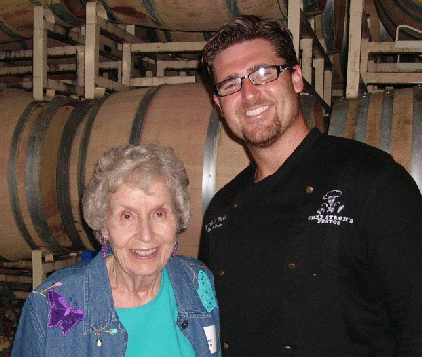 Entree was surf and turf with thin sliced smoked sea scallops with a pepper crusted beef carpaccio with an orange beurre blanc sauce. This was paired with a classic Rhone blend of Grenache, Syrah, Mourvedre and Counoise, labeled Rhondezvous. All the Four Brix wines enjoy these exotic names. Completing the dinner was a dessert of chocolate chipotie peanut butter parfait with brownie. The wine Zeductive, a blend of Zinfandel and Petite Sirah.
Special events under the direction of Karen Stewart are part of the Four Brix Tasting Room scene year round with a concert series and a unique series that features prominent Ventura Chefs with their specialties paired with Four Brix vintages. Standard at the Tasting Room is a "Tasting Flight" with features five of the Four Brix wines. The name was chosen after the owners had made a tour of three European wine producing countries, France, Spain and Italy and then counted California for the fourth.
For more information on Four Brix call 805 256-6006, on the web at www.fourbrixwine.com.
Back to Table of Contents..
Last Update:9/15/12
&copy 2012 Joe Hilbers All Rights Reserved.
Graphic Design by Impact Graphics