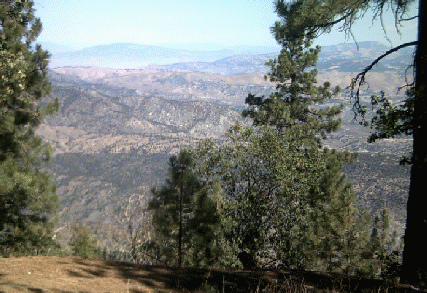 "Alamo Mountain--It was a wonderful refuge on a glorious summer day"

by The Editor
The calendar said it was almost Fall but in the San Fernando Valley the promise was another day with triple digit temperatures. So once again was packed a lunch and fled to the sanctuary of the mountains. This time it was to Alamo Mountain, elevation 7367 feet of the transverse ranges that are part of Southern California's geography. The mountain is readily seen as one travels past Pyramid Lake on Highway 5 heading north.
Access is from the Hungry Valley OHV State Park near Gorman. As you enter the OHV park there is an interesting exhibit telling some history of the surrounding country and how it acquired names like Hungry Valley and Hard Luck Camp. Originally settled by homesteaders for farming it was soon apparent that there was not enough water. These early farms evolved into ranches which are now gone as well. Now it is where the Angeles National Forest and Las Padres National Forest meet.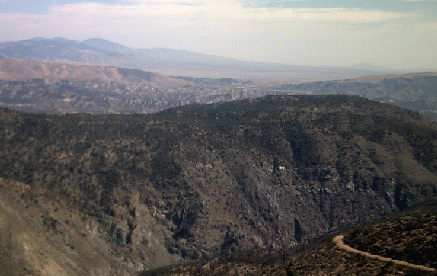 Called Gold Hill Road it takes you through the OHV park, across Piru Creek and then begins a spectacular climb over a road that soon changes from pavement to dirt and gravel. In my son's car we measured the climb at 400 feet per mile. Starting in chaparral one soon climbs first to live oak and then pine forest. The views are impressive all the way with Piru Creek, just a green string so far below. Across the canyon rises Frazer Peak with it original fire lookout tower and now a forest of high tech towers.
The road completely circles Alamo Mountain just below its crest. It is a ten mile circle so one is treated to 360 degrees of surrounding mountains and forest as one traverses the road. There are two campgrounds, both unimproved, Twin Pines and Dutchman. We had our lunch at Twin Pines. After lunch son Brian found trail to the top of mountain and took it. Pappy remained in camp to take photos, admire the views and listen to the soft sounds of a light breeze moving through the pines.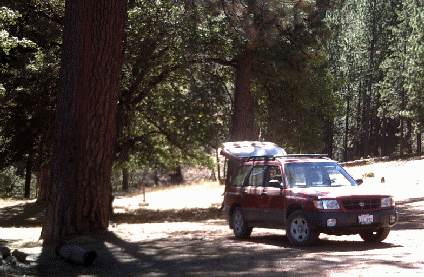 In 2006 The Day Fire swept through parts of this forest and the results can still be seen. In places it stayed close to the ground and so left many of the tall trees still alive. Also we noted that the oak trees, some burned almost completely, showed new life rising from the roots.
We had the mountain this day completely to ourselves. We met not a single car or person on the road once we passed Piru Creek. We did share it with three deer, all does, that looked at us curiously and then moved on. Squirrels also came to call but would lose courage and scurry off. The temperature on top was a comfortable 77 degrees and clear skies offered views that seemed to extend forever. At one place we counted seven distinct ranges lining the skyline with the furthest distant unmistakably being Mt. Baden Powell in the San Gabriel Mountains.
All too soon it was time to descend and grudgingly return to the flow of traffic on Highway 5. It was exactly a two hour drive from our home in the San Fernando Valley to the Twin Pines campground.
Back to Table of Contents..
Last Update:9/20/12
&copy 2012 Joe Hilbers All Rights Reserved.
Graphic Design by Impact Graphics