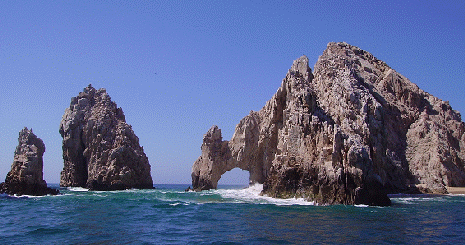 ---
"Once again, bound for Mexico, the Pina Colada Ritual had to take place" By Joe Hilbers
For this Writer a Pina Colada is the drink of travel and romantic places. We are barely aboard a cruise ship before seeking out one of its lounges to have one of these noble cocktails placed before us. And somehow we invariably link the drink with Mexico. We cannot think of our memorable adventure to Copper Canyon, that unforgettable train trip, without also recalling, yes the Pina Coladas served us at luxurious hotels and on a yacht trip to the bay at Los Mochas.
Then there is the trip to Mazatlan where we blended time at our beach hotel with adventurous treks to the back country. Oh yes and then at Puerto Vallarta, using the same style agenda, where we explored both deserted coves and beaches as well as the surprisingly beautiful mountain country that few tourists ever see.
For us old habits die hard so aboard the Carnival Splendor bound for Mexico's Riviera ,once again, we toasted our departure with a Pina Colada explaining to my traveling companion that this drink was, well indispensable, an inseparable link with whatever else occurred on our cruise. I now call it the Pina Colada Ritual.
While my trips to Mexico seemed almost too numerous to count, for my traveling companion it would all be new. Our acquaintance went back many decades and our families had spent time together, surrounded by our numerous offspring, on a camping trip to the Ruby Mountains in Nevada. The father of her children and I had once worked together on the Salt Lake Telegram, he, Jack White, as a staff photographer, and I as a sports reporter. Jack married Marilyn Murphy and I, Mary Reynolds. The four of us had all been carefree members of the Wasatch Mountain Club before marriages and children. Now there is only Marilyn and I. So a reunion aboard Splendor seemed an excellent idea.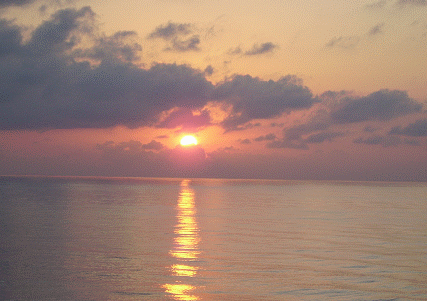 The star was about to rise above the horizon of the water planet. Soon there was a simmering red glow that grew ever brighter. Then the star burst forth with intense light . High in another part of the sky was this planet's moon, at the moment complete with the customary shadowy markings.
So began another day on Carnival Splendor. Land was visible on the horizon and we would soon be at Cabo San Lucas, our first port of call. Our personal Cabo adventures had started decades earlier with long tramps on pristine, deserted beaches with my two sons, who were constantly in search for the next magical surfing break. Normally on cruises we generally plan our own shore excursions. However this time we decided on taking Splendor's Land's End Boat cruise. This would work out well since it was all new to our traveling companion. We joined a group of like minded passengers, boarded the Tender and were soon ashore in what can only be described as a bustling street scene. Since the Princess Star was also in port the possibilities for local entrepreneurs seemed endless.
We boarded the handsome cruiser Baja Sol and soon were away. It was hot and humid so the movement of air aboard ship was most welcome. We rounded Land's End with its impressive towering rock formations and the cameras were out in force including ours. The development of Cabo in the last four decades, is simply amazing with Condos and hotels stretching to the horizon in every direction. We knew we were rushing the season some on this cruise since September and early October can still produce hot, humid days and we were not disappointed.
The cruise lines now skip Mazatlan as a port of call to our regret since we truly enjoyed our visits there in other years. The result is that some ships stay two days in Cabo while others two days at Puerto Vallarta. Carnival Splendor stayed two days at Cabo so we had to decide on what to do the second day there. Since it was still so hot we decided to stay aboard Splendor and enjoy a quiet , lonely ship. On our ''rest day' we found the ship library a perfect place of quiet solitude and for writing our log of the cruise.
We were quite pleased with the quality of the food on Splendor, it was the best we have ever experienced on Carnival ships. And the serving staff was truly four star. We used the Gold Pearl dining room whenever possible. The menu showed a good selection of Continental fare with appetizers, entrees and desserts each night. Every evening the menu challenged the diner to try something unusual under the name "Did Ya Every Try". We tried them all, most we were familiar with, some long time delights. One evening it was frog legs prepared French style, another Escargots in a classic garlic butter Chablis sauce, and another cured salmon with deli flavor and unusual firmness and finally oysters Rockerfeller.
We ordered a lot of seafood, one evening the Executive Chef's prize winning recipe for "Martino braised basa filet with tomato and fennel, another the lobster tail and tiger shrimp and a third a penna pasta with scallops, calamari, shrimp, mussels in the shell and topped with a pouched salmon filet.
Other entrees we tried included the filet mignon one evening, another the chateaubriand with bearnaise sauce and another the excellentlly prepared braised lamb shank.
The pastry chef did his part showing us a superior tiramisu.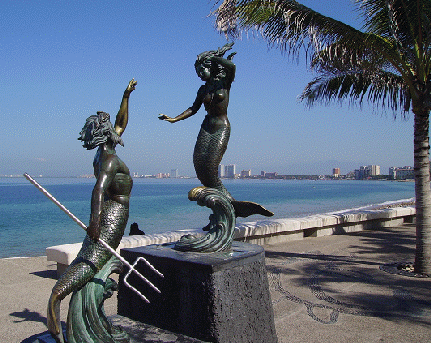 Our Puerto Vallarta City tour started at dockside on a most comfortable bus by Travelex. Driver was Roberto and our guide Cervardo, who had been born and raised in the City and had some interesting facts about it. First stop was Malecon, the beach walk with its examples of Mexican sculpture. Then to the historic square and heart of the original town with its classic church "Our Lady of Guadalupe.'

El Set Restaurant and Bar overlooks Mismeloya beach and it was here that the 1962 film "Night of the Iguana' was on location. Everyone agrees that this film put Puerto Vallarta on the map. After a photo opt we lounged at El Set with a Corona beer, guacamole and chips. The restaurant has been visited by many of the rich and famous, besides us, over its forty year history.

Our guide Cervardo pointed out interesting places including the one room house where he grew up with seven brothers and one sister. Also the church where he arrived late for his wedding. One interesting fact is that here there are two shifts of students each day. One from 7 a.m. to noon and the second from 1 to 6 p.m.

Our first visit was on a press trip in 1979 and in Puerto Vallarta we stayed at the El Camino Real hotel, then the first high end luxury hotel there. Now such four and five star hotels abound in the region. Cervardo also gave us some tips for our shopping which was included as part of the tour. He explained we were at the end of the low season so we could expect large discounts on purchases. November starts the high season where prices rise with the increase of tourists. Every visit we have made to Puerto Vallarta the changes are vast and it now seems harder to escape from the USA as our guide informed us there were two WalMarts, a Cosco, McDonalds, Subway and the list continues to grow. Roberto and Cervardo then dropped us off next to the Splendor promptly on schedule.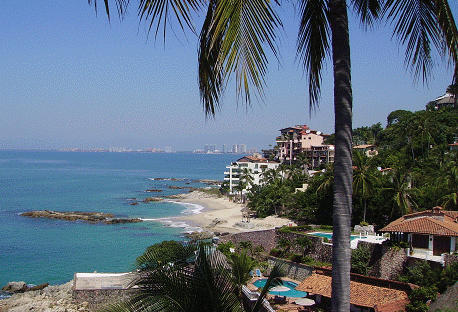 Our last view of the City was at 9 p.m. when once again this Writer was called upon to help Captain Giorgio Pagano get the ship out of port. And of course we had to be up at 5:30 a.m. to help dock the ship in Long Beach. These long ship watches are very trying.
---

Back to Table of Contents..
Last Update:10/15/12
&copy 2012 Joe Hilbers All Rights Reserved.
Graphic Design by Impact Graphics