Los Angeles--Sparkling wines from four countries took center stage at DSWE seminar
.. By The Editor
Sparkling wines are traditionally associated with special occasions, festivals, and holidays. So Domaine Select Wine Estates' recently conducted seminar in Los Angeles on sparkling wines from Italy, Germany, France and Slovenia was right on target for the media and merchants who attended it. The seminar and exhibition tasting was entitled DSWE Pop UP Tour and held at the new The Luxe Hotel showing the wines and spirits that make up the lineup of the Importing firm.
The seminar panel included Jeffrey Meisel of Gilt, wine and spirits consultant and moderator; Pierre Gonet, Proprietaire of Philippe Gonet Champagne; Emanuele Rabotti, Proprietor of Monte Rossa, Lombardy, Italy; and Ales Kristancic, part of the family owning the Movia Winery as well as its winemaker, located in Brda/Collio, Slovenia.
The sparkling wines we tasted included Peter Jakob Kuhn 2010 Riesling Brut, Serafomo & Vodotto Bollicine di Prosecco; Monte Rossa Cabochon Brut 2008; Champagne Philippe Gonet Blanc de blancs Extra Brut; Alfred Gratien Brut Classique; Champagne Fleury Fleur de l'Europe and Movia 2004 Puro Rose. Most interesting was the wide range of grape varieties used in making these sparkling wines. Using Cal. Davis' twenty point grading system we scored all of them from between 16 and 19 points. The range of flavors in these sparklers was wide and it was of interest when the panelists described the many varietals used in their production.
The Phillippe Gonet champagne is from vineyards in the Le Mesnil-sur-Oger region and the champagne uses Chardonney, Pinot Noir an Pinot Meunier. In Slovenia Movia was founded in 1820 and the number of varietals in the vineyard large. Three that we were unfamiliar with were Pinot Nero. Fiulano and Ribolla.
Monte Rossa is from the relatively new COCG status appellation Franciacorta and the Cabochon Brut we tasted is made with 70 per cent chardonney and 30 per cent pinot noir.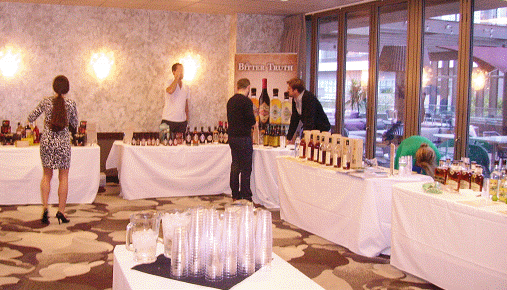 At the tasting that followed the seminar we were interested in the sole California winery represented. SHFT is the creation of two men from the film industry, Peter Glatzer and Andrian Grenier. The wine is from the Paso Robles appellation and we tasted the 2009 SHFT red. It is a blend of Grenache, Syrah, Mourvedre and Tempranillo. We found this blend enjoyed a telling aroma, was remarkably smooth on the palate and enjoyed some longevity in its finish.
At the event we had the opportunity to meet and chat with Michelle De La Cruz, DSWE Specialist in Los Angeles and Orange County. For more information about the brands represented by DSWE check their website at www.domaineselect.com.
Back to Table of Contents..

Last Update:10/20/12
&copy 2012 Joe Hilbers All Rights Reserved.
Graphic Design by Impact Graphics