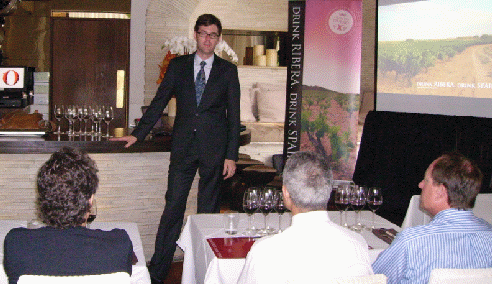 "Los Angeles--Tempranillo grape is king with Ribera del Duero Spanish wines'" By The Editor
.
The grape variety was Tempranillo, the region Ribera del Duero and the wines, well just wonderful. The event was 'Drink Ribera Los Angeles Seminar and Tasting which took place recently at the Red O Restaurant.
This event in Los Angeles was part of a nation wide promotion entitled "Drink Ribera, Drink Spain' and designed to demonstrate how Tempranillo wines can be enjoyed with many different cuisines.
It was this Writer's good fortune to attend the seminar conducted by Matthew Stamp, Master Sommellier, where we tasted five wines all made with the Tempranillo grape but showing a large variety of styles. Ribera de Duero is a 70 mile long valley with the Duero River flowing through it. It is about twice the size of the Napa Valley and has been a place of winemaking for at least two thousand years. It has been recognized as one of Spain's premiere wine producing areas since the fifteenth century.
Today there are 270 wineries in this region and some of the Tempranillo vineyards have vines that are from 50 to 100 years old. What astounded us was the variety of wines that the region produces from this one grape varietal. Some of the designations for Ribera del Duero wines are Joven, Crianza, Reserva, Gran Reserva and Rosado. In our seminar we had the opportunity to taste some of these wines.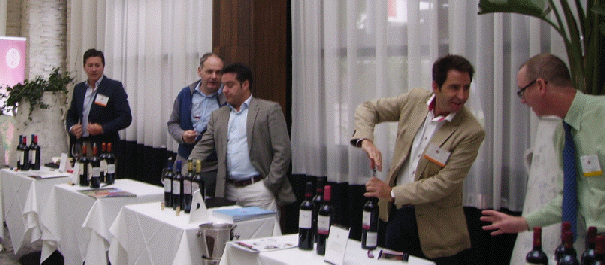 We opened with an 2011 Joven which had no aging at all. They have a few months in oak and then immediately released. Ours was robust and hearty. The Crianza in sharp contrast offered a much cleaner nose and mellower softer flavors on the palate. Crianza designated wines must be aged two years with a minimum of one year in oak barrels
We noticed immediately what additional age, both in the barrel and bottle, do to the quality of these Duero wines. Reserve wines must be aged three years with one year in oak barrels while Gran Reserve wines are from select vintage years, aged five years and with two years in oak. The 2004 Valdricro we tasted was truly a memorable wine full of flavors but with soft tannins. At the seminar we were served three tapa styled appetizers to note how the wines match the food. With that 2004 Valdricro Ribera Del Duero and those appetizers we could have settled in for the day.
Interesting all the wines we tasted, whatever their Ribera designation, were in the 14 per cent alcohol range. In all 24 wineries were present at the tasting which followed the seminar.
Our regret was that on our trip to Spain we did not visit Ribera del Duero especially when we learned that by car it is only one and one half hours north of Madrid. But on that trip our assignment was about Spanish Sherry and so drove south. If there is another visit it will be to Ribera del Duero for sure. High speed trains will now get you to this showcase Spanish wine district in thirty minutes from Madrid and as a result has become a popular tourist destination with wineries offering tasting rooms and often restaurants.
Back to Table of Contents..
Last Update:11/10/12
&copy 2012 Joe Hilbers All Rights Reserved.
Graphic Design by Impact Graphics