Temecula--Restaurant Month was presented in high style with chefs and owners.
.. By Joe Hilbers
Our visits to Callaway Winery have extended over decades but we were not prepared for the changes that have taken place since our last visit. Now there is a new two story guest center with gift shop and wine tasting bar on the first floor and on the second a grand meeting room with huge windows that present a sweeping view of much of the Temecula Valley. And it was here that the Temecula Valley Visitors Bureau, Chamber of Commerce and local restaurants introduced participation in California Restaurant Month. The event presented local restaurateurs and chefs with the opportunity to meet with the media with menus and samplings of their culinary specialities.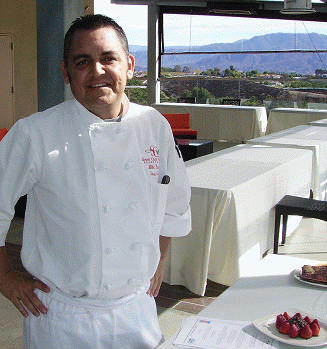 We met with Mike Terry, executive Sous chef, at South Coast Winery, resort and spa. The Restaurant is Vineyard Rose and as the resort restaurant is open for breakfast, lunch and dinner seven days a week. Mike Terry is from San Diego and leaned his craft at culinary school there and then spent some years with hotels in the area. At Vineyard Rose he shows a contemporary menu with much emphasis on pairing his dishes with the wines made there. We told Terry we had visited Vineyard Rose, but under a previous chef, and would like to try his menu as well.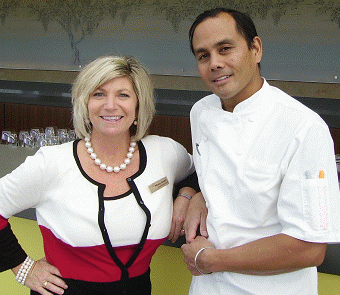 We also made acquaintance with David Fune who now is chef at Temet Grill located as part of the Temecula Creek Inn which is a true mecca for visitors and especially golfers since the hostelry is situated on a championship golf course. Fune is new to the Temet Grill and has offered some new creations like a daily pate and warm potato and baby mustard green salad with apples, bacon and pumpkin seed for lunch and at dinner whole wheat penne with ricotto cheese, fresh spinach alfredo which we tasted and thought unique and most tasty. Also new at dinner a braised beef cheeks and a lobster slider and pappardelle. We told David Fune that we had stayed at the Inn and did a review of the restaurant at that time but it now needed an upgrade with him on board.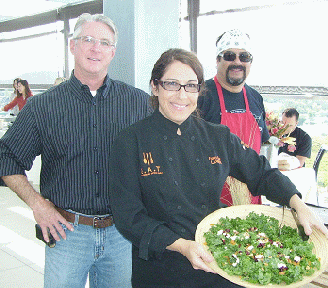 We sat and chatted with Leah Di Bernardo, a most remarkable young woman, who is responsible for cuisine at E.A.T. which stands for Extraordinary Artisan Table, a marketplace, cafe and catering establishment located at 27535 Jefferson Avenue in Temecula. She is also a leader in the local Slow Food chapter and I reminded her that I had attended one of their events a year earlier and had written about it. Slow Food and E.A.T. are dedicated to using locally produced foods whenever possible.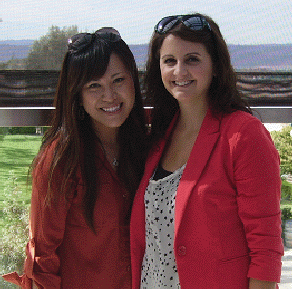 The Bank is a Mexican restaurant and bar located in Old Town, Temecula. We met Kaylee and Christy Puina of The Bank which offers a classic menu of Carne Asada, enchiladas, taquitos, tamales as well as a taco bar. All of these items are available for catering as well as at the restaurant. The Bank is located at 28645 Old Town Front Street in Temecula. Telephone 951 676-6160 web www.thebankofmexicanfood.com.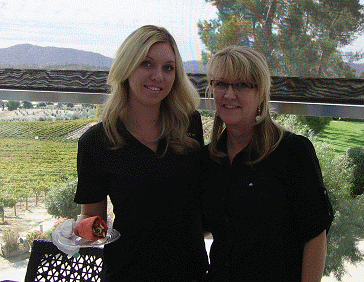 We also met with Sarah Suh who is regional marketing specialist for Qdoba Mexican Grill which is a chain with fifteen locations spread throughout Southern California. One of Qdoba specialties is its sauces and salsas which were all available for tasting this day. The menu shows signature burritos with several flavors as well as grilled quesadilla. Qdoba in Temecula is located at 40788 Winchester Road.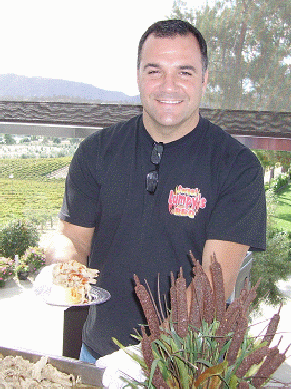 John Syroka is owner-operator of Sweet Lumpys BBQ and for us he prepared a pulled pork sandwich which he said had been slow cooked for nine hours. With it he offered a choice of two bbq sauces, one spicy the other mild. We chose the mild and thought it the perfect companion for the pulled pork. John told us he caters events up to one thousand people with a large selection of bbq items. He is located at 41915 3rd Street in Temecula.
We munched one of her lemon meringue tarts as we chatted with Robin McCoy of Robin's Nest Desserts & Catering. Here is a whole array of Cakes, cupcakes and cake truffles, cookies, brownies as well as pies and cobblers. We told Robin that we were glad we were meeting her at this event rather than at her shop where we would probably go berserk with some many goodies. She is located at 41911 5th Street in Temecula, 951 676-8010, on the web at wwwrobinsnestdesserts.com.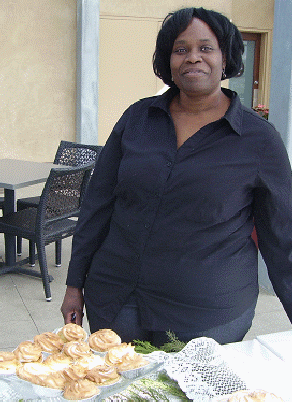 Back to Table of Contents..

Last Update:11/20/12
&copy 2012 Joe Hilbers All Rights Reserved.
Graphic Design by Impact Graphics