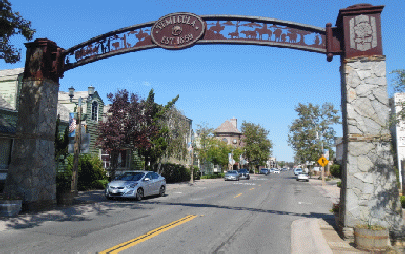 "Temecula--Lots of wine and restaurants too"
Temecula and the surrounding valley is all about food and wine. On our most recent visit one of the places we wanted to revisit was Thornton Winery's Cafe Champagne. Through decades it has been a consistent award winning restaurant. We knew that the restaurant had been redecorated and was showing a new menu as well.
When we arrived we were greeted by Tonya Wake, an old acquaintance, and when we stepped inside we were delighted with the bright color theme, a new arrangement of the seating and how it has all added to the ambiance. Still intact are the picturesque views of the surrounding vineyards from the many windows.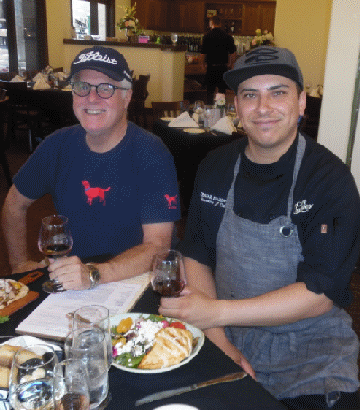 Joining us for lunch was David Vergari, Thornton's winemaker and we had many questions for him as to the new vintages that have recently been added to the winery's portfolio.
Also joining us was Executive Chef , who has been with Thornton twelve years but confesses to been in a kitchen for most of his 41 years. This life long occupation also extends to David who spent years first in college and then in Napa and vineyards in Northern California.
This presented the perfect opportunity to view and discuss the new menu as well as the matching of food and wine which has always been a hallmark at Cafe Champagne which has been a delight for locals and visitors since 1988..
At Thornton David produces a remarkable number of wines including several sparkling vintages. Now he has a new Chardonnay as well as Tempranillo and Syrah. Also new is the French Malbec as well as two Italian varietals, Sangoivese and Nebbiolo. Chef Ceasar Solarzano shows a menu this is large with many entrees showing his personal talents such as his salmon, filet mignon and chicken flatbreads or side dishes like warm duck confet.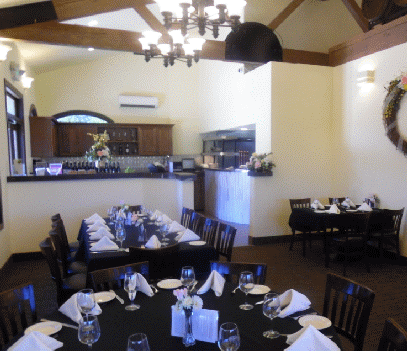 Our luncheon opened with another of his specials, Brie en croute, then a salad with raisins, cashews with a special dressing. Our Flat Bread steak proved to be a colorful display with both fruit and veggies. From a long list of tempting desserts we chose the white and dark chocolate smoothed in cream and sliced strawberries.
Our wines were a sparkling rose, then a Syrah.
Cafe Champagne is at Thornton Winery located at 32575 Rancho California Road and the start of the wine trail. It is open seven days a week, 11 a.m. to 9 p.m. Telephone 951 699-0099, web www.thorntonwinery.com.
If there is anything easy to find in Temecula it is a restaurant. The number and variety of cuisines seem endless.
We had heard good things about Bluewater Grill Seafood Restaurant & Fish Market in uptown Temecula and so decided it would be perfect for dinner one evening. However it took some finding on our part since we took an unwanted tour of the Promenade seeking it. Finally using Bluewater's Hostess as our guide by phone we found it and were most grateful when we finally met Sophia.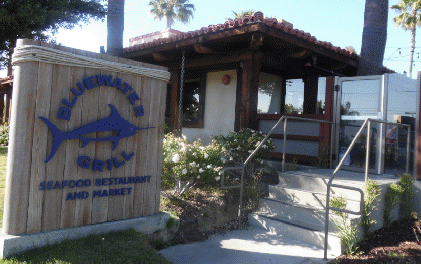 Once seated all went well. This restaurant is all about seafood and shows a casual seaside ambiance both in the spacious dining room and bar lounge. We looked over a menu that was perfect from our standpoint since we love seafood. Then we met General Manager Chad Simpson who suggested we might want to try a couple of the specialty entrees by sharing two. This proved an excellent plan. I opened with the New England clam chowder then for our entrees we had the halibut which came perfectly cooked with meat flaked as you touched it with the fork. It came on a bed of corn bread topped with spinach.. My dining partner ordered and shared the pan seared sea scallops in a tasty sauce on a bed of grits and surrounded by corn and asparagus tips.
Now it was time for dessert and on the menu was Mud Pie, an item we had not seen in some time. When it arrived it was not only most tempting but huge in size and even though both of us attacked with vigor we could not finish it.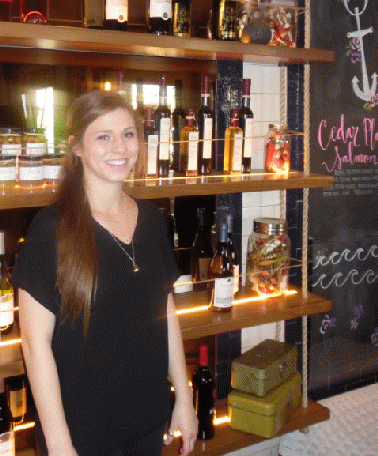 We were so impressed with Bluewater Grill that we asked Manager Chad about some of the other locations and learned that both Santa Barbara and Redondo Beach also had Bluewater Restaurants. In Temecula it is located at 25700 Ynez Court in the Tustin area. Telephone 951 308-2722, web www.bluewatergrill.com.
In our search of Temecula dining we had to include a restaurant in classic Old Town and what better choice that Baily's which has been part of the Old Town scene since 1993. Baily's is a prominent name in Temecula Valley with Phil Baily and Baily's Winery, one of the pioneer vintners in Temecula Valley Wine Country.
Christopher Baily is owner and the corner building includes a bar, lounge and both indoor and patio dining on the ground floor. Upstairs a bright window filled room offers an ambiance for a more serious dining experience. Here also a spacious room for special events which fill the calendar at Baily's.
We chatted with Manager Gabe Gonzales while settling in with a cocktail. Looking over the menu I immediately spotted one of my personal favorites, fish and chips while my dining partner selected the Chicken Snitzel. My fish and chips proved to be the best in memory with a breaded coating that was full of flavor but without a speck of cooking oil present. Manager Gabe explained that it was a beer based batter, and a well kept secret house recipe. Our dessert was a brownie sundae.
Baily's is a local tradition and on most days you will find as many locals as visitors enjoying the spacious outdoor patio and a classic American menu. A big plus is the spacious free parking area behind the restaurant.
Baily's is located at 28698 Old Town Front Street and hard to miss. Telephone 951 676 9567, webwww.Baily.com.
Back to Table of Contents..
Last Update:7/1/18
&copy 2018 Joe Hilbers All Rights Reserved.
Graphic Design by Impact Graphics