However some of the pioneer family wineries have remained and are to be found in the region and some vineyards still exist as well. And Cucamonga Valley is recognized as the oldest American Viticultural Area (AVA) in the U.S.
On our recent trip to Cucamonga Valley was our good fortune to visit Galleano Winery which remains the last remaining bonded winery still owned and operated by its founding family. The Galleano family purchased land in Mira Loma's Wineville area in 1927 and remains at its original location. The winery was founded by Domenico Galleano who emigrated to the U.S. with his family from the Piedmonte region of Italy in 1913 bringing with him a tradition of winemaking that extended back generations. Today the winery and its operations are under the care of Don and Charlene Galleano, heading five generations of the family active in the vineyards and winery.
A visit to the Galleano proprieties and winery is a step back in time. Surrounded by modern warehouses, some a block long, you enter a quiet wooded area with buildings with gable roofs and redwood siding. Here too is the Tasting Room. This whole complex has been honored as a Riverside County Historic Landmark, A State of California Point of Historical Interest and listed in the National Register of Historic Places. Behind the Tasting Room stretches one of the original vineyards with its furthest boundary an old too familiar California Freeway.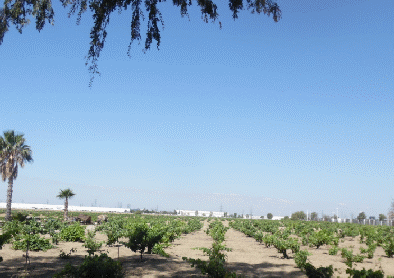 The main winery building still houses Redwood tanks. both large and small. In all there is 300,000 gallon of cooperage, a mix of redwood, cement, stainless steel and oak barrels.
The winery continues its tradition of making reasonably priced Italian styled wines with Zinfandel as the favored varietal and its vineyards continue to have some of the oldest Zinfandel vineyards in the state. Galleano is also well known for its dessert wines with its Port often being singled out for awards as well Sherry. In all there are four hundred acres of wine grapes with varietals with Zinfandel, Cinsault, Mourvedre, and Carogmame for the red wines and Palomino and Mission grapes for the white wines.
When visiting Galleano allow yourself plenty of time, besides the tastings and retail store the picnic area is perfect for relaxing and letting the world slide by. If you forgot to bring a lunch bakery bread and assorted goodies are available for sale to accompany your glass of Galleano's wine. There is a modest fee for tasting five wines.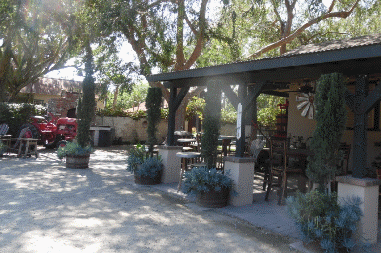 The Historic Galleano winery is located at 4231 Wineville Road, Mira Loma, Ca. 91752. Telephone 951 685-5376 for visiting hours. Web www.galleanowinery.com.
Besides the Galleano family others also brought fame to Cucamonga, its vineyards and wines. These include Secondo Guasti, an Italian immigrant who developed what became known as Italian Vineyard Company as well as a town named Guasti. Then there is the Joseph Filippi Family, still part of the grape and wine scene.
We plan future trips to Cucamonga to continue our own explorations of this historic wine country and to visit other of the local wineries.
Back to Table of Contents..
Last Update:9/2/18
&copy 2018 Joe Hilbers All Rights Reserved.
Graphic Design by Impact Graphics