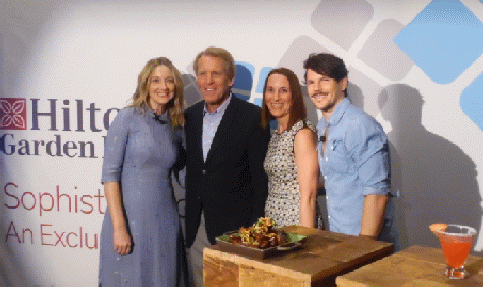 Burbank--"'Sophisticated Bites' and trendy cocktails show new look for Hilton Garden Inn Expansion worldwide"


by The Editor
The Hilton Garden Inn in Burbank was the place chosen to 'show and tell' the Media about the changes that are taking place with Hilton Garden Hotels. New hotels are being added both in the U.S. and in other countries around the world as well. For existing hotels there are plans for Refresh both in decor, ambiance and especially in food and beverages.
So it was that we were treated to what Hilton called 'sophisticated bites' a long list of delicious dishes with handcrafted cocktails to match. Entitled 'First Taste Event' there was a selection of appetizers and then a tasting menu that included sticky finger ribs slow cooked baby back ribs with a whiskey-soy sauce matched with the cherry blossom cocktail made with Hornitos Reposado Tequila, lime and grapefruit juice and grenadine. Then there was the Mason Jar chocolate fudge cake which was layers of rich chocolate mousse topped with whipped cream and caramel sauce. P>Some of the new delicious dishes we tried were the open faced Caprese Salad. Mobley Burger Slider and roasted artichoke and spinach flatbread. P>All of this was explained to us by John Greenleaf, Global Head for Hilton Garden Inn, who explained the expansion plans to give each hotel new features and additional services for guests and especially trendy new menu options for its restaurants and cocktail lounges. John pointed out that Hilton Garden Inn now has 775 locations worldwide and ten new properties have been added so far this year.
We thought the 'sophisticated bites' concept a great idea and noted the enthusiasm displayed by staff members who explained the details to us.
To see new menu items visit newsroom.hilton.com/hgi.
Back to Table of Contents..
Last Update:9/2/18
&copy 2018 Joe Hilbers All Rights Reserved.
Graphic Design by Impact Graphics