Very popular is the Seaside Lagoon Water Park where toddlers can splash and play in a sandy pool carefree and safe. Did we say this Park was popular, the day we were there the toddlers seemed to extend forever. Our conclusion was 'god in his wisdom gives children to the young."
Car buffs are a special breed as we discovered as we wandering into a car rally of vintage automobiles. The cars were classics showing many hours of tender, loving care by their proud owners. This Rally takes place each Friday evening during the summer next to Ruby's Diner.
The weather during our visit can only be described as ideal, clear skies, a warm sun and refreshing light ocean breezes. Exactly 25 degrees cooler than the San Fernando Valley where the temperature hovered in triple digits. Which explains an excellent reason to seek ocean shores.
Redondo Beach has a long history, first as a port, but also since it did not take residents of inland Los Angeles to discover the relief of ocean shores in summer. Today this attraction extends year round since the activities extend to all seasons. There is the huge selection of restaurants, the Performing Arts Theater and night clubs with live entertainment.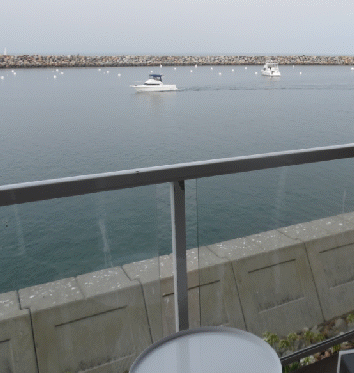 Our two day visit to Redondo Beach started with check-in at the Portofino Hotel and Marina. We thought it the perfect place for such a visit not only for the location, directly across from the Marina, but also for its ocean view balcony rooms and all the amenities of a four star hotel.
Our room at the Portofino Hotel proved to be an entertainment center thanks to our private balcony overlooking the ocean channel used by some of the marinas. Sitting in luxury on our veranda we had a continuous show featuring the comings and goings of sailboats, motor cruisers, kayaks canoes, rubber dingby as well as our favorite, paddle boarders, many still at an early learning stage. Then close by was a barge station with live bait and here there was a steady lineup of fishing boats of all sizes getting the needs for the day's ocean fishing excursions.
This was just one of the many pluses offered to us during our stay at the Portofino Hotel and Marina located at Kings Harbor. There always seemed to be a wedding that had just taken place or was about to so we could admire the elegant attire of those attending these events while we were safely attired for the beach.. In the evening the lounge and bar adjoining the lobby offered live entertainment in a relaxing and most comfortable ambiance.
One afternoon we met General Manager Duane Rohrbaugh who gave us a tour of the property while relating some of the history of the hotel which first opened in 1968, then suffered much damage in the fierce storm that struck the Southern California coast in 1988 and how the hotel has recovered since then to earn its current four star rating.
Also impressive is the adjacent Baleen Kitchen which overlooks the Marina with its one hundred and eighty one boats of every size and description. In decor and ambiance the restaurant, including bar and lounge, offers a contemporary which perfectly matches its menu which does emphasize sea fare. A new dinner menu now includes additional Tapas like Ahi Tuna Taco, Hamachi Crudo, BBQ Duck Confit, Seafood P:oke and Wild Mushroom Bruschetta. New entrees include Spinach fettuccine, Pan roasted diver scallops, Miso-Glazed salmon and Pork Schnitzel.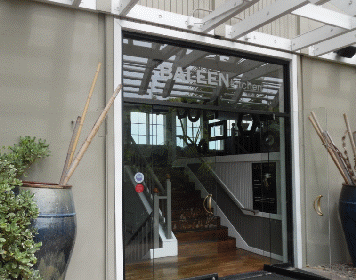 To admire the skills of Baleen's two Chef de Cuisine, Vasili Tavernakis and Paul Dinulescu my dining partner and I decided to order two entrees and then share them. We selected the simply grilled sea bass and the Miso-Glazed salmon. The salmon came with baby bok choy, soba noddles and summer dashi. the sea bass with loaded pee wee potatoes and roasted wild mushrooms. Both in preparation and presentation we thought that Baleen shows an added special dash and flair to their dining experience.
This was evident in our starter as well which was crispy calamari that arrived at the table in the meshed grill where it had been cooked.
Differences that add to the dining experience showed up as well when we enjoyed the morning brunch the following day.
Both of our choices were selected from the Fresh Start part of the menu, the Smoked Salmon plate and the Baguette French toast. Both were served on attractive platters the French Toast surrounded by cinnamon apples and pears while the Salmon platter included bagel, cream cheese, tomato, red onion, hard boiled egg and capers.
The Main Brunch menu included some interesting dishes as well including a pull pork Benedict, Breakfast Burrito or Lobster Mac & Cheese.
We thought prices were very moderate for the exceptional quality and superior service experienced at Baleen Kitchen which is open for breakfast, lunch and dinner seven days a week.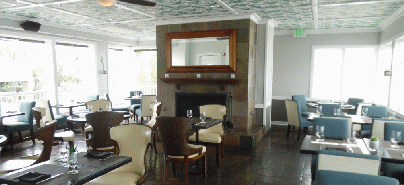 Portofino Hotel & Marina is located at 260 Portofino Way, Redondo Beach, Ca. 90277, Telephone 310 379-8481, web www.hotelportofino.com.
If you have not been to Redondo Beach for some time it is a good idea to obtain a free copy of the 'Harbor & Pier Walking Map' from the King Harbor Association. For details use the web at facebook.com/kingharborassn.
'King Harbor Has It All' is the slogan of the Association and that is an accurate description. It includes the Marinas, King Harbor, Portofino, Port Royal and Redondo Beach. Our tour started at King Harbor directly across from Ruby's Diner. After surviving the toddler Park, officially entitled Seaside Lagoon Water Park, we moved on to the Redondo sport fishing pier.
Another day we toured the Redondo Pier first built in 1889. It was called Redondo Landing since at that time Redondo was a port of entry for Los Angeles. Redondo Landing tells of its history both by decor as well as displays of old photographs, historical personalities and tie ins to the earlier eras.

We studied with much interest the sculpture head of George Freeth which is located at the Pier Plaza. For he was the man who introduced surfing to Redondo Beach and America. Born in Hawaii of Hawaiian and Irish parents he first reintroduced Polynesian surfing in Hawaii. In 1907 he was invited by Henry Huntington to Redondo Beach to introduce surfing there bringing with him his two hundred pound wooden surfboard.
Surfing was not Freeth's only claim to fame. He also became the first 'official' beach lifeguard on the west coast and saved several lives. He also introduced water polo.
The Redondo Beach Pier sweeps out into the ocean from Pier Plaza and is relatively new. In summer it is the site of evening free concerts. These concerts include groups playing a wide assortment of modern music, everything from blues and jazz to rock and roll and new wave. These concerts are on Thursday and Saturday evenings and continue through Labor Day. l. Located here is the Voyager and the Looking Glass boat which allows submarine views of local sea life. The place to keep up with the constant round of events is the web at RedondoPier.com.
Back to Table of Contents..
Last Update:9/3/18
&copy 2018 Joe Hilbers All Rights Reserved.
Graphic Design by Impact Graphics