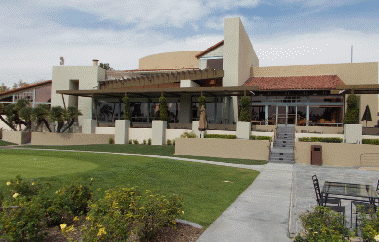 "Tustin--Tustin Ranch Golf Club offers fine dining in plush decor and ambiance" By The Editor
.
Few places offer the tranquillity and serenity of a golf course with its manicured greenways. artistic setting and the sheer luxury of spaciousness.
As an inept golfer for some 30 years this Writer has learned that this peaceful feeling can best be experienced in the club house dining room rather than on the course. Playing golf does not always bring out the best in people, what seemed a delightful day can be quickly erased in a few moments, leaving disappointment and disgust while pondering "how could I take four putts on a par 3 hole."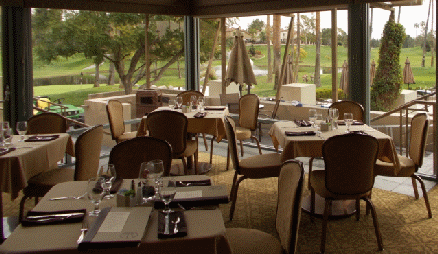 I thought of this as I looked over the delightful menu at the Tustin Ranch Golf Club Restaurant. From the picture windows of the dining room the course stretched out offering luxurious contentment for the ex golfer who has abandoned the game for the clubhouse.
Upon arriving at the Club we met Sara Guddione, executive chef, told us how the restaurant services have expanded . There is a colorful contemporary cuisine with exquisite dining rooms that, with ambiance and decor, match the cuisine. The Club's facilities are prepared for every kind of event including golf tournaments, weddings, meetings, conferences or just a pleasant dining experience and relaxing occasion. In fact a major tournament was in play the day we were there.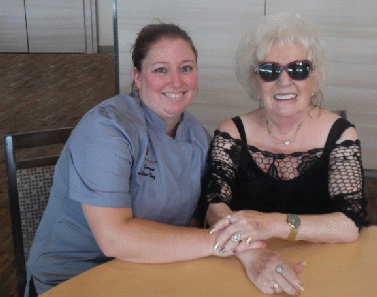 Since taking over as Executive Chef of Tustin Ranch, Sara has established a new menu. There is the Pine Tree BBQ Patio for special events, the Players Lounge, with its own bar, for golfers and guests as well as the picturesque outdoor area for weddings and receptions. There is also a Sunday Brunch which has become a most popular event.
The Tustin Ranch Golf Club is public but with all the amenities of a plush private country club. The Restaurant is open Monday thru Friday for dinner, Saturdays and Sunday Brunch till 5 p.m. The Players Lounge is open from 6:30 a.m. to 8 p.m. seven days a week with a full menu.
The Tustin Ranch Golf Club is located at 12442 Tustin Ranch Road, Tustin, Ca. 92782. For more information call 714 734-2106.
Back to Table of Contents..
Last Update:9/2/18
&copy 2018 Joe Hilbers All Rights Reserved.
Graphic Design by Impact Graphics