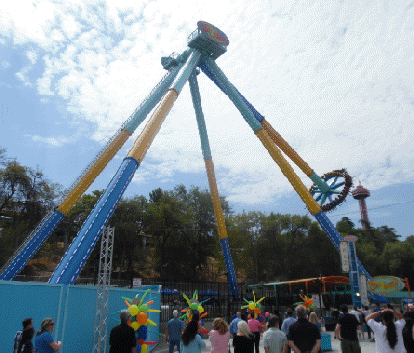 "Valencia--With CraZanity put thrill in capitol letters at Six Flags Magic Mountain
.

By The Editor

Our approach to Six Flags Magic Mountain always reminds us that we are, indeed, in the 21st century. Ahead loom strange towers and objects dotting the skyline.

This visit was to take part in the official opening of CraZanity, the Park's newest thrill ride. CraZanity is the world's tallest Pendulum ride reaching 170 feet high as it swings back and forth at speeds up to 70 miles an hour, taking its forty thrill seekers ever higher.

We were there with the media as Park President Neal Thurman explained that CraZanity offers a thrill not duplicated in any other ride. Neal also announced that Six Flags Magic Mountain is now open 365 days a year offering new opportunities for the travel industry as well as expanding services for the 24 million Southern California locals. This now puts Six Flags on the same operating schedule as all other theme parks in the region.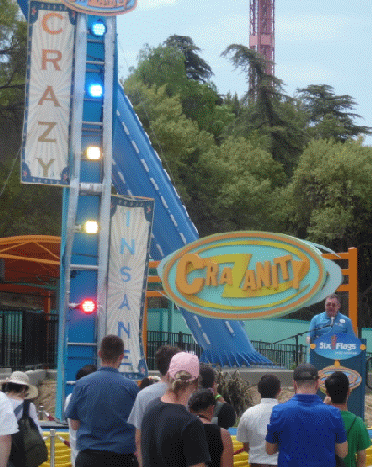 CraZanity is located in the Boardwalk area of the 262 acre park and this has received an extensive renovation with new themes and attractions as well as more dining opportunities.
Did your dedicated reporter immediately get aboard CraZanity to tell readers how it felt to swing up to 170 feet above the ground and experience speeds of 70 miles an hour and the weightlessness that follows? Unfortunately recent surgery precluded my taking such a ride at the present time. And, of course, that is the only reason.
We then turned our attention to some of the other new attractions and this centered on food. This took place at Ace O' Clubs where a lunch reception was held. This was the a showplace for what is available for foodies at Six Flags. Appetizers included pizza slices and ears of corn with a unique topping. The buffet featured a park specialty slider as well as ground beef sandwiched between pineapple slices for a tropical flair. We confess to returning for seconds, or was it thirds, for the breaded shrimp. My dining partner demanded seconds for the sliced crispy onion rings. While Ace 'O Club regularly features all American fare there is Chop Six for Asian cuisine, Carlini's Pizza and Kate's Kettle for chicken wings and a bistro styled menu. Dining passes are available for season ticket holders.
One thing in plentiful supply at Six Flags is the enthusiasm of the young people and how contagious this is for all who visit regardless of age. Last year the Magic Mountain Park had three and one third million visitors.
Six Flags Magic Mountain is located at 26101 Magic Mountain Parkway in Valencia, Ca. Open daily from 10:30 a.m. weekdays, 10 a.m. on weekends. Closing time varies with the season. At this writing it is 9 p.m.
Back to Table of Contents..
Last Update:7/14/18
&copy 2018 Joe Hilbers All Rights Reserved.
Graphic Design by Impact Graphics