Cafe Roma was the culmination of several successful restaurant ventures for Joseph Rizzo following a classical musical career as a world famous Concert Oboist where he performed under the batons of legendary musical conductors (Toscanini, Fiedler, Bernstein) and contributed to the instrumental works of Disney and Paramount Pictures.

Cucina Rustica Italiana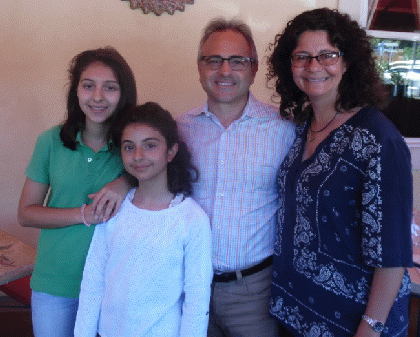 In addition It was the first Italian restaurant in the area, serving Northern cuisine with French flair in what was then considered the "Red Light District" by the Railroad Station. The restaurant remained on 1819 Oso Street and when it moved across the street to its current location on Railroad Street, Marco and his brothers were instrumental in transforming the neighborhood which is now the Historic Railroad District.
To this day Cafe Roma with its casual old-world feel, still has the boys carry on their father's restaurant legacy and celebrate the best of Italian culture, wine and cuisine, offering long guilt free meals and hosting many memorable occasions. They are now joined by Marco's wife and children who share a love of the ongoing affairs of the restaurant. But above all, they create community, connecting their guests with one another and the fruits of many labors from local farmers, vintners, fisherman and ranchers.
As one enters Cafe Roma you are leaving California for a hacienda located somewhere in Italy. To the left is the bar and lounge, casual with Italian travel posters and flyers boosting bicycle touring and indeed a bicycle of an earlier era is suspended above the bar.
Nicely seperated from the bistro atmosphere of the bar and lounge are two exquisitely furnished dining rooms. One wall of each of these rooms is devoted to a mural that shows a landscape that can only be of Italy. White tablecloths are atop all the tables gleaming with bright silver and glass ware.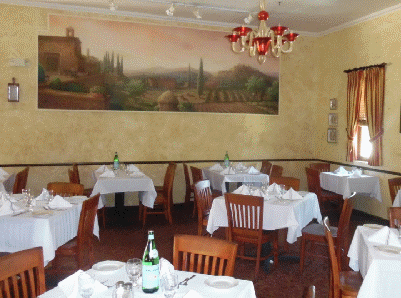 Often you will be greeted by Marco who appears to know the name of many who enter.
We were there for lunch and opened with something that was completely new to me and my dining partner. Marco uses fresh produce from local farmers whenever possible and he explained that zucchini when growing produces large blossoms. These are eatable and at Cafe Roma deep fried with a pancetta cheese and served as fritters. We thought them tasty and original. Next came the fried calamari followed by one of the house specialty pasta dishes, Bucatini Carbonara which has a house made pancetta and pecorino cheese sauce. Cafe Roma is a large restaurant with two comfortable dining rooms as well as a full banquet hall on another level. Also the Garden Patio which is large and overlooks the Train Station Square. Snacks and appetizers are also available in the bar and lounge.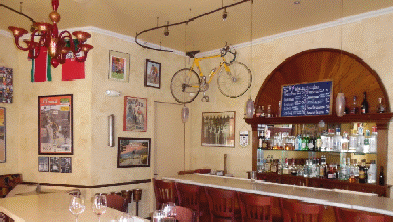 A look at the menu shows starters like Bruschetta, toasted bread topped with tomato,garlic, olive oil and basil; a hearty vegetable Minestrone soup-Tuscany style; Mozzarella "Marinsara"- breaded and fried mozzarella with tomato sauce; Escargots-baked Bourgogne style in garlic, shallots, parsley and butter; Calamari Fritti; Polpo Luciana-octopus that's Neapolitan style braised, with tomato, garlic and olives; and a finger licking Salumi e Formaggio board-assorted meats and cheese served with fig jam, candied walnuts and olives.
Salads include Bietole- local red and gold beets, butter lettuce with avocado and gongozola; Giardino-lettuce with grilled eggplant, zucchini, toasted peppers, mozzarella; ClassicCaesar; and Caprese-fresh mozzarella,tomato, avocado and basil.
Pizza e Panini offers Napoletana-olives,capers,anchovies,tomato sauce and fresh mozzarella; Ortolana-grilled eggplant, zucchini roasted pepperd and fresh mozzarella; pizza Funghi Misti; and top any pizza with fresh arugula lettuce.
Pasta: offers full selection but hands down the most popular: Bucatini Carbonara with eggs,house made pancetta and pecorino cheese; Ravioli della Casa; Gnocchi Con Funghi Misti;Tagliatelle 'Bolognese."
The list of meats and fish is long: Scampi alla Busara-shrimp sauteed in shallots, white wine, tomato, parsley; Pork Chop Milanese-breaded Milanese style with arugula, roasted potatoes; Veal Chop Roma- pan seared with brandy, whole garlic, and sage; Osso Buco-braised veal shanks in a hearty wine and vegetable based sauce; Filet Mignon; Choice Angus New York; Prime Center Cut Sirloin 8 oz; and fish of the day.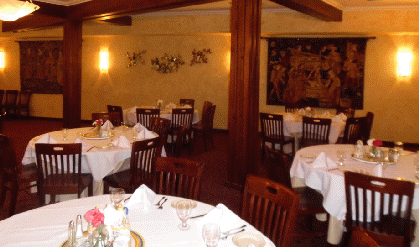 Many of the desserts are made in house and often daily like the all mouthwatering-Gelato "Coppa"; Tiramisu; Sicilian Cannolli; See Canyon Apple Strudel; Flourless Chocolate cake; Corsican style Chocolate Mousse; and Creme Bruelee. With its country ambiance bar there is an extensive wine menu as well as craft and bottled beers. Thanks to the Rizzo Sicilian heritage there is an interesting collection of wines from Sicily.
Hours are Monday through Thursday 11:30 a.m. to 2 p.m. and then 5 p.m. to 9 p.m. Friday 11:30 a.m. to 2 p.m. and then 5 p.m. to 9:30: Saturday 5 p.m. to 9:30 p.m. Closed Sund
Cafe Roma is located at 1020 Railroad Avenue, San Luis Obispo, CA 93401 (805) 541-6800 www.caferomaslo.com
Back to Table of Contents..

Last Update:7/26/18
&copy 2018 Joe Hilbers All Rights Reserved.
Graphic Design by Impact Graphics