The smart Electric Owl Bar and Cafe on Sunset in Hollywood was the place chosen by Princess Cruises to showcase new exciting cocktails that will be available on all of its ships. Mixing the cocktails for an assortment of media was Master Mixologist Rob Floyd. Floyd, who has been named "Bartender of the Year", partnered with Princess to present new cocktails that will showcase the regional flavors of the more than 300 destinations visited by the Princess fleet each year.
Some of these cocktails will be served in newly designed pewter mugs that will emphasis the drinks with names like "Passion for the Orient": "Mayan Heat": and "Ivory Coast".
Also present was a team of Princess cruises food and beverage directors led by Gordon Ho, senior vice president for Global Marketing. We had the opportunity to meet and chat with Gordon Ho who told us that these new drinks will offer guests a more all- around drink experience. Two of the new cocktails are non alcoholic but will offer great flavor for those choosing a "Mocktail".
One of the 'Mocktail' was the Zero Mojito with the taste of fresh lime and mint. Probably the most popular non alcoholic cocktail was invented nearby in a Beverly Hills restaurant and called the "Shirley Temple". A bartender produced and named it for the child actress Shirley Temple and it still around these many decades later.
Being able to watch Rob as he made each of these cocktails was most interesting since he described each ingredient as it was added and often a bit of history as well. Then all present were able to taste, sip or drink each of the finished cocktails.
We noted that all of these cocktails used premium spirits brands and with some ingredients being relatively new for most people. One example is the Italian Sunset which is made with Bombay Sapphire Gin and Aperol which is an Italian liqueur that while originally created in 1919 only has achieved some popularity in recent years. Another example is the Ivory Coast which includes an African liqueur called Amarula. This is produced from a fruit which is said to be part of the diet of many African animals.
The Ivory Coast mixes Amarula with Gray Goose Vodka and Kahlua.
This Writer in earlier eras was an honorary member of, first, the United Kingdom Bartenders Guild and then later the U.S. Bartenders Guild and acted as a judge in some cocktail competitions. So we truly could appreciate the skill and presentation abilities of Rob Lloyd.
With all these new exotic cocktails some food was in order and this was nobly supplied by Chef Owner Ernesto Uchimura and his staff. Served were appetizers of cheese and deli meats and then the "Ernesto Burger" which arrived slider style.
Electric Owl proved to be a most interesting site for the Princess Cruises cocktail presentation. The restaurant is on the site of an old train station and now uses the decor and ambiance of a train dining car of an earlier era. The bar is in front with a outdoor look and decor and was a perfect stage for Rob Floyd as he produced his cocktails with a full vision presentation.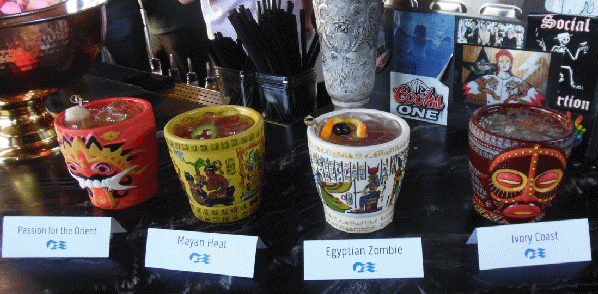 Soon all of these will be available throughout the Princess Fleet.
Electric Owl is located at 1451 N. Gardner Avenue, West Hollywood just steps from Sunset Blvd. It is open for lunch and dinner seven days a week. Telephone 323 545-6565.
Back to Table of Contents..
Last Update:8/10/18
&copy 2018 Joe Hilbers All Rights Reserved.
Graphic Design by Impact Graphics