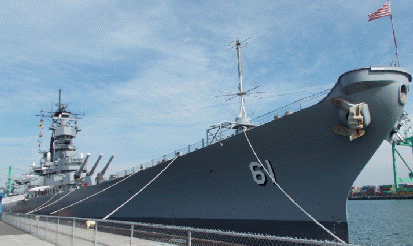 "San Pedro--Touring USS Iowa is a look to naval warfare of the past"

by Joe Hilbers
At the Port of Los Angeles there is a ship that represents the last of what were called dreadnoughts. It is the USS Iowa, that took part in three wars of the 20th century. It was the first of four ships of this class that mark of the end of one kind of naval warfare. The other ships of her class are the USS Missouri, where the peace treaty with Japan was signed in 1945, as well as USS New Jersey and USS Wisconsin.
A tour of the Iowa was a must for this Writer, who as a World War ll veteran, is something of a museum piece himself. Earlier this year the USS Iowa celebrated the 74th birthday from the time of its launching. It took part in World War ll, the Korean War and the Cold War. Her 16 inch guns fired a projectile, as tall as a ma. One projectile hit its target 26.9 miles distant. With a top speed of 35 knots (43 mph) she was the fastest battleship ever built by any nation.
In 2011 it was presented to the Pacific Battleship Center and on July 7, 2012 opened at the Port of Los Angeles for public display and tours.
Our tour took us through many parts of the ship including the Captain's Cabin. There is history here as it was used by President Franklin Roosevelt when he journeyed to Africa to meet with Winston Churchill and later with Joseph Stalin in what was termed the Big Three conference to chart the course to victory over the Axis powers.
Our tour also took us to the bridge, protected by masses of armor, as well as the quarters of officers and enlisted personnel, mess facilities and views of the 16 and 5 inch guns and turrets.
As we boarded the USS Iowa, adjacent to the Cruise Terminal in San Pedro, we were met by Abraham Garcia who asked if we were a military veteran and our name. Then our name was called on the loudspeaker as we boarded. This is standard procedure aboard Iowa for all who have seen military service.
It was our first visit to a battleship and just looking at those 16 inch guns was breath taking. Later the ship was provided with Tomahawk Cruise Missiles that extended its firepower dramatically
A docent volunteered to take our picture in front of the guns and we complied. It came out so well we posted it on our Facebook page.
Before leaving the ship we had a long conversation with Larry Mustaller, a former navy man, who has been aboard Iowa for two years as a docent. Larry joined the Navy when he was 17 years old during the Vietnam conflict. He saw much action serving aboard the Navy's Patrol Boat River craft which patrolled and fought the enemy in Vietnam's extensive river system. He was wearing many of his decorations earned during that war including a Purple Heart. I pointed to it and said I have one of those too.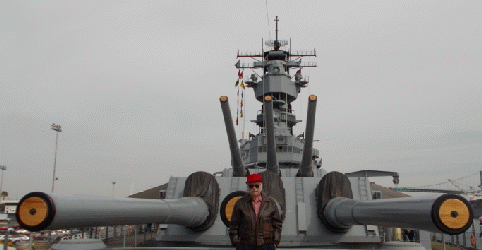 Visiting the Iowa is delightfully easy. Signs on the 110 freeway guide you to the huge parking lot that brings one just steps from the ticket office and ship. Parking fees are most modest. Once aboard docents are everywhere to answer questions and guide one through the ship.
During the year a schedule of events and ceremonies are held aboard Iowa presented by the Pacific Battleship Center. These events commemorate national, military and naval dates of importance. Check the website www. pacificbattleship.com for the schedule of these activities.
We thought our visit to the USS Iowa a great experience. It is open seven days a week for tours. For more information call 877 446-9261.
Back to Table of Contents..
Last Update:8/31/18
&copy 2018 Joe Hilbers All Rights Reserved.
Graphic Design by Impact Graphics