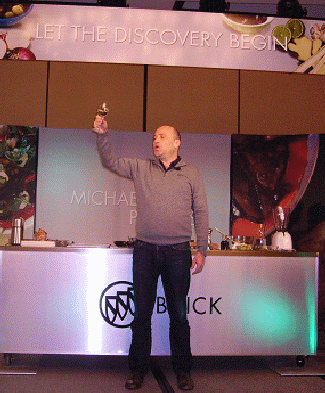 "Ventura County--Buick Discovery Tour matched exciting cuisine with wine"
The Editor's Vineyard
We recently attended the Buick Discovery Tour which matches exciting foods and wines with the opportunity of driving Buick's newest automobiles. It was held at the Four Seasons Hotel in Westlake Village, a most elegant hostelry with a countryside ambiance and atmosphere.
The event featured celebrity chef Michael Psilakis as well as two award winners of Food & Wine Magazine's Best New Chefs competition. These were Raphael Lunetta, owner-chef of Santa Monica's Jiraffe Restaurant whose laurels rest on a French-new American cuisine. And Pastry Chef Ben Roche of Yuzu Chiboust in New York.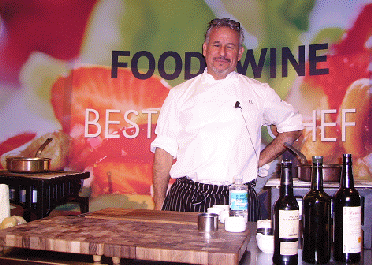 After watching each of these chef's demonstrate the making of their specialty we were all given a plate to try our own taste buds on the culinalry creations, and provided with the recipes
Then there was Michael Green who led the whole group in a tasting of two wines. When it comes to conducting a wine tasting Michael Green is in a class all his own. He brings simplicity to the tasting of wines along with humor and entertainment. The white wine was Rodney Strong 2011 Sauvignon Blanc. This is from a single vineyard located in Sonoma's Alexander Valley and named Charlotte's Home. The red wine was Tapena Tempranillo 2011 from the Tierra de Castilla region in Spain.
Chef Michael Psilakis produced what he called a Gyro Spiced Slider served on a roll. We cleverly saved some of the Tempranillo to go with this Greek influenced dish.
Raphael Lunetta prepared a filet of beef patty with hearts of palm and a Madeira reduction. It received high marks from this Writer who resolved to visit Jiraffe Restaurant in the near future.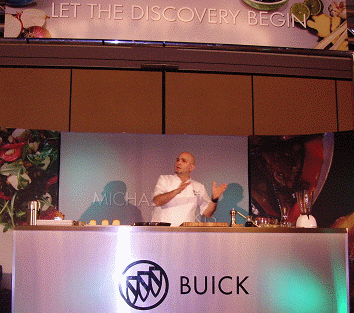 And, oh yes , we drove Buick's 2013 LaCrosse on a test drive and left the event being slightly less satified with the LaCrosse we currently own.
Back to Table of Contents..
Last Update:2/10/2013
&copy 2013 Joe Hilbers All Rights Reserved.
Graphic Design by Impact Graphics