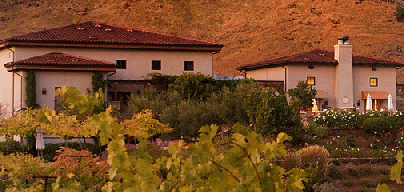 San Martin--Clos LaChance is a showplace in the Santa Clara Wine Region"
By The Editor
It was on a visit to the Santa Clara Valley when we came upon Clos LaChance Winery nestled in a scenic valley at the foothills of the Santa Cruz Mountains. We were impressed with both the beauty of the main building and tasting room as well as the quality of the wines. Then Winemaker Stephen Tebb conducted our tasting and we admired his style with wines true to their varietal while holding the alcohol to its traditional levels.
Now Stephen Tebb is a consulting winemaker at Clos LaChance while the reins have been passed to Jason Robideaux who has practiced his winemaking skills both in Australia and Sonoma. Our recent tasting of three Clos LaChance wines are his and we were pleased to see that they all continued the traditional style we remembered. Vineyards and winemaking has been a part of Santa Clara Valley's past for over one hundred and fifty years.
We have always considered Zinfandel as one of our favorite wines, probably because it was always on the table at home when I was growing up. With the 2010 Clos LaChance Estate Zinfandel we found a wine that we truly enjoyed. The grapes are from the original one hundred and fifty acre vineyard. The wine is 89 per cent Zinfandel and 11 per cent Petit Sirah. While maintaining a 14.5 per cent alcohol the wine has hearty balance, full flavors and a long finish. The wine was aged in American oak which always seems to be a good fit for Zinfandel. With a $15 price tag we thought this Zin a truly exceptional buy.
In fact all three wines we tasted were in this price range. We were equally pleased with the Clos LaChance 2011 Sauvignon Blanc. This grape does well in Central California and Winemaker Jason kept the juice in stainless steel from first pressing to bottling. The result is an aroma full of fruit flavors that carry over to the palate The wine is 87 per cent Cabernet Blanc from estate vineyards with 13 per cent Semillon. Jason may have bought this blend with him from Australia since I recall Semillon being used in blends quite frequently there. We marked this wine for tail gate and picnic events and priced at $11 we want more.
We served the 2009 Clos LaChance Cabernet Sauvignon with a recent BBQ of pork back ribs, Spanish rice, cooked Romaine Lettuce and Fiji stewed apples. We all enjoyed a glass while watching the ribs and then finished the bottle at table. The wine is 86 per cent Cabernet Sauvignon, 12 per cent Malbec and two per cent Merlot. We found it with powerful nose and commanding flavors but thanks to 16 months in French oak remarkably smooth on the palate and softened tannins. After this Winemaker Jason Robideaux had us as believers in the quality of Clos LaChance wines.
Back to Table of Contents..
Last Update:3/4/13
&copy 2013 Joe Hilbers All Rights Reserved.
Graphic Design by Impact Graphics